Pennsylvania Truck Insurance
PA License #: 976639
---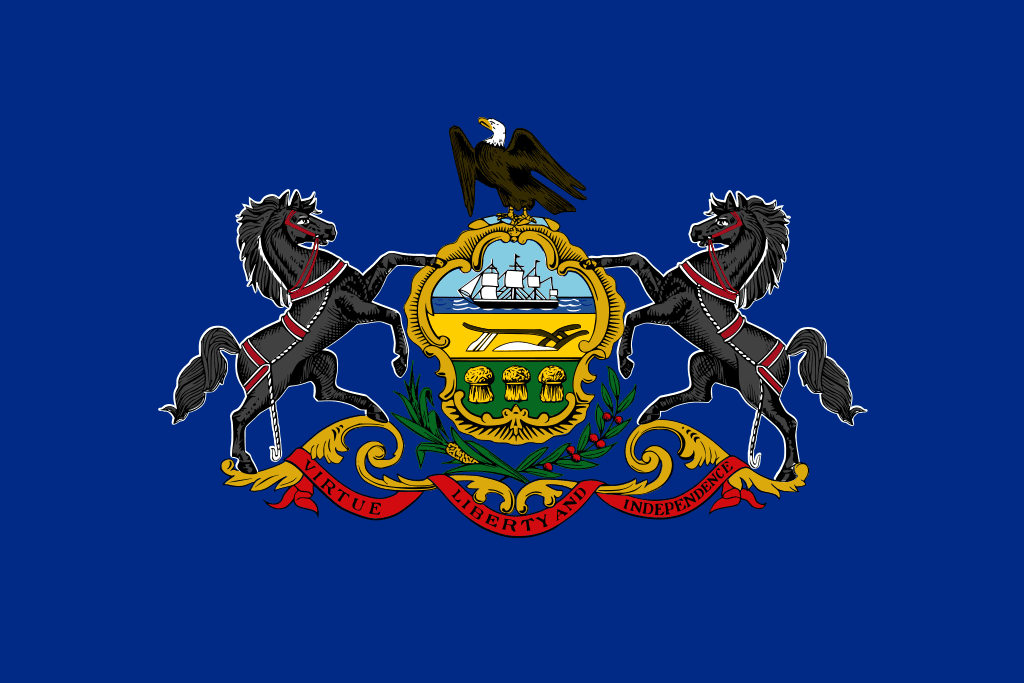 ---
---
Pennsylvania Commercial Truck Insurance
Welcome to Pennsylvania, the Keystone State! A state dripping with rich history, from the momentous signing of the Declaration of Independence in Philadelphia in 1776 to the fateful Battle of Gettysburg that turned the tide of the Civil War. Pennsylvania has proudly played a pivotal role in the story of America.
Pennsylvania is a state full of thriving cities and industries. Metropolitan hubs like Philadelphia and Pittsburgh anchor bustling economies and commerce. Apart from being home to the delectable Philly cheesesteak, PA is also a major hub for trucking, freight, and logistics. With its vast infrastructure of interstates, railways, and ports, it is easy to see why.
Major interstates like I-76, I-80, and I-95 crisscross the state, connecting it to wider regional and national transportation networks. From the coal mines of Scranton to the steel mills of Pittsburgh, an endless parade of trucks transports the machinery, chemicals, and raw materials that fuels industry and construction. The sweet smell of chocolate wafts from the Hershey factories, as trucks ship this iconic Pennsylvania treat across the country.
Now, if you're in the trucking business, or thinking of starting a transportation company, Pennsylvania is a great place to establish operations. But one thing's for sure - you need a safety net. That's where Pennsylvania commercial truck insurance comes into play, ensuring your vehicles, your cargo, and your peace of mind as you cruise the Keystone State's endless highways.
Understanding Pennsylvania Trucking Insurance Coverages
When it comes to insurance, one size doesn't fit all. Different trucks, routes, and goods call for different coverages. With the diverse nature of trucking in Pennsylvania, it's essential to understand which insurance policies suit your needs. Let's break it down.
---
Auto Liability

Auto liability insurance is crucial for truckers in Pennsylvania, since the state requires it by law. This protects your business if you are found legally responsible for causing bodily injury or death to others in an at-fault accident. For example, if you crash into another vehicle and the occupants suffer serious injuries that rack up $150,000 in medical bills, your auto liability coverage would pay up to the policy limits to cover those expenses. Without enough liability insurance, your business assets could be at risk from injury lawsuits or judgments. Working with the TIS team, we will help you determine what auto liability limits make sense for your trucking operation to ensure adequate protection on Pennsylvania highways and roads.

Physical Damage

Physical damage, also known as comprehensive and collision, is important insurance protection for your truck itself when operating in Pennsylvania. This covers the costs to repair or replace your truck if it suffers damage from accidents, theft, vandalism, fire, floods, hail storms, animal collisions, and more. For example, say you are driving just outside of Reading and a distracted driver sideswipes your parked truck, causing $30,000 in damages. Or your truck is stolen from a truck stop parking lot in Carlisle. In either case, your physical damage coverage would pay to repair or replace your truck, minus your deductible amount. This protects you from massive out-of-pocket repair bills or having to buy another truck. For truckers relying on their vehicle to make a living, physical damage is essential coverage in Pennsylvania. Talk to your insurance agent about policy limits and deductibles.

Motor Truck Cargo

Motor truck cargo insurance is important for covering any cargo you are hauling in case it is damaged, lost, or stolen while in your custody. For example, say you are transporting $80,000 worth of electronics from a warehouse in Harrisburg to retail stores in Pittsburgh. If your truck overturns in an accident along the way, damaging the entire shipment beyond repair, your motor truck cargo coverage would pay out up to its limit to reimburse the owner for the destroyed cargo. Without enough insurance, you could be on the hook for huge payouts.

Reefer Breakdown

Reefer breakdown insurance is important for truckers hauling refrigerated or frozen cargo in reefers (refrigerated trailers) within Pennsylvania. This coverage pays for loss or spoilage if your reefer unit breaks down or malfunctions during transit. For example, say you are carrying a load of frozen meat from a packing plant in Wyalusing to grocery stores in Philadelphia. If your reefer unit unexpectedly loses power due to a mechanical issue while crossing the state, causing the meat to thaw and spoil, your reefer breakdown coverage would reimburse the cargo owner for the full value of the lost shipment. This protects you from having to pay large claims if refrigerated goods are damaged by an unforeseen equipment failure. Reefer breakdown protection is crucial for truckers hauling perishable cargo anywhere in Pennsylvania.

Trailer Interchange

Trailer interchange insurance is important for truckers in Pennsylvania who utilize trailers they don't own through trailer interchange agreements. This coverage protects you if a non-owned trailer in your possession is damaged or stolen. For example, say you pick up a refrigerated trailer from another company at a drop yard in Allentown to use for a haul to Erie. If that borrowed reefer is destroyed in an accident on the highway, your trailer interchange coverage would pay for the damages so you don't have to. This protects you from liability when operating non-owned trailers on Pennsylvania roads. Non-owned trailer coverage provides protection if you are pulling a trailer you don't own for business purposes. For example, say you are hired for a one-time haul from Wilkes-Barre to Pittsburgh using the customer's dry van trailer. If that trailer is damaged in a crash during your haul, your non-owned trailer coverage would pay for repairs so you aren't liable. These coverages give you flexibility to take on jobs without having to worry about the financial risk if something happens to the non-owned equipment.

Non-Trucking Liability

Non-trucking liability and bobtail coverage are important for protecting you when operating your truck in Pennsylvania for personal rather than business purposes. Most commercial auto policies only cover you while hauling cargo or on job-related trips. But non-trucking liability insures you when driving your truck for personal reasons like commuting, errands, or vacation. Similarly, bobtail coverage applies when your truck is being driven without a trailer attached, such as deadheading to your next load. For example, if you are driving your rig home from a delivery in Harrisburg and cause an accident that injures another motorist, your non-trucking liability insurance would cover damages up to its limits. Or if you are bobtailing to pick up a load in Allentown and your truck is damaged when you are rear-ended at a light, your bobtail coverage would pay for repairs. Having non-trucking liability and bobtail insurance protects you while operating your truck in PA without a load or trailer.

Excess Liability

Excess liability, also known as umbrella insurance, provides extra coverage above your regular auto liability limits. This additional protection is crucial for truckers in Pennsylvania considering the low minimum bodily injury requirements per person in the state. Excess coverage starting at $1 million or more gives you an extra buffer against major accident claims. For example, say you are traveling on I-80 in Pennsylvania and collide with a Greyhound bus, injuring numerous passengers. Total liability could easily exceed $1 million. Without adequate excess coverage, you could be personally responsible for massive accident costs. Most truckers in PA opt for excess liability to avoid liability exposure above minimum state requirements.

Workers Compensation

Workers compensation coverage is crucial for trucking companies with employees operating in Pennsylvania. This insurance covers medical treatment and lost wages if an employee is injured on the job. For example, if one of your drivers slips and breaks their leg while tarping a load in Wilkes-Barre, workers comp would pay for their medical bills and time missed while recovering. Rates are based on payroll and job duties. Workers comp is mandatory for employers in PA and gives important protection to your workers. Our team can assist you in determining the right amount of workers comp coverages for your trucking operation.

Occupational Accident

Occupational accident, also called "Occ Acc" coverage is important for owner-operators and other solo truckers without employees in Pennsylvania. Since they cannot buy workers compensation for themselves, occupational accident insurance provides benefits if injured on the job. For example, if a self-employed driver wrecks their truck on the PA Turnpike and suffers injuries that prevent them from working for two months, their occupational accident coverage would provide lost income payments during that recovery time. This protects solo truckers and gives them the same benefits employees would receive from workers comp.

General Liability

General liability (GL) coverage is important for trucking businesses to protect against liability claims that arise away from the operation of the truck itself. GL covers you if third parties are injured or property is damaged due to your business operations or premises negligence. For example, if a visitor trips over a loose floorboard and is injured in your office, slips on a spill at your terminal, or is hurt by freight falling from a forklift, your GL policy would cover their medical bills and protect you from liability. Or if client goods are damaged at your warehouse due to a roof leak, their loss would be covered. GL gives trucking companies important liability protection beyond just auto coverage while operating in PA.
Why Should I use a Pennsylvania Insurance Agent?
At TIS, we understand trucking isn't just about big rigs. Be it tow trucks, dump trucks, auto haulers, or tankers; our team ensures you get the best-fit insurance. We even specialize in specific trailers and commodities. Our 50 years of experience, coupled with access to numerous A+ rated insurance carriers, makes us your best ally in the business.
Here are some types of trucking operations can have markets for:
Instant Certificates of Insurance with the TIS24 App
With our TIS24 app, you can issue certificates, get ID cards, and access policy documents on-the-go. It's like having a mini-insurance office right in your pocket!
Get Assistance with your Pennsylvania Truck Permits & Filings
Let's talk truck permits and filings in Pennsylvania. It's a maze out there, but with TIS Trucking Services, consider the path cleared. From your DOT numbers to UCR registrations and 2290 filings, our permits division has got you covered, ensuring your truck stays compliant and on the move.
Serving Pennsylvania and Beyond!
Did we mention we're not limited to Pennsylvania? For those routes that take you beyond, we provide insurance in neighboring states too – New York, New Jersey, Ohio, West Virginia, Maryland, and Delaware. So, whether you're hauling goods to the Big Apple or rolling down to the Jersey Shore, TIS has your back.
Get a Quote for Pennsylvania Truck Insurance
So, thinking of getting that peace of mind? Give our friendly team at The Insurance Store a ring at 888-570-3130. Whether it's a question, a quote, or a quick chat about the latest in trucking, we're all ears.
---
Pennsylvania Truck Insurance Quote
---
Here is what Our Happy Customers have to say
---
Selene and TIS saved the day. Another insurance company requested (and accepted) my deposit and made me think I had a policy. AFTER my policy expired they said the couldn't cover me! Selene was able to get a couple day turn around and get me insured. Plus she is very transparent about the process, explains cab scores etc. Looking forward to a year with the services they've already provided.

S. Swanson
---
Lindsay is there every time I need her. She took care of my problem right away. She's always been very helpful with any problem I've had. Thank you Lindsay!! I would keep making business with them.

Robert Mendez
---
Erin was very courteous helpful and very professional. She went way and Beyond the call offered job. She made me feel very comfortable and reassured. A great person. She should be running the company with the type of attitude an energy does she has.

Zar Austin