Philadelphia Truck Insurance
PA License #: 976639
---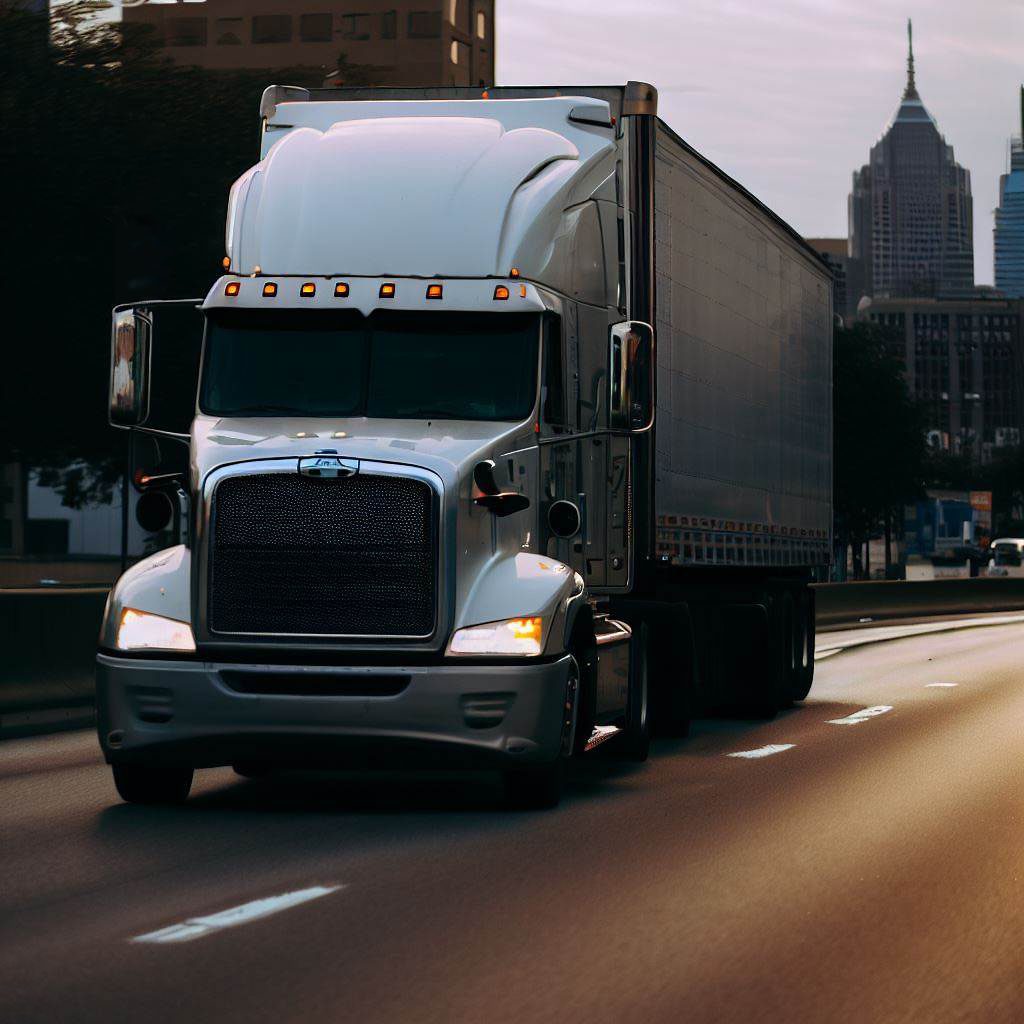 ---
---
Protect Your Business with Philadelphia Truck Insurance
Welcome to the City of Brotherly Love! The radiant birthplace of the United States, where the electric mix of history, culture, and mouth-watering Philly cheesesteaks are as abundant as the trucking routes that crisscross its bustling landscape. Philadelphia, fondly known as Philly, has got it all. It's not just about the Liberty Bell or the iconic steps Rocky Balboa ascended with gusto. You see, Philly plays a crucial role in the country's trucking, freight, and logistics industry, being the hub of a significant chunk of America's cargo movement.
Philly Trucking: The Lifeline of the City
Philly, with its robust network of major highways like Interstate 76, 95, and 676, is the pulsating heart of the logistics chain. Trucks galore traverse these roads daily, carrying a diverse range of cargo - from foodstuffs to pharmaceuticals, electronics to energy products, heck, even the occasional load of those legendary cheesesteaks! Suburbs like King of Prussia, Bensalem, and Fort Washington are key players in this logistical dance, as truck drivers work tirelessly to ensure smooth transportation. But before we dive into the nitty-gritty of truck insurance, here's a friendly reminder from us at The Insurance Store - next time you see a trucker on the road, tip your hat! They're the unsung heroes who keep the city moving.
Trucking Insurance Coverages: Your Safety Net on the Streets
Let's shift gears now and get down to brass tacks - truck insurance. It's not just about obeying the law, folks. It's about protection, peace of mind, and keeping your business up and running, no matter what life throws at you. Let's break down the types of coverages that can help you weather the storms.
---
Auto Liability

Auto liability insurance is mandatory for truckers everywhere, from the City Center to Chestnut Hill. Should you be at fault in an accident, this insurance helps cover the costs of property damage and bodily injury inflicted on others.

Physical Damage

Think of physical damage coverage as your truck's personal bodyguard, providing protection for your vehicle from accidents, theft, and other mishaps.

Motor Truck Cargo

Those cheesesteaks aren't going to protect themselves! Cargo insurance covers the goods you're hauling if they're damaged or lost. Given the variety of cargo whizzing through the Philly streets, this coverage is as essential as the cheese on a good steak.

Excess Liability

When life goes off script, excess liability steps in. This coverage kicks in when your primary liability limits are exhausted, offering that extra cushion of protection. Because when it rains, it pours, right?

Workers Compensation

Let's face it, trucking isn't a walk in the park (not even a leisurely stroll through Fairmount Park!). Workers compensation covers medical expenses and lost wages if an employee is injured on the job.

General Liability

Finally, we have truckers general liability, covering damages or injuries happening away from your truck. Say, for instance, you're delivering a load at a warehouse in Bensalem and accidentally cause damage; this coverage has your back.
The Insurance Store: A Lighthouse in the Fog of Insurance
Navigating the insurance landscape can feel like wrestling with a cheesesteak sandwich - messy, complicated, and downright overwhelming at times. That's where we, The Insurance Store, come in. Think of us as your trusty GPS guiding you through the insurance landscape. A family-owned business for the past 50 years, we've partnered with a plethora of A+ rated insurance carriers specializing in commercial trucking, offering you quality, affordability, and variety all under one roof.
What sets us apart? Well, let's just say we've got a few tricks up our sleeve. With our state-of-the-art app, TIS24, truckers can issue their certificates of insurance, access ID cards, policy documents, and more, anytime, anywhere. Even if you're stranded at midnight on I-676, we've got you covered!
TIS Trucking Services: Your Permit Partners
Operating in Philadelphia means adhering to the specific truck permits and filings mandated by Pennsylvania. But don't fret - we're not just about insurance. Our permits division, TIS Trucking Services, is your one-stop shop for all your commercial trucking permit needs. Consider us your friendly neighborhood superheroes, swooping in to help you navigate the complex world of permits and filings, ensuring smooth sailing for your business.
It's Time to Hit the Road with TIS!
When it comes to Philadelphia truck insurance, there's no need to be as lost as a ball in high weeds. Remember, with TIS by your side, navigating this complex landscape is as easy as pie, or shall we say... as easy as a Philly cheesesteak!
Ready to join the TIS family? Give our friendly team a ring at 888-570-3130 or request a quote today. Trust us, when it comes to truck insurance in Philly, we're the cat's pajamas!
So, folks, keep your eyes on the road, hands on the wheel, and leave your insurance worries to us. After all, isn't it about time you enjoyed the ride?
---
Get a Quote for Truck Insurance
---
Here is what Our Happy Customers have to say
---
Choosing The Insurance store to assist me turned out to be a true blessing. I was well informed and taken care 100% of the way.A big thank you for that and thank you to lisamarie and chelsey for making my experience overall pleasant and convenient. Cheers

Psylow Transport