Pittsburgh Truck Insurance
PA License #: 976639
---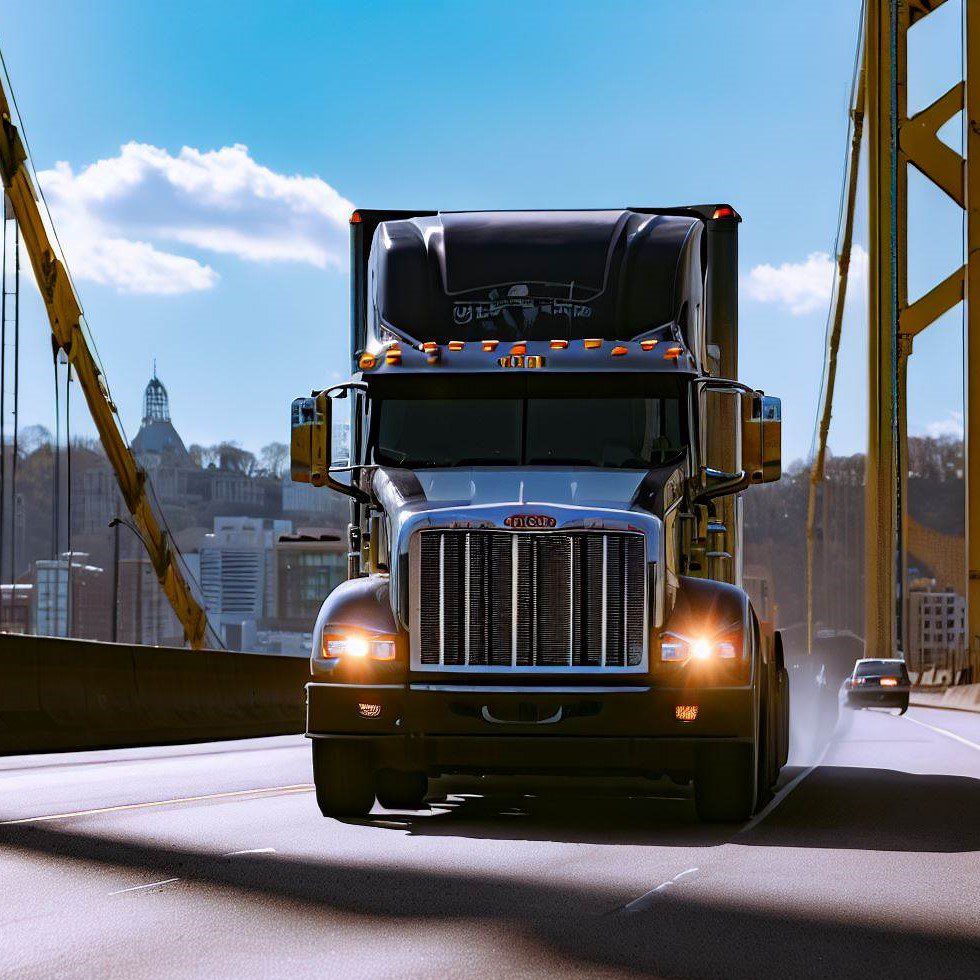 ---
---
Navigate the Long Haul with Pittsburgh Truck Insurance
Oh, Pittsburgh! The very mention of this vibrant city floods the senses with the sweet aroma of Pierogies and the vibrant flashes of Steelers black and gold. Famed for its Steel City charm, Pittsburgh is a mosaic of 90 distinctive neighborhoods, each with its own character. With the Allegheny, Monongahela, and Ohio Rivers crisscrossing the landscape, Pittsburgh has earned itself a well-deserved nickname, the "City of Bridges," boasting a whopping 446 of these remarkable structures.
But Pittsburgh isn't all about glistening rivers, steel structures, and sports teams. Underneath its iconic cityscape lies a bustling freight and logistics industry, where trucking is as much a part of the city's heartbeat as its cultural festivals and sports arenas. Trucks traverse Pittsburgh's highways like bees buzzing around a blooming flower, carrying diverse loads that range from steel and machinery to food products and consumer goods.
This lively city teems with essential trucking routes that span key suburbs and connect to major highways like Interstate 79, 279, and the Pennsylvania Turnpike. These highways are the lifeblood for freight transportation, making Pittsburgh a nexus for the logistics and freight industry.
And when you're in the thick of it all, navigating this pulsating network of supply chains, one can't help but wonder about the safety net that holds it all together: truck insurance. That's where our story unfolds.
Cover Your Assets: Essential Trucking Insurance Coverage
Not to toot our own horn, but TIS has fostered strong ties with numerous A+ rated insurance carriers that specialize in commercial trucking. We aim to keep your wheels turning, and your cargo secure, whether you're hauling steel across the Fort Pitt Bridge or delivering food supplies to Strip District. Here's how:
---
Auto Liability

Every truck driver in Pittsburgh, from McKees Rocks to Hazelwood, needs auto liability insurance. It's not just mandatory, but it also protects you from the financial fallout of an at-fault accident. Don't worry, we've got you covered!

Physical Damage

When you've got a semi-truck cruising down I-376, the last thing you want is an unfortunate incident leaving your rig in shambles. Physical Damage insurance will be there to pick up the pieces.

Motor Truck Cargo

You're hauling a load of Primanti-styled sandwiches to a suburb game night - but what if something goes wrong? Motor Truck Cargo insurance ensures that you're covered, even if your precious cargo isn't.

Excess Liability

Imagine a safety net for your safety net. That's Excess Liability insurance for you. It steps in when other policies reach their limit. It's like having an extra Primanti sandwich, just in case.

Workers Compensation

Truck driving is no walk in the park. If you or your crew face an injury while on the job, Workers Compensation is your guardian angel. Because nothing should get in the way of your drive.

General Liability

This policy is like the umbrella you forget you have until it starts raining. It covers you against the myriad of things that can go wrong in the trucking business.
Your Trusted Partner: The Insurance Store
In this swirling vortex of trucking and freight, there stands an unwavering beacon of assurance - The Insurance Store (or TIS, as we affectionately call it). A family-owned independent insurance agency, we've been rolling up our sleeves and delving into the nitty-gritty of truck insurance for over 50 years.
The TIS24 App: Your 24/7 Pit-Stop for Insurance Needs
Ever wish you could wave a magic wand and access all your insurance documents in one place? Enter the TIS24 app. This nifty tool lets truckers issue their certificates of insurance, get ID cards, and access their policy and insurance documents anytime, anywhere. No matter if you're stuck on the Parkway or waiting out a delivery in Lawrenceville, TIS24 keeps your paperwork at your fingertips.
Get Permit-Ready with TIS Trucking Services
In the complex web of trucking logistics, permits and filings can be a real headache. But not to worry, we've got a remedy up our sleeve. Our permits division, TIS Trucking Services, is ready to hop on board and help you sail smoothly through the Pennsylvania trucking regulations. Because no one should have to navigate the red tape alone.
Hit the Road with The Insurance Store
Alright, Pittsburgh, it's time to grab this bull by the horns. With a wealth of experience and a friendly team that's as reliable as your morning coffee, TIS is here to take the bumps out of your trucking journey. From Auto Liability to Workers Compensation, we've got policies that cover every pothole on your route.
So, are you ready to kick your worries to the curb? Give our team a ring at 888-570-3130 or request a quote today. Let's start a new chapter in your trucking story with Pittsburgh truck insurance that has your back every mile of the way.
Remember, the road may be long, but with The Insurance Store, you're never on it alone. So, keep on truckin', Pittsburgh!
---
Get a Quote for Truck Insurance
---
Here is what Our Happy Customers have to say
---
They have very nice people as for customer service all the time and very helpful when I need for them to issue a certified of insurance to all of my customers.

Gabriel Luna