IL License#: 3001067349
---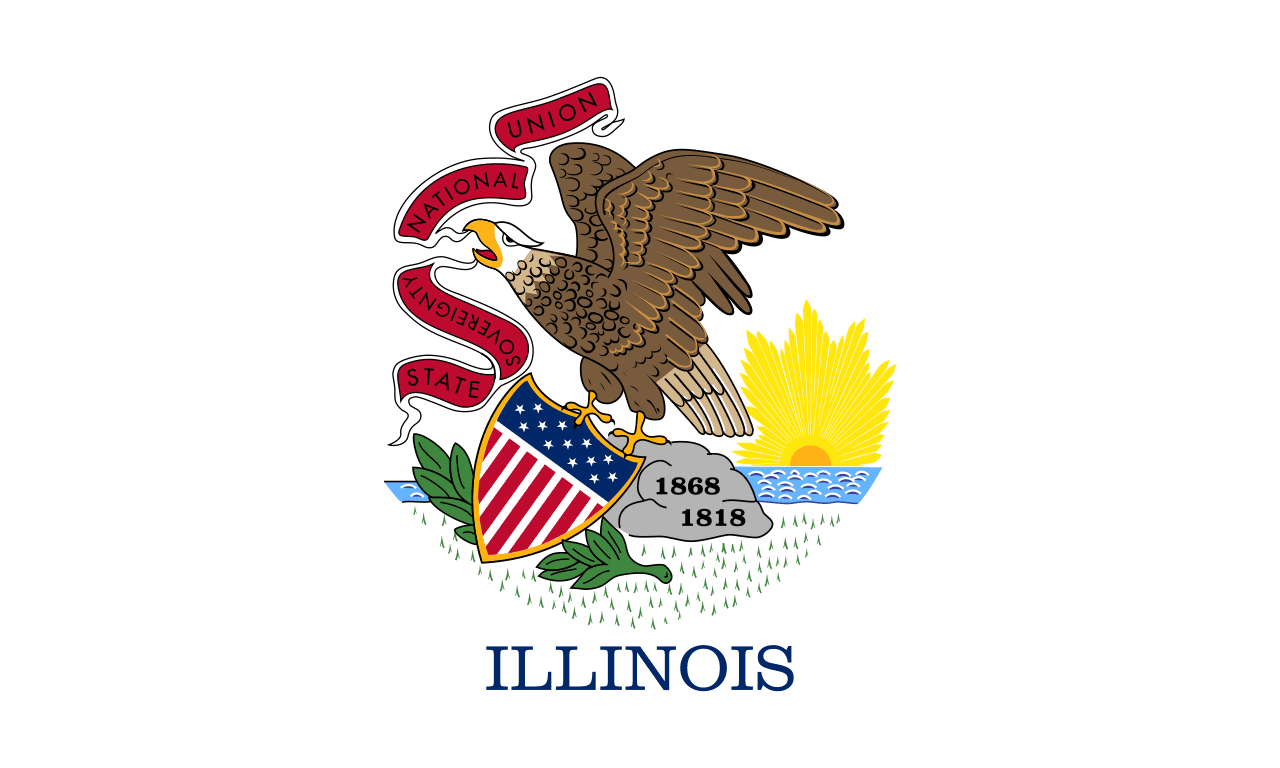 ---
---
Illinois Commercial Truck Insurance
Ah, Illinois—the Land of Lincoln. As one of the most pivotal states in the Midwest, Illinois boasts a rich history, iconic cities, and, interestingly enough, one heck of a trucking industry. It's no wonder, then, that Illinois commercial truck insurance is a hot topic for truckers who crisscross the Prairie State.
Now, if you've ever found yourself humming along to the rhythm of the road while cruising on I-55 or if the skyline of the Windy City has ever been a sight for your sore eyes after a long haul, then buddy, this one's for you!
From the cornfields of Central Illinois to the bustling hub of Chicago, the state's trucking routes are essential lifelines, ferrying goods like machinery, agricultural produce, and consumer products. Think about it: the state houses one of the country's biggest cities, Chicago, and major interstates like I-90, I-80, and I-70. The trucking industry here isn't just about big rigs and diesel—it's the lifeblood of Illinois commerce.
So, why the talk about insurance? Well, we're about to tell you everything you need to know about securing your rig in Illinois.
Understanding Illinois Trucking Insurance Coverages
The open road might be your office, but it's not always smooth sailing—or should we say, driving. Accidents, breakdowns, theft—oh my! Here's a rundown of the insurance coverages that'll keep you and your truck in tip-top shape.
---
Auto Liability

Rolling through the Land of Lincoln? Make sure your rig's covered with proper liability insurance. Illinois requires all commercial truckers to carry at least $500,000 in liability coverage. This protects you if you cause an accident that injures another driver or damages property. For example, if you crash into someone's car, liability coverage pays for their medical bills and vehicle repairs up to your policy limits. Higher limits of $1 million or more are recommended for full protection on Illinois' busy highways. Partner with an experienced agent from TIS to get the right liability policy so you can focus on the road ahead while operating in the Prairie State.

Physical Damage

Protect your rig from Illinois' unpredictable weather with physical damage coverage. This covers repairs or replacement if your truck's damaged, whether from hail in Rockford or a fender bender in Peoria. Physical damage insurance is key for Illinois truckers to safeguard their vehicles. It pays for repairs or replacement if your semi is damaged in an accident, fire, natural disaster, or other covered event. For example, if your parked truck is hit and sustains major damage, physical damage coverage pays to get it back on the road. Having adequate limits ensures you've got funds to repair your rigs. Without it, costly fixes come out of pocket - a potential financial disaster. Physical damage coverage gives Illinois truckers peace of mind their vehicles are protected when the unexpected strikes.

Motor Truck Cargo

Got precious cargo in your rig riding through Illinois? Keep your customers smiling with motor truck cargo coverage. This policy is key for truckers hauling freight of all kinds across the Prairie State. It covers damage or loss of goods in your care while in transit. So if an accident ruins your customer's shipment of computers or produce, cargo insurance pays to make it right. Forking over the dough for busted shipments hurts your bottom line real quick. But with adequate cargo insurance limits, you avoid financial pain if something happens to your client's stuff. Plus it shows them you're serious about protecting their property. In the trucking business, cargo coverage means less drama and happier customers when the worst goes down. Because at the end of the day, it ain't just about getting goods from A to B - it's getting them there in one piece. So truck safe with motor truck cargo insurance!

Reefer Breakdown

Hauling perishables through the Midwest? Don't sweat it - get reefer breakdown coverage. If your refrigeration goes out and your goods spoil, this policy pays up so you don't lose your cool. Reefer breakdown insurance is clutch for truckers hauling refrigerated stuff. Say you're moving frozen meat and your reefer fails, turning your trailer into an oven. Your cargo's cooked, but coverage reimburses you for the spoiled shipment. Forking over those big claims out of pocket can really hurt your bottom line. With reefer breakdown insurance, you've got backup if your refrigeration unexpectedly flakes out mid-haul. For truckers moving perishable cargo, this coverage means way less financial stress. So keep on truckin' with that prized provender without sweating meltdowns or spoiled shipments. Reefer breakdown coverage lets you focus on the cold hard business of refrigerated trucking!

Non-Owned and Trailer Interchange

Sometimes, you might hitch a ride with a trailer that's not yours. For those times, the Non-Owned Trailer, and Trailer Interchange insurance steps in, covering any damage to a borrowed trailer. Non-owned trailer and trailer interchange insurance is important for when trucking companies utilize trailers they don't own. This coverage pays for damage to a trailer not owned by the trucker while in their care, custody, or control. For example, if a trucking company damages a customer's trailer while hauling their freight, this policy would pay for repairs. Trailer interchange coverage also applies when two truckers swap trailers. If Trucker A damages Trucker B's swapped trailer, Trucker A's non-owned trailer insurance would cover it. Having this policy protects truckers from paying costly trailer repair bills out-of-pocket if they damage equipment they don't own. Without it, trucking businesses would be liable for the entire cost which could be financially devastating. Non-owned trailer insurance gives Illinois truckers an affordable way to avoid liability for trailers used but not owned.

Non-Trucking Liability

Off-duty but taking your truck for a spin in Evanston? Non-Trucking Liability is your go-to, covering any damages if you're involved in an accident while not on a job. Non-trucking liability insurance is important for truckers in Illinois to have in place when their truck is being used for non-business purposes. This coverage protects a trucking company if their driver gets in an at-fault accident while operating the truck outside of conducting business, such as while bobtailing or deadheading. For example, if a trucker rear-ends another car while driving their rig home after dropping off a load, their non-trucking liability insurance would pay for damages and injuries to the other motorist. Without this policy, the trucking company could be sued directly by the accident victim since the driver was not actively working at the time. Having non-trucking liability insurance is an affordable way for Illinois trucking businesses to close a gap in coverage between personal and commercial auto policies when their rigs are used off the job.

Excess Liability

Feeling like going the extra mile? Excess Liability provides an added layer of protection, giving you additional coverage on top of your standard policies. Because when it comes to insurance, it's always better to be safe than sorry. Purchasing additional excess liability insurance is wise due to the high liability risk of a catastrophic accident. Excess liability kicks in when a trucking company's primary liability policy is exhausted. For example, if a semi-truck driver causes an accident that injures multiple people, damages several vehicles, and shuts down a highway, the total cost could easily exceed $1 million. In this case, the primary $1 million liability policy would be used up. The trucking company's excess liability coverage would then pay for amounts above that $1 million threshold up to the excess limit purchased. This extra layer of protection prevents trucking businesses from severe financial hardship if found liable for damages exceeding primary policy limits in a major accident. Excess liability coverage gives Illinois truckers added peace of mind their business assets will be protected even in the worst scenarios.

Workers Compensation

Keep your drivers covered in the Land of Lincoln with workers comp insurance. This mandatory coverage pays for medical treatment and lost wages if one of your drivers or employees is injured on the job. For example, if your driver slips on ice while securing a load and breaks their leg, workers comp would cover the medical bills and time off to recover. Without this policy, you're liable for those expenses out-of-pocket, plus you risk lawsuits if an injured employee isn't properly covered. Workers comp gives Illinois trucking companies essential protection in case of workplace accidents and injuries. Make sure your employees are covered with adequate workers comp limits so you can focus on safely operating in the Prairie State.

Occupational Accident

Truckers, get extra protection in Illinois with occupational accident insurance. This coverage provides benefits if you're injured on the job beyond what basic workers comp covers. For example, if you slip on ice exiting your rig and suffer a career-ending back injury, occupational accident would provide disability income to replace wages lost while you recover. It may also cover things like rehabilitation costs not included in a basic workers comp policy. Having occupational accident coverage as a truck driver in Illinois gives you peace of mind that you'll have sufficient coverage if an accident while working causes major injuries. It's an affordable way to make sure you're protected for worst-case scenarios out on the open roads.

General Liability

General Liability covers the other risks tied to your trucking operations. Think of it as the catch-all. Truckers' general liability insurance protects against third-party bodily injury and property damage claims that occur off the road. This coverage is broader than just auto liability and includes incidents like someone slipping and falling in the trucking company's office. For example, if a visitor trips over some boxes in the trucking terminal and sprains their ankle, the general liability policy would pay for their medical bills. Without this coverage, the trucking business would be financially responsible which could be devastating for a small operation. Truckers' general liability insurance provides affordable protection that fills gaps left by other policies. It gives Illinois trucking companies peace of mind that they are shielded from premises and operations claims that crop up in the normal course of business.
Why Should I use an Illinois Insurance Agent?
There are insurance agencies, and then there's The Insurance Store. TIS is not just another corporate entity; we're a family. Boasting 50 years in the business, we offer that individualized touch that's so hard to come by these days. Plus, with our connections to numerous A+ rated insurance carriers specializing in commercial truck insurance, you're in good hands.
From box trucks to tankers and flatbeds, TIS has you covered. Whether you are transporting consumer electronics, frozen foods, or agricultural produce, our insurance programs are tailored to cater to your specific needs. We have got the expertise, no matter the load or the road.
Here are some types of trucking operations we can help you find insurance for in Illinois:
Instant Certificates of Insurance with the TIS24 App
And hey, ever heard of TIS24? Our stellar app lets truckers issue certificates of insurance, get ID cards, and access policy documents anytime, anywhere. Talk about convenience at the touch of a button!
Get Assistance with your Illinois Truck Permits & Filings
Feeling swamped with the paperwork? Our dedicated permits division, TIS Trucking Services, can assist with all those pesky permits and filings in Illinois. We'll handle the nitty-gritty, ensuring you stay on the right side of the law.
Serving Illinois and Beyond!
If your journeys take you beyond Illinois, fret not! We've got you covered in neighboring states like Indiana, Wisconsin, Missouri, Kentucky, and Iowa. Just a call away, our friendly TIS team is ready to assist.
Get a Quote for Illinois Truck Insurance
Whether you're a lone ranger on the road or operate a fleet, Illinois commercial truck insurance is your ticket to peace of mind. With The Insurance Store, you're not just getting a policy; you're joining a family. Ready to hit the road with unmatched coverage? Dial up our team at 888-570-3130 or request a quote. Safe travels, trucker!
---
Illinois Truck Insurance Quote
---
Here is what Our Happy Customers have to say
---
My experience has been great! Codi and Erin have been extremely helpful and I love how fast they respond and take care of any of our requests. Thank you guys!

Marla Nuno
---
Shalyn has been AMAZING. Honestly, she has gone above and beyond answering all of my questions and assisting me in my permits process. She is extremely knowledgeable in her field. She has taken the time to make me feel comfortable and confident that my permits will be processed correctly and as soon as possible. I highly recommend The Insurance Store and be sure to ask for Shalyn.

John Maisonave
---
Best place to shop for your insurance and permits. TIS provides great customer service. If you need any insurance or permits TIS is the place to go. Shalyn is very helpful, she is in the permits department and I cannot express how amazing she is! She does everything in her power to assist you in anyway possible. Very professional and understanding. Will definitely shop here again!

Ramon Fuentes