FL License #: L112084
---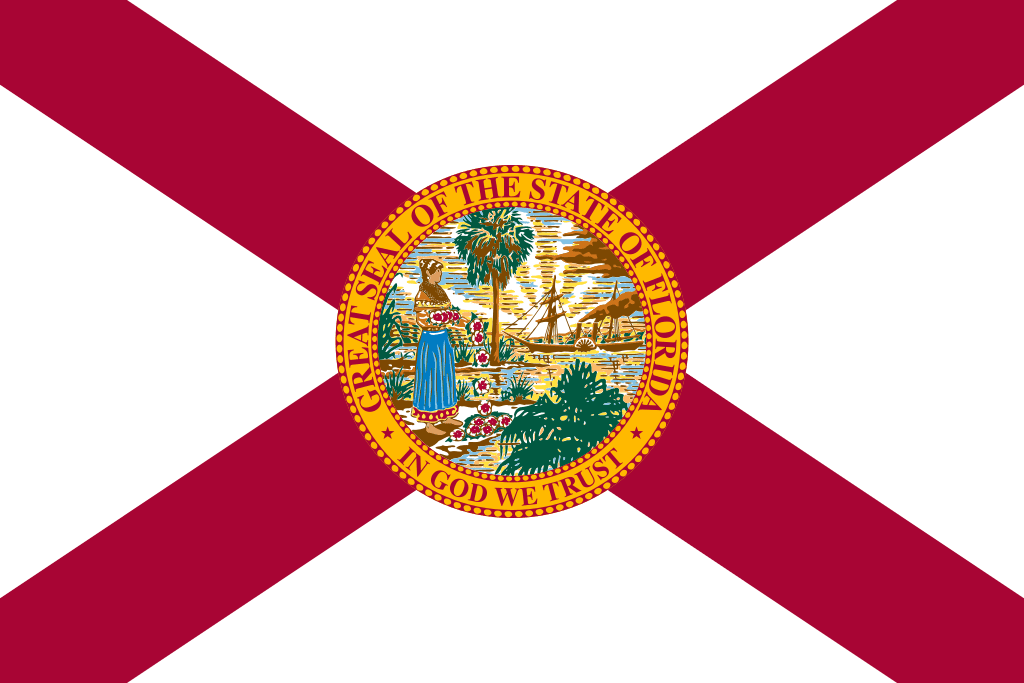 ---
---
Florida Commercial Truck Insurance
With cities, ports and picturesque landscapes, Florida offers immense trucking opportunities. An intricate highway system connects hubs like Jacksonville, Miami, Tampa and Orlando. Major interstates like I-95, Florida's Turnpike, I-75 and I-4 serve as economic arteries, with thousands of trucks daily hauling integral freight.
Florida ranks top nationally in total tonnage hauled, relying on diverse trucking. Citrus, produce, seafood, manufactured goods, building materials and more move between ports, facilities, businesses and consumers. The I-4 corridor near Orlando sees high volumes of truck traffic supporting tourism. South Florida routes connect produce and imports. I-75 joins hubs like Tampa and Jacksonville. I-10 links Tallahassee and Pensacola.
This vast scale of activity brings risks - congestion, tight logistics, weather, crashes. Trucks clock 70+ million miles daily in Florida. That's why tailored insurance is crucial. Working with independent agents from The Insurance Store, we help you navigate regulations and secure ample beyond-minimum coverage protecting your unique vehicles, routes and cargo. Having the right advisor makes Florida compliance smooth while delivering robust Florida commercial truck insurance that's customized for your needs.
Understanding Florida Trucking Insurance Coverages
Let's dive into the essential types of truck insurance coverages that keep the wheels of Florida's economy turning smoothly and securely.
---
Auto Liability

Liability insurance is crucial to drive legally and protect your assets. Florida requires minimum liability limits based on truck weight - for example, rigs over 55,000 lbs need $500,000 minimum coverage. Even light trucks under 10,000 lbs need basic $50,000 liability. This insurance covers injuries or property damage if your driver causes an accident. Let's say your semi driver rear-ends a car, hospitalizing the driver. Their medical bills and lost wages would be covered by your truck's liability insurance. Make sure you have ample coverage in case of a catastrophic crash, especially with more congested metro areas. Florida follows a no-fault system but still allows injury lawsuits - so robust liability protection is key. Our team of truck insurance agents will help you secure the right policy for your fleet and routes.

Physical Damage

Though not mandatory, physical damage insurance is important protection for motor carriers operating in the Sunshine State. This coverage pays to repair or replace your trucks and trailers if they are damaged. For example, let's say your semi gets sideswiped while hauling oranges from Groveland to Miami, causing extensive scratches and dents. Collision coverage would pay for repairs to the truck's panels and paint minus your deductible. Or if your refrigerated trailer is flooded during a hurricane in Tampa, comprehensive coverage would reimburse you for the totaled trailer. Physical damage protects your assets when vehicles are in accidents, damaged by floods/storms, vandalized, or need collision repairs. For a relatively low premium, it provides peace of mind for keeping your fleet in good condition as you transport cargo across Florida.

Motor Truck Cargo

Hauling high-value cargo in the Sunshine State? Motor truck cargo coverage is essential protection. This insurance pays if the goods you are transporting are damaged, lost, or stolen while in your care. For example, let's say you are hauling a load of electronics from Miami to Jacksonville. If your truck overturns, destroying the shipment, cargo insurance would reimburse you for the value of the damaged goods. Or if someone breaks into your dry van trailer and steals cargo overnight, cargo coverage allows you to file a claim on the missing freight. While not mandatory in Florida, cargo insurance is highly recommended for motor carriers hauling expensive electronics, produce, machinery or hazardous materials that would be a major loss if damaged. Make sure your policy's limits fit the full value of your priciest loads.

Reefer Breakdown

For motor carriers hauling perishable goods in Florida, reefer breakdown coverage is critical protection. This insurance covers the cost of temperature-sensitive cargo that is damaged or spoiled if the refrigeration unit fails during transit. For example, let's say you are carrying a load of fresh seafood from Tampa to Orlando and your reefer stops working enroute. The warm temperatures could quickly spoil the entire shipment. Reefer breakdown insurance would pay for the value of the ruined cargo. While not mandated, it provides peace of mind to truckers transporting perishables like produce, meat, or pharmaceuticals. Make sure your policy has sufficient limits to cover your most expensive refrigerated loads in case mechanical issues or an accident causes refrigeration failure. Protect your investment in costly freight with reefer breakdown coverage.

Non-Owned and Trailer Interchange

Operating in Florida without solely using your own trailers? Non-owned trailer and trailer interchange coverages fill gaps. Non-owned trailer pays for damage if your driver wrecks a rented, borrowed, or customer trailer under dispatch. Trailer interchange covers liability if a non-owned trailer attached to your tractor damages property. These apply when interchange agreements shift liability to the tractor carrier while hauling the non-owned trailer. For example, if your driver overturns and damages a customer's rented reefer, non-owned trailer would pay for repairs. With the right policy, you can haul confidently even when not using your own trailers.

Non-Trucking Liability

Heading out with your rig for personal errands or parked off-duty? Non-trucking liability (NTL) and bobtail insurances fill coverage gaps during non-business use. NTL pays liability claims if you cause an accident while using your truck personally - like going grocery shopping. Bobtail covers the tractor itself when driving without a trailer for maintenance or parking. For example, let's say you run to the store in your semi and sideswipe another car in the lot - NTL would cover injuries/damages. Or if your bobtailing tractor is rear-ended at a truck stop, bobtail coverage pays for repairs. While not mandated in Florida, NTL and bobtail policies provide affordable protection for truckers clocked-in or out. Make sure you disclose all truck uses to your insurer so off-work risks are covered properly.

Excess Liability

Operating large fleets or hauling risky cargo in Florida? Consider boosting protection with excess liability coverage. This supplemental insurance kicks in when your primary liability policy's limits are exhausted in an accident. For example, let's say one of your semi trucks causes a major crash that injures multiple parties, totaling $3 million in damages. If your underlying liability policy has a $1 million limit, excess liability would cover the remaining $2 million so you aren't paying out-of-pocket. It provides extra protection in worst-case scenarios. While not mandatory, excess liability limits give added peace of mind to large carriers or those with hazardous/expensive cargo that could lead to massive claim payouts. Make sure your motor truck cargo and umbrella coverages align to fully protect your assets.

Personal Injury Protection

Personal injury protection (PIP) is a type of no-fault auto insurance coverage that is required in the state of Florida. With PIP, your truck insurance will help pay for medical expenses resulting from an accident, regardless of who was at fault. This provides immediate financial assistance for injuries to you or your drivers without having to determine liability. For example, if your semi-truck driver is injured in an accident caused by another motorist, your PIP coverage would kick in to cover their medical bills and lost wages up to the policy limits you select. PIP is a critical coverage that provides your drivers crucial protection in the event of an crash-related injuries.

Workers Compensation

Employing drivers or other staff at your Florida trucking operation? Then you must carry workers' compensation insurance by law. This coverage pays for medical treatment and lost wages if an employee is injured on the job. For example, let's say one of your drivers sprains their back unloading cargo. Workers' comp would cover the hospital bills and partial income while they recover. In the litigious environment of Florida, this mandatory coverage is crucial protection from employee lawsuits and massive payouts. Make sure to purchase a policy with injury benefits and premiums based on your payroll, risk classifications, and claims history. While pricey, comp coverage spares you huge bills when workplace accidents happen. Don't risk legal trouble - work with the TIS team to secure proper workers' compensation for your transportation staff.

Occupational Accident

Running your own rig in the Sunshine State? Occupational accident coverage is essential protection. This insurance pays cash benefits if you are injured on the job since owner-operators can't get workers' comp. Let's say you slip unloading your trailer and break your leg. Occupational accident would provide income replacement and help cover medical bills as you recover. It also pays lump sums for permanent injuries or accidental death. While not legally required, it's inexpensive peace of mind in case you get hurt hauling in Florida. Some policies also cover illness or cancer caused by occupational hazards for truckers. Ask your insurance advisor about occupational accident plans with the right injury and death benefits at an affordable rate. Don't risk bankrupting medical bills - protect yourself before hitting the road.

General Liability

Operating your trucking business in the Sunshine State exposes you to liability even beyond the road. That's why commercial general liability (CGL) coverage is key. This insurance protects your company if third parties are injured or property is damaged due to your operations. For instance, a visitor gets bitten by your office dog or an employee accidentally knocks over and breaks store shelves while making a delivery. CGL pays for expenses associated with these accidents like medical bills, repairs, legal fees and lawsuits. While not legally required, CGL is crucial for shielding your assets and finances. Make sure your limits fit your fleet scale and number of employees. Work with the TIS team to customize ample CGL protection specific to your Florida trucking operations and exposures. Don't risk your hard-earned business assets over lack of proper coverage.
Why Should I use a Florida Insurance Agent?
Trucks are not a one-size-fits-all business, and neither is truck insurance. The Insurance Store has been a family-owned business for half a century, providing tailored insurance programs for various types of trucks, trailers, and commodities. Whether it's flatbed trucks hauling construction equipment for new condo high-rises in Fort Lauderdale or tankers transporting milk from Gainesville, TIS has a solution for every need.
Here are some types of trucking operations we can help you find insurance for in Florida:
Choosing TIS isn't just about obtaining insurance. It's about forging a partnership with an independent agency that has access to numerous A+ rated insurance carriers specializing in commercial truck insurance. Our seasoned TIS team works diligently to understand your unique needs and match them with the most suitable coverage at competitive rates.
Instant Certificates of Insurance with the TIS24 App
What's more, our commitment to leveraging technology sets us apart. With our intuitive app, TIS24, truckers can issue certificates of insurance, access ID cards, and manage their policy documents anytime, anywhere. TIS24 is like having a personal insurance assistant right at your fingertips, bringing unparalleled convenience and efficiency to managing your commercial truck insurance.
Get Assistance with your Florida Truck Permits & Filings
Trucking in Florida isn't just about insurance. It also involves permits and filings. Luckily, we've got that covered too! TIS Trucking Services, our permits division, can assist with your commercial trucking permits, ensuring a smooth and compliant journey across Florida's roads.
Serving Florida and Beyond!
Our services aren't just confined to the Sunshine State. We're proud to offer truck insurance solutions in states bordering Florida, including Georgia, Alabama, and Mississippi. The TIS team is committed to providing the same level of excellence and personalized service to truckers across the Gulf coast region.
Get a Quote for Florida Truck Insurance
There's no denying that trucking in Florida is a vibrant and essential sector. But, just as a truck needs fuel to keep moving, your business needs protection to keep thriving. So, why wait? Experience the TIS difference today! Request a quote or call our friendly team at 888-570-3130. With TIS, you're not just purchasing insurance; you're joining a family that's committed to your peace of mind on the road.
---
Florida Truck Insurance Quote
---
Here is what Our Happy Customers have to say
---
Frank has been a pleasure to work with, he is very knowledgeable and is easy to communicate with. In the time that our company has worked with Frank he has demonstrated a high level of professionalism, strong work ethic, and willingness to assist in our ever changing needs. I highly recommend his services.

Tonya Wright
---
Kelli is great, she got me better rate even though I am still a new carrier barely a year old. You get feedback back quick if you request addition of cert holders, and they'll give you access so you can add cert holders for brokers 24/7.

Joash Kemei
---
Lara is who I deal with when it comes to documents and she is super quick and always has a great attitude. Even if your having a bad day, her attitude easily makes the day a little brighter. If you read this far in believe me you have nothing to lose calling them and having them try to help you out . You won't regret it 😃

Erik Aguirre