FL License #: L112084
---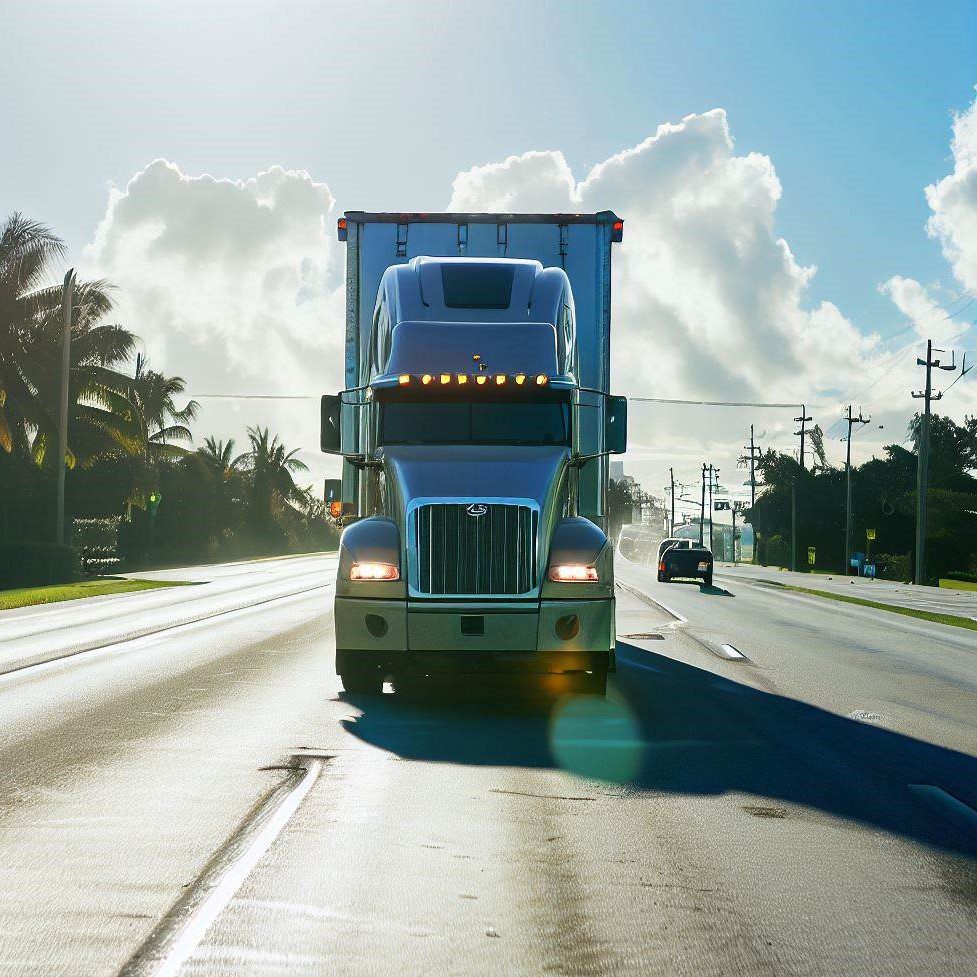 ---
---
Wheelin' & Dealin': Hialeah Florida Commercial Truck Insurance
Situated in the sunshine state of Florida, Hialeah is known for its rich Cuban influence, beautiful landscapes, and more importantly, for this chat, its bustling trucking industry. With its proximity to Miami and the bustling Port of Everglades, this city is a hub for transportation and logistics. So, whether you're hauling freshly squeezed Florida orange juice, transporting medical supplies to one of the area's top-notch healthcare facilities, or moving construction equipment for the next hot property development in Palm Avenue, there's no doubt that Hialeah is a busy place for trucking.
But let's pump the brakes here for a sec. With all that cargo movin' and shakin', you bet your bottom dollar that you're gonna need some top-tier commercial truck insurance.
The Ins and Outs of Commercial Truck Insurance
So, what's the big deal about Hialeah Florida commercial truck insurance? As the old saying goes, better safe than sorry, right? Well, strap yourself in as we take a scenic drive around the main types of coverages.
---
Auto Liability

You know how the old song goes, "life is a highway"? Well, if you're a commercial trucker, that couldn't be more literal. And sometimes, accidents happen. That's where Auto Liability insurance comes into play, covering any bodily injury or property damage to others if you're at fault in an accident.

Physical Damage

Imagine driving past the iconic Hialeah Park Racing & Casino, and bam, a rogue palm tree branch lands on your rig. Physical Damage insurance got you covered, for not only those pesky palm branches but for anything from theft to collision damages.

Motor Truck Cargo

Remember when we mentioned all that cargo movin' around Hialeah? What happens if it's damaged or lost? Motor Truck Cargo insurance steps up, covering your freight and giving you peace of mind. Whether it's those juicy Florida oranges or high-end medical equipment, you can rest easy knowing it's covered.

Trailer Interchange, Non-Trucking Liability, Workers Compensation, General Liability

From Trailer Interchange insurance for those swapped trailers in transport, Non-Trucking Liability for when you're off the clock, Workers Compensation for your hardworking crew, to General Liability for those unexpected business risks, it's clear as a Florida sunrise why these coverages are essential for your trucking venture.
The Insurance Store: Your One-Stop Shop for Commercial Truck Insurance
Truck insurance can be a real bear, but fear not! The Insurance Store is here to save the day. We've been in the biz for 50 years and we've seen it all. Family-owned, we treat our customers like family too, guiding them through the complexities of commercial truck insurance.
As an independent agency, we have access to a plethora of A+ rated insurance carriers that specialize in commercial transportation risks. Talk about having your cake and eating it too!
Oh, and did we mention our nifty mobile app, TIS24? With it, you can issue your certificates of insurance at any time, anywhere. Stuck in a queue at Amelia Earhart Park? No problem! You can handle your insurance needs right from your phone or computer.
A Helping Hand with Truck Permits and Filings
Hold your horses, we're not done yet! In the world of commercial trucking, there's a lot of red tape to navigate. But guess what? The TIS team has a permits division, TIS Trucking Services, ready to help with your commercial trucking permits.
Florida's sunshine may be free, but truck permits and filings aren't, unfortunately. From Unified Carrier Registration (UCR) to International Registration Plan (IRP) or Biennial Update, we've got you covered like sunscreen on a Florida beach.
Ready to Hit the Road with The Insurance Store?
So, what do you say, folks? Are you ready to let The Insurance Store handle all your Hialeah Florida commercial truck insurance needs? If the answer is a resounding "heck yes," then don't hesitate! Get a quote or call our friendly team at 888-570-3130. After all, in the world of trucking, time is money! So let's not waste any more of it. Call us now and let's get truckin' together.
---
Get a Quote for Truck Insurance
---
Here is what Our Happy Customers have to say
---
Cynthia is extremely friendly & knowledgeable. She handled my concerns and followed up in a prompt fashion. 5 out of 5 stars.

John B.