Fort Lauderdale Truck Insurance
FL License #: L112084
---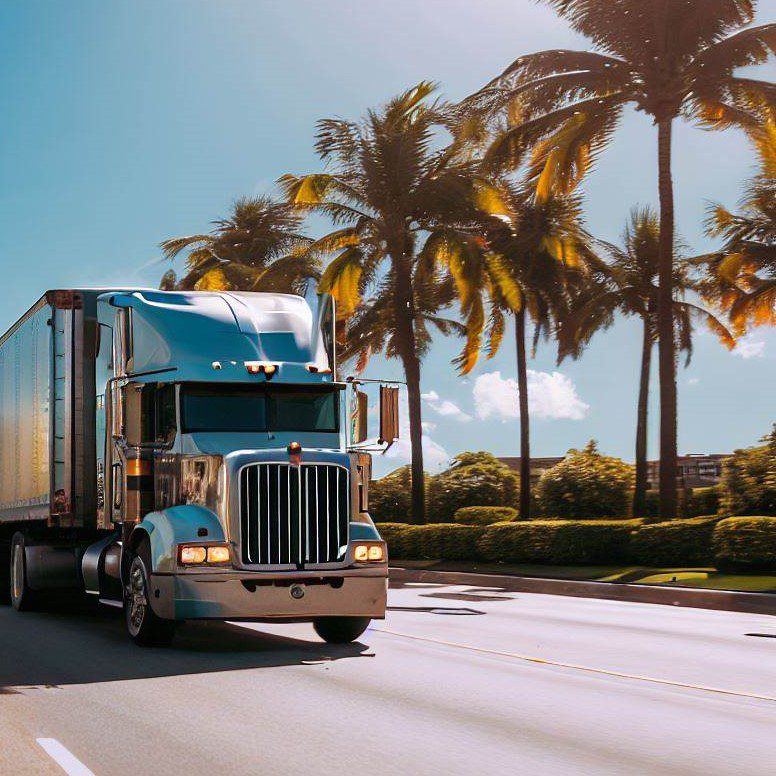 ---
---
Commercial Truck Insurance in Fort Lauderdale, Florida
Nestled along the southeastern coast of Florida, Fort Lauderdale is the cool sibling of Miami, sporting a bohemian vibe that flows with its intracoastal waterways. Known for its beaches, boating canals, luxury hotels, and lavish lifestyle, it's also a hub for commercial trucking. Every day, trucks hit the boulevards, carrying everything from Grandma's secret apple pie recipe to the latest tech gadgets. All these need insurance, right? So, let's gear up and navigate the bustling world of Fort Lauderdale Florida commercial truck insurance.
Fort Lauderdale isn't just your run-of-the-mill vacation hotspot. With a bustling port and an enviable location, it's a beating heart in the trucking industry. The city is a lifeline, with trucks hauling various types of cargo. From perishable commodities like oranges and seafood, products of vibrant local artisans, to enormous yachts making their way to their new fancy homes, you name it!
Landmarks like the illustrious Las Olas Boulevard or the historic Riverwalk have probably seen more tires roll over them than the amount of sun-tanning tourists on the Fort Lauderdale beach! The commercial trucking scene here is as diverse as the Florida Keys – and every bit as crucial.
Riding the Miami Waves: Commercial Trucking Insurance Coverages
Navigating the insurance highway can be daunting. But hang on tight, because The Insurance Store, your friendly, neighborhood, family-owned business is here to help! With over half a century of experience, we've mastered the nuances of the commercial trucking insurance landscape better than a gator knows the Everglades. Here's the lowdown on the types of coverage you might need:
---
Auto Liability

Hold your horses! Before your wheels start rolling, this one's a legal requirement. It covers damages you might cause to other folks' property or injuries inflicted upon them in an accident where you're at fault.

Physical Damage

Think about all those annoying "love bugs" that smack against your windshield on the highway. Now, imagine if it were a tree branch instead. Physical damage insurance covers repairs or replacement of your vehicle due to such mishaps. Because, let's face it, nobody likes a banged-up rig!

Motor Truck Cargo

Hauling orange juice or high-tech equipment, Motor Truck Cargo insurance keeps your cargo covered if it's damaged or lost. And in a place like Fort Lauderdale, the value of goods in transit can vary as much as the food menu in a beachfront restaurant!

Trailer Interchange

Swapping trailers with another driver at Port Everglades? You need Trailer Interchange insurance for any damage that might occur while the trailer is under your watch.

Non-Trucking Liability

Day off? Headed to the beach? Non-Trucking Liability insurance covers you when you use your truck for non-business purposes. Because even trucks need downtime.

Workers Comp

An essential for companies with employees. This coverage provides financial support for medical expenses and wage replacement if a driver gets injured on the job.

General Liability

You're at a client's warehouse when your truck accidentally damages their property. General Liability covers these third-party claims. It's like the ideal safety net for those 'oops' moments.
The TIS Advantage: Your Guide on the Insurance Highway
Now, why would you want to partner with the TIS team for your commercial truck insurance needs in Fort Lauderdale, you wonder? Well, picture this: a family-owned business that's been driving the insurance industry for a whopping 50 years. A team that has access to a plethora of A+ rated insurance carriers who specialize in commercial transportation risks.
The icing on the cake? TIS's revolutionary mobile app, TIS24, which puts you in the driver's seat. Picture issuing your certificates of insurance anytime, anywhere, faster than a Florida gator snaps its jaws!
Trucking Permits and Filings Made Easy with TIS Trucking Services
Before you hit the road, there's the matter of getting your truck permits and filings in order. Navigating through these can feel like paddling upstream without a paddle. Luckily, the TIS team doesn't just stop at insurance. We have a dedicated permits division, TIS Trucking Services, to help with your commercial trucking permits, making the process as smooth as the Florida Turnpike.
Buckle Up with TIS for Your Commercial Truck Insurance
To wrap things up, why not jump on the bandwagon with the countless other truckers who've reaped the benefits of our services here at TIS?
Whether it's a drive through the scenic suburbs of Fort Lauderdale, a delivery to the busy downtown, or even a cruise by the iconic landmarks, don't set out until you're covered with the right commercial truck insurance.
Ready to take the next step? Request your Fort Lauderdale truck insurance quote today or give our friendly team a call at 888-570-3130. Remember, at The Insurance Store, you're not just a policy number, you're part of our family.
Here's to safe and secure trucking in Fort Lauderdale, Florida—where the sun shines on you and your truck, and TIS has your back!
---
Get a Quote for Truck Insurance
---
Here is what Our Happy Customers have to say
---
Hands down best broker I've ever had the pleasure of dealing with. Liz sets the bar in her industry.

Grant D.