FL License #: L112084
---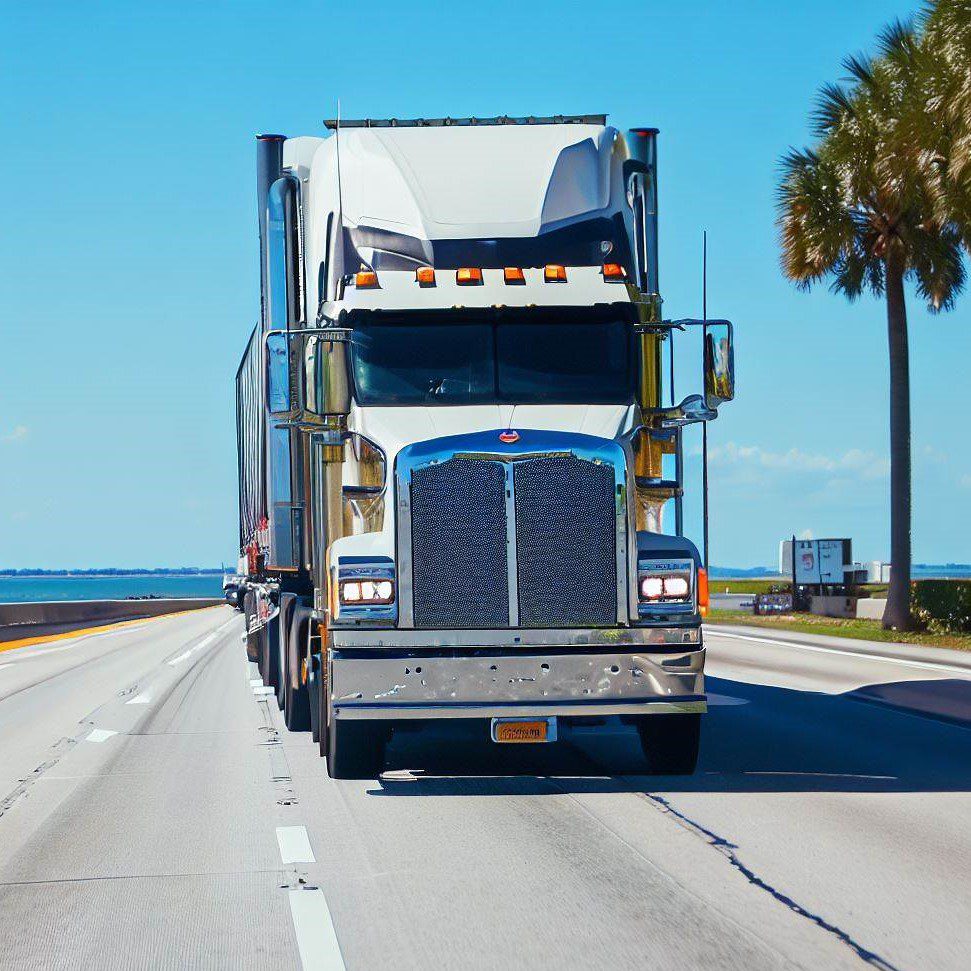 ---
---
Discovering the Trucking Treasure Trove: Tampa, Florida Commercial Truck Insurance
Ah, Tampa, the jewel of Florida's Gulf Coast. With the sparkle of Tampa Bay, the thunderous applause of Buccaneers football, and the vibrant Cuban culture in Ybor City, it's a city that's bubbling with charm. But did you know it's also a bustling hub for trucking and transportation? That's right, folks! Tampa is the unsung hero, the lifeblood that keeps our nation's goods flowing. Now, you wouldn't send your truck on the I-275 without a top-notch GPS, would you? Heck no! The same goes for Tampa Florida commercial truck insurance.
Tampa, a city known for its breathtaking sunsets, thrilling amusement parks, and succulent Cuban sandwiches, is also a cornerstone in the world of trucking. It's where everything from citrus fruits and phosphate, to imported exotic cars and colossal construction equipment gets carted around. Whether cruising down Dale Mabry Highway or maneuvering through the bustling Port of Tampa, it's the lifeblood that keeps the city's engine humming.
Covering Your Assets: Insurance Coverages and Their Importance
Whether you're hauling pallets of fresh oranges from the groves in Hillsborough County or construction materials to spruce up the historic Gasparilla Plaza, being adequately covered isn't a luxury - it's a must-have. Not convinced yet? Let's dive into the nitty-gritty of what these coverages mean:
---
Auto Liability

Let's say you're cruising down the Courtney Campbell Causeway, and bam! You accidentally clip another vehicle. Auto liability insurance swoops in like a superhero, covering the damages you might cause to other people's property or health. Yikes! You're not a reckless driver, but hey, accidents happen.

Physical Damage

Mother Nature can be a real hoot sometimes. What with hurricanes, sinkholes, and the occasional runaway gator, your truck can face all sorts of hazards on the roads of Tampa. Physical damage insurance acts as your truck's bodyguard, covering the costs of repair or replacement if your truck gets damaged.

Motor Truck Cargo

Imagine you're hauling a load of top-grade Florida stone crabs to a gourmet restaurant in Hyde Park Village, and then disaster strikes - your cargo gets damaged. Motor truck cargo insurance can help cover the loss or damage of the goods you're hauling. It's like a safety net for your seafood - or whatever else you're trucking.

Trailer Interchange

Ever had a game of musical trailers at the Port of Tampa? Trailer interchange insurance can cover physical damage to trailers not owned by you while under your possession, during a trailer interchange agreement. Now that's a breath of fresh air!

Non-Trucking Liability

Even when you're off the clock, strolling down the Tampa Riverwalk, your truck may still need coverage. Non-trucking liability insurance covers you for when your truck is not being used for business purposes. Because peace of mind shouldn't be a 9-5 thing, right?

Workers Comp

Your workers are the life and soul of your operation. Workers compensation ensures they're taken care of if they get injured on the job. Now, that's worth more than a Tampa Bay Treasure!

General Liability

Like a protective umbrella on a stormy Florida afternoon, general liability insurance covers you against injury or property damage related to your business operations. Now, that's what we call having your back!
Why You Should Choose The Insurance Store
Choosing The Insurance Store, or TIS as we like to call it, is like choosing a seasoned tour guide for your trucking journey. As a family-owned business, with 50 years of experience, we know a thing or two about navigating the tricky routes of commercial transportation risks. Plus, we've got access to a plethora of A+ rated insurance carriers who specialize in the commercial transportation industry.
But wait, there's more! We're not just about keeping you insured, we're about keeping you moving. With our cutting-edge mobile app, TIS24, you can issue certificates of insurance at any time, from anywhere. Whether you're waiting for a pick-up at Port Tampa Bay or having a quick pit stop at the Florida Aquarium, TIS24 has got you covered.
Navigating the Permit Pathway: TIS Trucking Services
It's not just about getting your truck insured - it's about getting it on the road legally and efficiently. And that's where our permit division, TIS Trucking Services, comes in handy. We can assist you with all the necessary truck permits and filings required in Florida. We're not just your insurance buddies - we're your permit pals!
Wrap It Up, Pack It In: Tampa Truck Insurance Done Right
There you have it, folks! Tampa isn't just a fantastic place to enjoy a fresh citrus cocktail and some electrifying football action - it's the heart of the Sunshine State's trucking industry. Ensuring you have comprehensive Tampa Florida commercial truck insurance is not just smart; it's essential for your peace of mind and the continuity of your business.
So, are you ready to take the plunge and navigate the high seas of Tampa truck insurance? Call our friendly TIS team at 888-570-3130 or request a Tampa truck insurance quote today. After all, life is too short to worry about insurance. Leave that to us, and keep on truckin'!
---
Get a Quote for Truck Insurance
---
Here is what Our Happy Customers have to say
---
Araiza trucking has a good experience with this company especially with you agent Lissette Gomez she is very helpful ,respectful responsible and Efficient. Ms.Gomez is a value employee to your company thank you for you service.

Heri Araiza