FL License #: L112084
---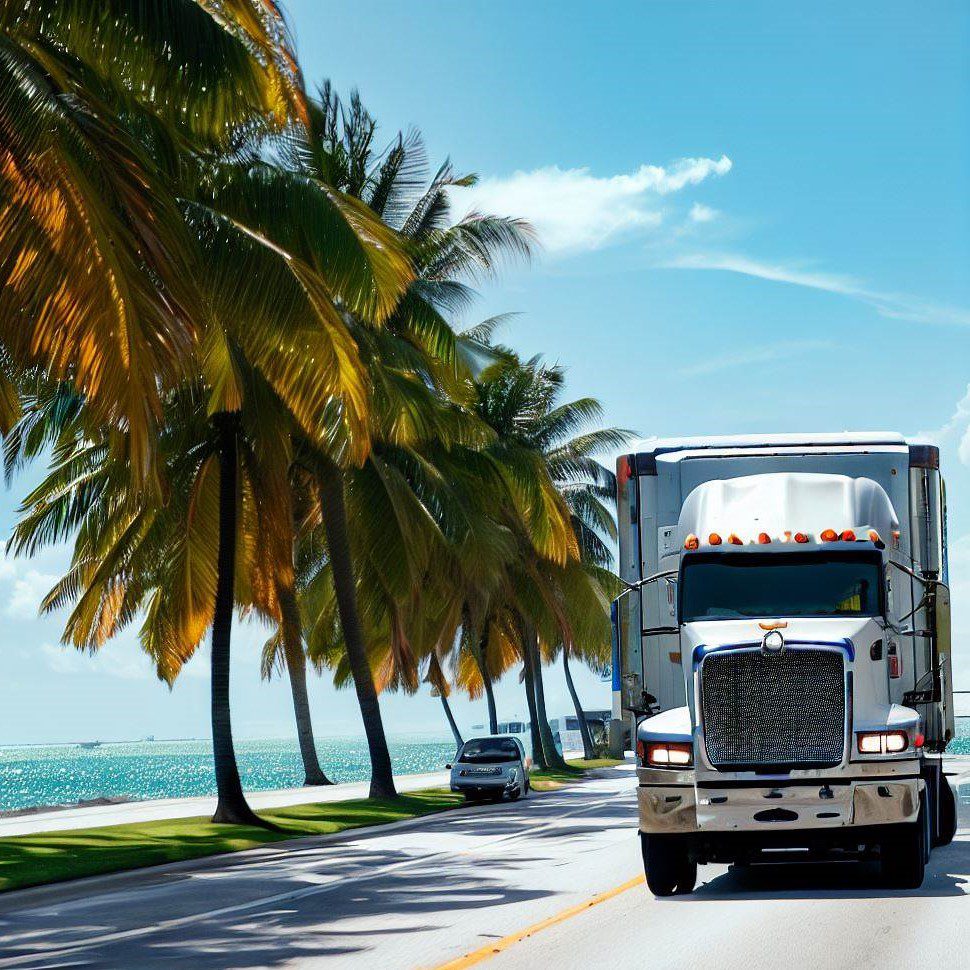 ---
---
Miami, Florida: The Sunshine State's Commercial Trucking Epicenter
Historically known as the 'Gateway to the Americas,' Miami is a bubbling melting pot of cultures and a major player in the world of international trade. It's a beehive of activity, where the local economy rides on the backbone of thousands of commercial trucks.
Trucks in Miami haul everything under the sun, from perishable goods and farm produce to construction materials and consumer products. And then there's the Port of Miami - or as the locals fondly call it, the 'Cruise Capital of the World'. The port is a major hub for truck activity, with stacks of shipping containers from across the globe changing hands, or rather, changing trucks.
From the famed art-deco district to the suburban sprawl of Kendall and from the skyscrapers of Downtown to the landmarks like the vibrant Little Havana, commercial trucks connect every thread of the city's fabric.
Riding the Miami Waves: Commercial Trucking Insurance
Before you roll up your sleeves to join the legion of Miami's truckers, there's a small detail you need to iron out – a not-so-teeny-weeny detail called commercial truck insurance. And when it comes to this, nothing beats the good folks over at The Insurance Store, or TIS as the cool cats call us.
Riding the Miami Waves: Commercial Trucking Insurance Coverages
When you're rumbling down the I-95, the last thing you need is to have your peace disturbed by the gnawing worry of what-if scenarios. That's where our comprehensive insurance coverages step in.
---
Auto Liability

Consider this the big kahuna of truck insurance. It's not just important, it's mandatory. It covers the costs if your truck ends up playing a not-so-friendly bumper car with someone else's vehicle.

Physical Damage

This one's for your own rig. Physical damage insurance has got your back (or rather, your truck).

Motor Truck Cargo

Remember that valuable cargo you're hauling from the Port of Miami? What happens if it somehow manages to take a walk? That's where Motor Truck Cargo insurance comes into play.

Trailer Interchange

Borrowing a trailer, are we? Protect it with Trailer Interchange coverage to avoid some sticky situations.

Non-Trucking Liability

Off duty? Hanging up your trucker hat doesn't mean you're free from liability. Non-Trucking Liability insurance covers your truck during off-business hours.

Workers Comp

Protect your crew and their hardworking hands that keep your truck humming.

General Liability

Cover your business from the risks of the world with General Liability insurance. When life throws you a curveball, you know TIS is there to catch it.
The TIS Advantage: Putting You in the Driver's Seat
Choosing TIS is like picking the sunniest spot on Miami beach - you can't go wrong. Why, you ask? Here are just a few reasons:
We're not just a business, we're family. We've been delivering top-notch service and advice in the trucking insurance industry for over 50 years. Having access to numerous A+ rated insurance carriers, we cater to a broad spectrum of commercial transportation risks. Trust us, when it comes to commercial truck insurance, we're not just spinning our wheels.
With our mobile app, TIS24, we're breaking down barriers and driving convenience home. Issue your certificates of insurance anytime, anywhere, and on any device. We've gone digital, folks! But don't worry, we've still got our friendly human touch.
Keeping It Legal: Truck Permits and Filings in Florida
Navigating the maze of permits and filings is like driving a semi-truck through downtown Miami during peak hours – daunting but doable. Thankfully, TIS Trucking Services, our permits division, is here to help you sort out your commercial trucking permits.
From filing for Unified Carrier Registration (UCR) to obtaining an International Registration Plan (IRP), we're your go-to pit crew. We keep you in line with the Sunshine State's regulations, so you can focus on what you do best - trucking!
Buckle Up for a Trucking Adventure in Miami
Whether you're hauling Cuban coffee to Coral Gables or transporting tropical fruits to Florida City, it's time to embrace the open road with the confidence that TIS has got your back. Don't just navigate the world of commercial truck insurance - cruise through it, Miami style!
For a Miami truck insurance quote that'll make you go 'woohoo', or if you simply fancy a chat with our friendly team, just dial 888-570-3130. Remember, the journey is just as important as the destination, and with The Insurance Store, it's always a smooth ride!
---
Get a Quote for Truck Insurance
---
Here is what Our Happy Customers have to say
---
Kelli was most helpful. Fast in getting good insurance quotes. Takes you through the quotes to get the best. I'd recommend to everyone looking for truck insurance.

Peter Kariuki