Minnesota Truck Insurance
MN License #: 40723549
---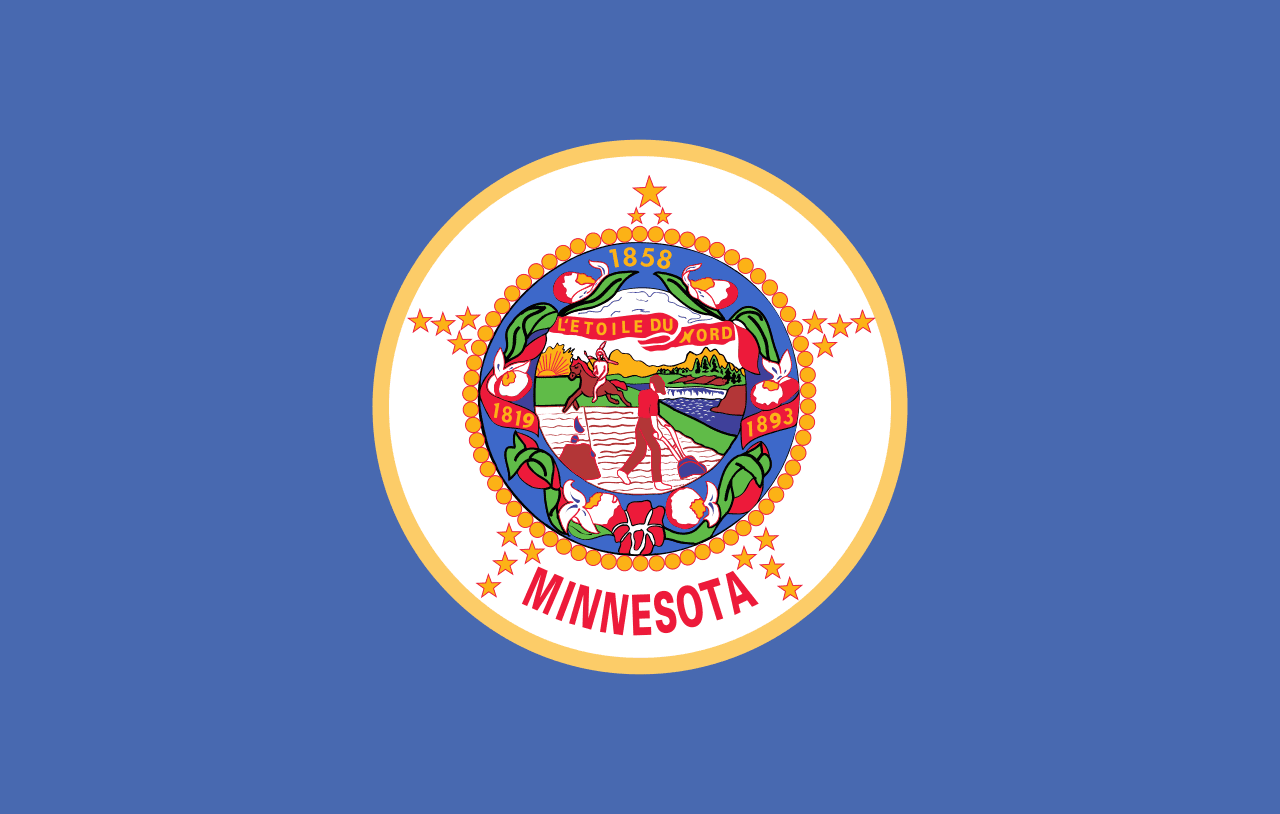 ---
---
Minnesota Commercial Truck Insurance
Minnesota, the northernmost state in the contiguous United States, is known as the "Land of 10,000 Lakes." Minnesota's nickname comes from its plethora of freshwater lakes, which provide ample opportunities for fishing, boating, and other recreational activities. Beyond its lakes, Minnesota also contains vast expanses of forests, rolling prairies, and fertile farmland. The state's rich natural resources and central U.S. location have made it a hub for commercial trucking and logistics.
With its convergence of major interstates, proximity to Canadian ports, and connectivity to rail networks, Minnesota offers strategic advantages for truck transportation. Major interstates crossing Minnesota include I-90, I-94, and I-35, which allow for efficient shipping lanes across the Upper Midwest. The Port of Duluth-Superior on Lake Superior links Minnesota to international shipping and provides connections to the Atlantic Ocean via the Great Lakes and St. Lawrence Seaway. Minnesota's railroad infrastructure also enhances its logistics capabilities, with Duluth and the Twin Cities operating as major railroad hubs.
With its strong trucking industry presence, Minnesota requires commercial truck drivers and motor carriers to maintain proper insurance coverage. Understanding Minnesota's insurance regulations and accessing the right truck insurance products can ensure your business stays compliant and protected on the open road.
Understanding Minnesota Trucking Insurance Coverages
Operating commercial vehicles comes with a variety of risks and liabilities. That's why Minnesota state laws require minimum levels of insurance coverage. Here are some of the most important truck insurance policies recommended for motor carriers in MN:
---
Auto Liability

Let's talk auto liability coverage. This protects you if you're found legally responsible for injuring someone or damaging their property while operating your truck. For example, say you're driving your rig in Minneapolis and accidentally sideswipe a car while changing lanes. Your trailer leaves some nasty scrapes and dents on their vehicle. Without liability coverage, you'd have to pay those repair costs out of pocket. But with coverage, your insurer will handle it. Or what if you're making a tight turn in St. Paul and clip a light pole, causing it to crash down onto someone's car. Their vehicle is totaled and they have injuries. Your liability insurance will pay for their medical bills, vehicle damage, and any other lawsuit costs up to your policy limits. The bottom line is liability coverage protects your finances if you're deemed at-fault for an accident. It pays for other people's damages and injuries. Just be sure to get high enough limits to fully protect your assets! So don't drive without it, Minnesota truckers.

Physical Damage

This protects your actual truck if it gets damaged. For example, say you're driving down a narrow road in Brainerd and a deer jumps out. Bam! Now your rig has a gnarly dent. Without physical damage coverage, that comes out of your pocket. But with coverage, you can get your truck fixed up good as new. Or what if you're parked for the night in Duluth and some fool sideswipes your truck while you're catching z's. Now you've got a scraped up quarter panel. Physical damage coverage to the rescue! File a claim and get that paint touched up. The point is physical damage protection pays to repair your rig if it gets smacked, scratched, crunched, or crushed. Whether it's a fender bender, hail storm, or uninsured motorist, you're covered. Make sure to get adequate coverage limits though, because repairs are expensive! So don't roll the dice. Talk to your agent about physical damage today. That way your wallet won't take a hit when your truck does.

Motor Truck Cargo

Say you're hauling a trailer loaded with brand new motorcycles from St. Cloud to Duluth. On the way, a huge pothole jolts your truck and causes some of the bikes to topple over, getting all scratched up. Without cargo insurance, you'd be on the hook for those damaged goods. But with coverage, you can file a claim to recoup the cost of the scraped motocycles. Or what if you're transporting stacks of lumber from Brainerd to Rochester. A distracted driver rear-ends you, causing your lumber to scatter all over the highway. Some pieces even go over the guardrail. Yikes! Your cargo coverage will pay to replace the lost and damaged lumber so you don't eat that cost. The point is cargo insurance covers you if the load gets damaged or lost, whether it's electronics, clothing, building materials, or anything else you're hauling. It's a must-have for Minnesota truckers. Make sure to talk to your agent to get set up so you can drive with confidence knowing your cargo is protected.

Reefer Breakdown

If you haul refrigerated loads, you want to get reefer breakdown coverage. This protects you if your refrigeration unit conks out. For example, say you're hauling a trailer of frozen turkeys from Moorhead to Minneapolis. You stop to fuel up in Alexandria and notice your reefer's not running. Uh oh - your whole load could thaw! Without reefer breakdown coverage, you'd be on the hook for several thousand dollars worth of turkey slush. But with coverage, you can file a claim to recoup damages. The policy will pay to replace the spoiled cargo, reimburse the customer, and even cover expenses like rush delivery charges to get a new shipment there on time. Or what if your reefer fails halfway through a multi-day haul of dairy products? You may need to transfer the cargo to another trailer, dispose of contaminated goods, and absorb other costs. Your reefer breakdown policy has you covered. Don't gamble your wallet on an unreliable reefer. Get this essential coverage and drive Minnesota roads stress-free! Protect your cargo, your customers, and your bottom line with reefer breakdown insurance. Stay cool out there!

Non-Owned and Trailer Interchange

These coverages are important if you haul loads using trailers you don't own. Non-owned trailer coverage protects you if you damage a trailer you've rented or borrowed. For example, say you need an extra reefer for a job, so you rent one from a leasing company. If you dent the reefer backing into a dock, non-owned trailer coverage will pay for repairs so the leasing company doesn't come after you. Trailer interchange coverage applies when you swap trailers with another carrier. Let's say you pick up a loaded trailer from another company to haul it across the state. If that trailer gets damaged in transit, trailer interchange coverage protects you instead of relying on the other carrier's policy. The bottom line is these coverages have your back when using equipment not owned by your company. Make sure to discuss your needs with your agent to get proper protection. That way you can take on jobs flexibly without worrying about damage liability for non-owned trailers.

Non-Trucking Liability

This protects you if you cause damage while operating your rig outside of your trucking duties. For example, say you're driving your own truck to a repair shop on your day off. You back into another car in the parking lot. Without Non-Truckng Liability (NTL) coverage, their damages would be out of your pocket. But having the coverage in place means you can file a claim to fix their car without financial stress. Or what if you're using your truck to help your buddy move. You spill some paint on their driveway while loading boxes. NTL would pay for the cost of cleaning up and repainting so it doesn't come back on you. The point is NTL coverage protects you when using your truck for personal stuff like repairs, errands, or favors. It provides liability insurance when you're not on a trucking job. Make sure to discuss it with your agent if you ever drive your rig off-duty. Then you can cruise around Minnesota worry-free!

Excess Liability

This kicks in when your primary liability limits are tapped out. For example, say you're hauling a load through Edina and accidentally crash into a brand new Tesla dealership. The damage is extensive, costing well over $1 million. Your primary $750,000 liability coverage won't cut it. But with $2 million in excess coverage, you'd be protected for the remainder. Or what if you jackknife on the highway during a blizzard? Multiple vehicles pile up, causing life-altering injuries. Lawsuits exceed your underlying liability limits fast. Your excess coverage provides critical extra protection in high-loss situations like this. The point is primary trucking liability insurance may not be enough in worst-case scenarios. Excess liability fills the gap, covering damages above your base limits so your assets stay protected. Make sure to get adequate excess limits based on your risk exposure. Don't gamble your financial future. Talk to your agent about bolstering your limits with excess liability. Then you can focus on safe driving, not worrying about causing damages beyond your primary coverage.

Workers Compensation

Listen up Minnesota trucking companies - don't roll the dice on workers' comp! Here's the deal: This coverage pays for medical bills and lost wages if one of your employees gets injured on the job. For example, say your driver slips on some ice while strapping down a load, breaking their leg. Without workers' comp, you'd be paying their medical expenses out of pocket. But with coverage in place, you can file a claim to cover their treatment costs and missed paychecks while they recover. Or what if your mechanic gets their hand caught in some machinery during an engine repair? Workers' comp would cover the ER visit, surgery, physical therapy, and additional lost income during their time away from work. The point is workers' comp protects your company from financial risk if staff suffer work-related injuries. It's required in Minnesota and pays for healthcare, lost wages, and other costs so your employees get taken care of. Don't wait for an accident to happen - talk to your insurance agent and get covered today.

Occupational Accident

Occupational Accident (or "Occ Acc") coverage protects you if you're injured on the job. For example, say you slip and fall while securing a load, breaking your wrist. Your medical bills, lost wages from missing work, and other costs really stack up. Occupational accident coverage helps by paying benefits regardless of fault to cover your bills and replace income until you fully recover. Or what if you strain your back lifting cargo? Occupational accident insurance provides cash benefits to pay for your treatment without tapping into your own savings or relying on workers' comp. The point is occupational accident coverage gives you a financial safety net if you get hurt doing your job. Things happen, so protect yourself with this affordable coverage designed for truckers. A few dollars per month can save you thousands down the road.

General Liability

Truckers' general liability protects your business if you're sued for causing property damage or bodily injury away from the truck. For example, say a visitor trips and falls in your office, breaking their arm. Without liability insurance, their medical bills and legal claims come out of your pocket. But general liability coverage will pay for their damages so your business assets stay protected. Or what if an electrical fire starts at your warehouse and burns the building next door? Your liability policy will cover the cost of repairs to the neighboring property. The point is general liability shields your trucking business from financial risk if you're legally liable for injuring someone or damaging property. It covers legal judgments, settlements, and defense costs. Just make sure your limits are high enough to fully protect your assets! Don't wait for an accident to happen, Minnesota truckers. Talk to your insurance agent and get covered today so you can keep on truckin' without liability worries.
Why Choose The Insurance Store for Truck Insurance in Minnesota?
Operating as a motor carrier or independent owner-operator requires understanding the truck insurance landscape in Minnesota. Navigating insurance regulations, comparing policies, and finding the right commercial truck insurance products for your situation can be challenging. That's where partnering with an experienced insurance agency provides key advantages.
As an independent insurance agency, The Insurance Store has spent 50 years building relationships with top commercial truck insurance carriers across the U.S. This gives us access to highly competitive insurance products specifically designed for the transportation industry. With both national and regional insurance providers in our portfolio, we have the flexibility to find you the right coverage at the right price.
The Insurance Store's in-house team of industry experts makes securing the optimal Minnesota truck insurance coverage efficient and headache-free. We take the stress out of managing your policies across state lines by providing:
Licensed agents

 

who specialize in trucking insurance
Superior customer service

 

and industry knowledge
Policy review and consulting

 

to ensure adequate protection
24/7 certificates

 

and insurance documents through the TIS24 portal
Prompt policy changes

 

as your business needs evolve
As a family-owned agency, we also offer a personal touch when advising on risk management best practices to keep your trucks safe and your insurance costs controlled. Contact us today for a fast, free quote from Minnesota's most trusted truck insurance agency.
Insurance for all Types of Operations
Here are some types of trucking operations we can help you find insurance for in Minnesota:
Get Assistance with your Minnesota Truck Permits & Filings
Beyond insurance coverage, trucking companies operating in Minnesota should ensure proper permitting. Our permits division, TIS Trucking Services, specializes in helping truckers secure necessary state and national permits. Our team, with its rich legacy and unparalleled expertise, is always at your service.
Serving Minnesota and Beyond!
And hey, if you're branching out beyond Minnesota, we've got you! We also cater to neighboring states like North Dakota, South Dakota, Iowa, and Wisconsin. So why wait? Get a quote or ring up our friendly team at 888-570-3130. Drive safe and remember, with TIS, you're always in good hands!
Get a Quote for Minnesota Truck Insurance
As a leading truck insurance agency in the Land of 10,000 Lakes, The Insurance Store is here to protect trucking businesses hauling goods across Minnesota. We offer affordable commercial truck insurance rates thanks to our clout and volume across the transportation industry.
The TIS team has decades of experience tailored specifically to truckers' insurance needs. Whether you operate locally or are an over-the-road carrier, we make it easy to get covered. Contact us for a fast, free quote today at 888-570-3130 or request a quote online.
---
Minnesota Truck Insurance Quote
---
Here is what Our Happy Customers have to say
---
Chelsey is amazing. She provided timely insurance quotes and walked me through the process, which made it easy on my end. If you want it done right with expert guidance, contact Chelsey at The Insurance Store!

Markell Jones
---
Ashley Rosemore is a true professional, handles business expediently and is so very helpful with issues that need attention. She and Frank Faldmo have always gone the extra mile for us and we will continue to use this business because of these individuals.

Linda Weimann
---
The thing that I like the best about them is the fast responsiveness. Every time I needed something, I was always treated like I am the only customer. Very professional and friendly!

Roman Vaxman