San Francisco Truck Insurance
CA License #: 0I96350
---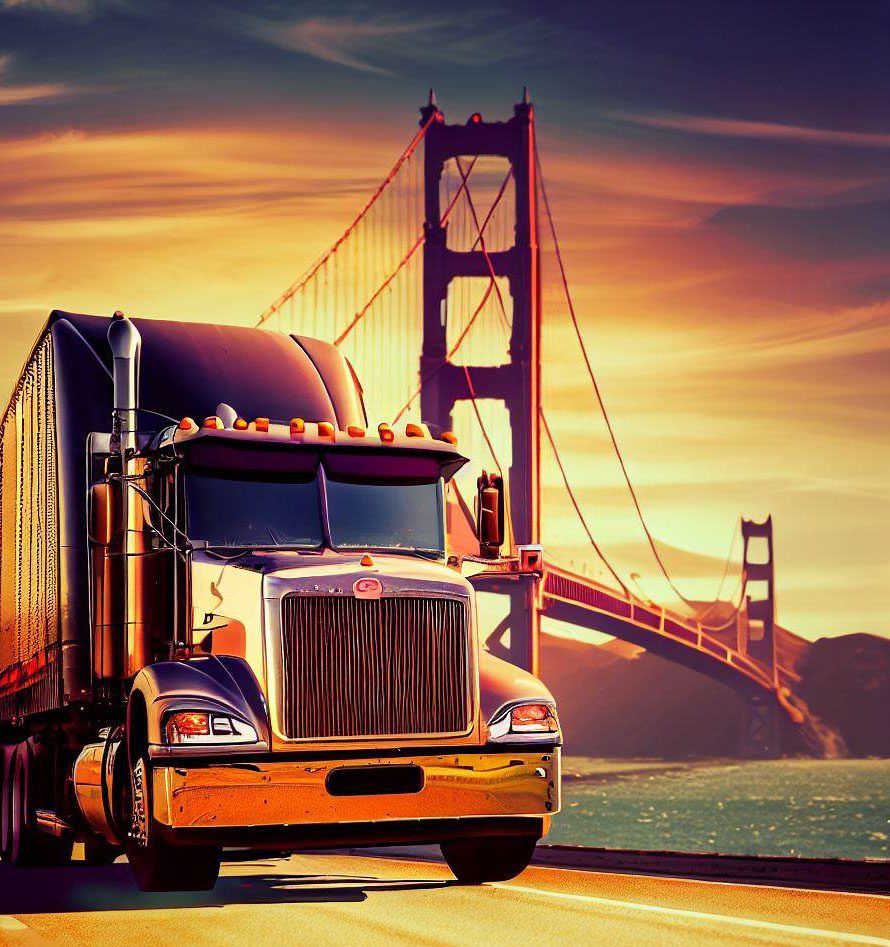 ---
---
Riding the Road of Reassurance with San Francisco Commercial Truck Insurance
Welcome to the hustling, bustling world of San Francisco's commercial trucking industry! Now, you may not have thought about it before, but the lovely City by the Bay is actually a veritable hub of this commerce-driven transportation niche.
So, what's the lowdown on this high gear industry? Well, you see, tons of cargo and commodities – ranging from the latest Silicon Valley tech gadgets to the freshest farm-to-table produce from the surrounding valleys – are transported daily through San Francisco's scenic but busy highways. And let's not forget about those roaring big rigs rumbling off to neighboring cities like Oakland, San Jose, and Sacramento. Yep, there's a whole lot more to Frisco than trolleys and sourdough bread!
But hey, don't let us carry you away on the tides of truck trivia. After all, we've got a highway to traverse – the highway of San Francisco commercial truck insurance.
The Nuts and Bolts of SF Commercial Truck Insurance
You've probably heard the old saying, "better safe than sorry," right? In the world of commercial trucking, this nugget of wisdom is something we live by. You see, an uncovered accident can be as calamitous as an earthquake on the Richter scale. And that's where we, The Insurance Store, come in - your friendly neighborhood insurance agency, protecting truckers' livelihoods for 50 golden years.
---
Truck Liability Insurance

Truck Liability is the meat and potatoes of any commercial truck insurance package. This coverage is as essential as the Golden Gate Bridge is to San Francisco's skyline. It protects you from the financial fallout when your commercial truck is involved in an accident, causing injury or property damage. It's like your very own financial earthquake insurance!

Physical Damage Coverage

Picture this. Your shiny, precious rig parked near Fisherman's Wharf has just been hit by a wayward cable car. Ugh, right? Physical Damage insurance is your safeguard here, covering the cost to repair or replace your vehicle in the event of an accident or other mishap. Consider it your safety net when the unexpected comes knocking on your cab door.

Motor Truck Cargo Insurance

San Francisco's iconic fog rolls in, and bam! Your truck skids, and the valuable cargo of tech gizmos you're hauling for Silicon Valley bigwigs is damaged. Motor Truck Cargo insurance swoops in like a superhero, covering the loss or damage of the cargo you're transporting. It's your insurance cape, ready to shield your cargo from disaster.

Non-Trucking Liability and Bobtail

After a long haul, you decide to take your rig for a spin down Lombard Street. Suddenly, an accident! Non-Trucking Liability and Bobtail insurance steps up, covering you when using your commercial vehicle for non-business purposes. Like that trusty sourdough starter, this coverage is always there, ready to rise to the occasion.

Workers Compensation

Trucking is hard work, and sometimes, accidents happen. Maybe you pull a muscle unloading at Pier 39, or perhaps you slip on a rogue clam shell. Workers Comp insurance has your back, covering medical expenses and lost wages for injured workers. It's like your very own insurance co-pilot, always riding shotgun.

General Liability Insurance

The beautiful thing about General Liability coverage? It's like a broad, protective umbrella on a rainy San Francisco day. Whether you accidentally damage a customer's property during a delivery or face a reputation-tarnishing lawsuit, General Liability insurance has you covered.
The Insurance Store - Your Trusty Co-Pilot
The Insurance Store isn't just another insurance agency, we're your reliable co-pilot, navigating the often choppy waters of commercial truck insurance for over 50 years. With access to A+ rated insurance carriers specializing in commercial transportation risks, we're your sturdy lighthouse amidst the foggy, confusing shores of insurance.
And because we know you're always on the go, we've got TIS24, our nifty mobile app that lets you issue your certificates of insurance anytime, anywhere.
Steering You Right with TIS Trucking Services
Of course, driving your commercial truck on Californian roads isn't as simple as hopping onto Route 101. There's a whole rigmarole of permits to navigate, too. Don't sweat it though. Our TIS Trucking Services division is here to make your journey smooth sailing. We'll steer you right, handling all those complicated truck permits required in the Golden State. It's like having your own personal concierge for the road.
A Call to Action – Let's Secure Your Journey
Well, folks, we've covered a lot of ground here, from the sunny vineyards of Napa Valley to the high-tech corridors of Silicon Valley. But remember, the road can sometimes be as unpredictable as a San Francisco summer. That's why you need an insurance agency that understands your needs, has your back, and offers you the best coverages.
So, why not give us a ring at 800-354-8535? Let's discuss your commercial truck insurance needs. The Insurance Store has been steering truckers in the right direction for half a century. Let us guide you, too, on the road to reassurance and security. After all, the best journeys are always those where peace of mind rides along.
---
Get a Quote for Truck Insurance
---
Here is what Our Happy Customers have to say
---
Albrecht and Kelsea are wonderful. They are so polite and patient with me. I been in business a few months now and they been with me the whole time putting up with me adding and dropping trucks and drivers. They answer all my questions and concerns in a timely manner. They are always kind with a positive attitude. I have never met either of them, but I can just feel the positivity and smiles on their faces thru the phone and emails. I really appreciate these 2 for putting up with me. Keep up the good work you two. Y'all are AMAZING!

Connie W.