CA License #: 0I96350
---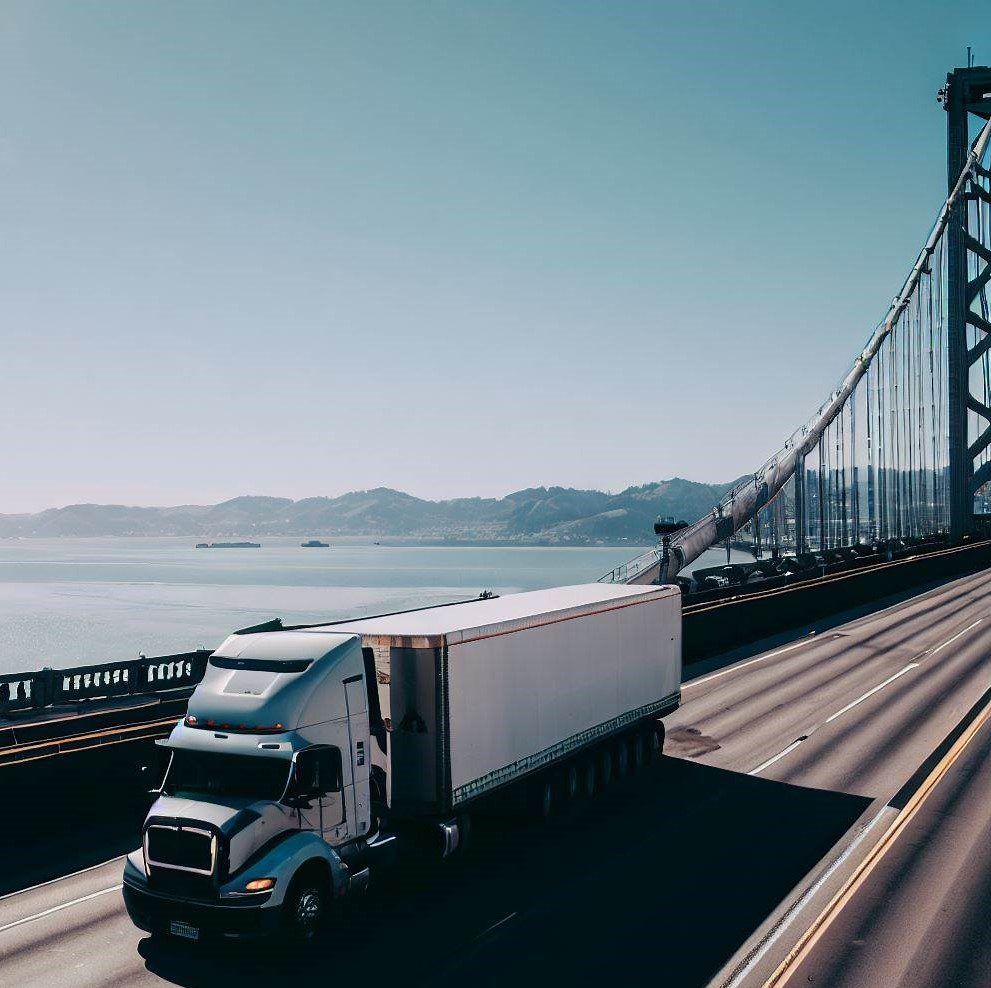 ---
---
Commercial Truck Insurance in Oakland, CA
Imagine this - you're cruising down the Nimitz Freeway in Oakland, California with the famous Port of Oakland in your rear-view mirror, a big rig bursting with the sweet scent of freshly harvested almonds or gadgets from Silicon Valley. The golden sun is setting over the iconic San Francisco Bay, your truck's engine hums a familiar tune, and you've got nothing but open road and opportunity ahead. But, hey there, trucker! Did you remember to insure that precious cargo? And what about your big ol' truck itself?
With the ebb and flow of cargo through the Port of Oakland and onto the arteries of California's highway system, commercial truck insurance is not just a good-to-have, it's a must-have, and here's why. Whether it's a trip down the 880, or a cross-country haul, you're carrying more than just cargo; you're transporting your livelihood. And believe us, in this business, it's not always smooth sailing - or should we say, smooth driving?
The Nitty-Gritty of Commercial Trucking Insurance
Now, here's where we break it down, from Motor Truck Cargo to Bobtail. Confused already? Don't sweat it, we've got your back!
---
Truck Liability Insurance

Picture this - you're navigating through Berkeley's narrow streets, and - uh oh! - a swift side-swipe later, you're staring at a damage claim. That's where Truck Liability steps in, covering the costs linked to property damage or injury to others. It's the rock 'n' roll of insurance coverages, a real showstopper that every commercial truck in Oakland needs to have.

Physical Damage Coverage

Ah, Physical Damage, the unsung hero of the insurance world! Imagine your rig gets a 'love tap' from a boulder on the winding roads near Mount Diablo. Well, that's where Physical Damage insurance comes into play, taking care of your truck's repair or replacement.

Motor Truck Cargo Insurance

Now, let's talk cargo. You're hauling a load of Napa Valley's finest Cabernet Sauvignon to a ritzy event in San Francisco. A mishap leads to a spill that could even make Dionysus wince. Motor Truck Cargo insurance helps cover the cost of the cargo lost or damaged, keeping your business trucking along.

Non-Trucking Liability and Bobtail

Alright, so your rig is out of service and you're just cruising down Highway 13 for a famous Fenton's Creamery sundae. If you're involved in an accident while you're off the clock, that's where Non-Trucking Liability and Bobtail coverage step in.

Workers Compensation

Driving a commercial truck in Oakland is more than just a nine-to-five gig, it's a lifestyle. Workers Comp ensures you're covered for on-the-job injuries. Because, let's face it, a trucker's life isn't always as easy as pie.

General Liability Insurance

Finally, there's General Liability, the umbrella that covers you from legal expenses arising from accidents on your premises, advertising errors, or reputational damage. It's the 'catch-all' in your insurance game plan.
Meet Your Dream Team: The Insurance Store
In the unpredictable world of trucking, you need an ally, and that's where The Insurance Store, fondly known as TIS, comes into the picture. A family-owned business boasting half a century of experience, we at TIS treat our clients like kin.
What sets us apart? Not only do we have access to a multitude of A+ rated insurance carriers specializing in commercial transportation risks, but we've also got a shiny little tool up our sleeve - the TIS24 mobile app. This nifty piece of technology lets our trucking friends issue certificates of insurance anytime, anywhere, from your trusty computer or smartphone. Talk about convenience on wheels!
Your Permit Pit Stop: TIS Trucking Services
Venturing into the trucking biz? First off, congratulations! Now, don't forget that there's more to it than buying a truck and hitting the road. Truck permits and filings are as crucial as a good cup o' Joe on a long haul.
Luckily for you, we at TIS have an entire division devoted to this - TIS Trucking Services. We're not just your insurance gurus; we're your permit pros, helping you navigate the trucking terrain in the Golden State.
Let's Get This Show on the Road!
Alright, truckers, we've taken a scenic route through the land of Oakland CA commercial truck insurance, and we hope it's been a fun ride. Remember, in this line of work, it's better to be safe than sorry.
Want to secure your rig, protect your cargo, and safeguard your livelihood? Get a quote or give our friendly team at The Insurance Store a ring at 800-354-8535. Let's gear up for your trucking journey together, because at TIS, we're all about making sure you're covered, from Oakland to Oceanside, and everywhere in between. Happy trucking, folks!
---
Get a Quote for Truck Insurance
---
Here is what Our Happy Customers have to say
---
Content with my experience with TIS about how efficient and professional they are. Deserves five 🌟

Charles Peperah