Prep: 15 mins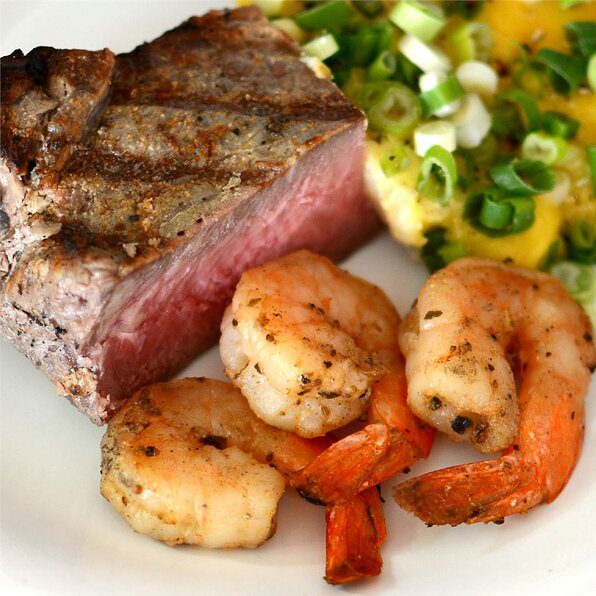 Cook: 15 mins
Additional: 15 mins
Total: 45 mins
Servings: 2
Ingredients:
1 tablespoon olive oil
1 tablespoon butter, melted
1 tablespoon finely minced onion
1 tablespoon white wine
1 teaspoon Worcestershire sauce
1 teaspoon lemon juice
1 teaspoon dried parsley
1 teaspoon seafood seasoning (such as Old Bay®)
1 clove garlic, minced
⅛ teaspoon freshly ground black pepper
12 medium shrimp, peeled and deveined
2 (4 ounce) filet mignon steaks
2 teaspoons olive oil
1 teaspoon steak seasoning
Step 1: Whisk 1 tablespoon olive oil, butter, onion, wine, Worcestershire sauce, lemon juice, parsley, seafood seasoning, garlic, and black pepper together in a bowl; add shrimp. Toss to coat evenly. Cover bowl with plastic wrap and refrigerate for flavors to blend, at least 15 minutes.
Step 2: Preheat an outdoor grill for medium-high heat and lightly oil the grate. Coat steaks with 2 teaspoons olive oil; sprinkle with steak seasoning.
Step 3: Cook steaks until they are beginning to firm and have reached your desired doneness, 5 to 7 minutes per side. An instant-read thermometer inserted into the center should read 140 degrees F (60 degrees C). Transfer steaks to a platter and loosely tent with a piece of aluminum foil.
Step 4: Remove shrimp from marinade and grill until they are bright pink on the outside and the meat is no longer transparent in the center, 2 to 3 minutes per side.