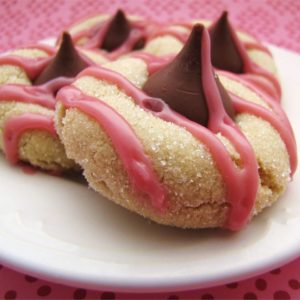 Prep: 30 mins
Cook: 10 mins
Servings: 36
Ingredients:
½ cup butter, softened
½ cup white sugar
½ cup packed brown sugar
1 egg
1 teaspoon almond extract
2 cups all-purpose flour
1 teaspoon baking soda
¼ teaspoon salt
¼ cup white sugar for decoration
40 milk chocolate candy kisses, unwrapped
1 cup confectioners' sugar
1 tablespoon milk
4 teaspoons raspberry jam
¼ teaspoon almond extract
Directions:
Step 1: In a medium bowl, cream together the butter, 1/2 cup white sugar and brown sugar until smooth. blend in the egg and 1 teaspoon almond extract. Combine the flour, baking soda and salt; stir into the creamed mixture. Cover dough and refrigerate for at least one hour, or until easy to handle.
Step 2: Preheat the oven to 325 degrees F (165 degrees C). Roll dough into 1 inch balls, roll the balls in the remaining white sugar and place them 2 inches apart onto ungreased cookie sheets.
Step 3: Bake for 10 to 12 minutes in the preheated oven, or until golden brown. While hot from the oven, immediately press a chocolate kiss into the center of each one. Remove from cookie sheets to cool on wire racks.
Step 4: In a small bowl, mix together the confectioners' sugar, milk, raspberry jam and 1/4 teaspoon almond extract until smooth. Drizzle over cooled cookies.