We're thrilled to showcase a treasured recipe from Shalyn Nelson. For her family, Sundays are synonymous with baking these irresistible cookies. Discover the heartwarming tradition that has captured their hearts and taste buds.
Total time: About 3 hours (optional overnight freeze)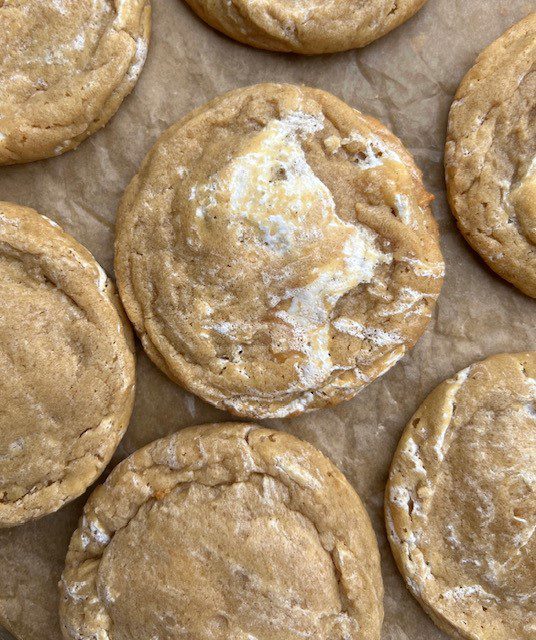 Prep Time: 15 minutes
Bake Time: 9-11 minutes (11-13 with overnight freeze)
Chill time: 2 hours (or overnight freeze)
Servings: 12 cookies
Ingredients:
8 tablespoons (1/2 cup, 1 stick) unsalted butter, room temperature
1/2 cup light brown sugar
1/3 cup granulated sugar
1 large egg*
1 teaspoon vanilla extract
1/4 cup + 2 tablespoons peanut butter**
1 1/4 cup all purpose flour
1/2 teaspoon baking soda
1/2 teaspoon baking powder
1/2 teaspoon salt
1/2 cup marshmallow fluff
I recommend taking your egg out of the fridge about 30 minutes prior to starting. This recipe calls for a non-natural, creamy peanut butter with added oil and sugar like original Skippy or Jiff brand.
Instructions:
Into your stand mixer, or large bowl if using a hand mixer, add your butter and both sugars. Mix at a medium to high speed until fully combined, about 2 minutes.
Add in your egg and vanilla extract. Continue to mix until lightened in color, about 2 minutes, then scrape down the sides of your bowl and mixer.
Next, add in your peanut butter. Mix at a medium speed for about a minute until your peanut butter is incorporated, pausing halfway through to scrape down your mixer and bowl.
Then, add in your dry ingredients – flour, baking soda, baking powder, and salt. Mix at the lowest speed until your dough has just come together.
Drizzle your fluff over the top of your dough and use a spatula to fold it into your dough until you see ribbons of fluff throughout. Be careful to mix just enough so that you see streaks of fluff, but you do not want to mix the fluff into your dough.
Cover your dough and place into the fridge to chill for two hours or until firm.
Once your dough has chilled, it's time to scoop – and you can bake right away, or you can freeze your scooped dough overnight prior to baking (this is my preference for a slightly thicker cookie). If you'd like to bake right away, preheat your oven to 350 degrees.
Onto a lined cookie sheet, I used parchment paper, use a cookie scoop or large spoon to portion out your dough – it should make about 12 cookies, 2 1/2 to 3 tablespoons per cookie.
To bake right away, place into the oven to bake for 9 – 11 minutes and enjoy! If you'd like to freeze first for a slightly thicker cookie, place your scooped dough into the freezer overnight and then bake at 350 degrees for 11-13 minutes straight from the freezer.