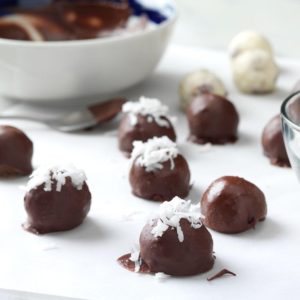 Ingredients
1 cup butter, softened
4 cups confectioners' sugar
1 can (14 ounces) sweetened condensed milk
1 teaspoon vanilla extract
3 cups sweetened shredded coconut
2 cups chopped pecans, toasted
6 cups semisweet chocolate chips
1/4 cup shortening
Directions
In a large bowl, beat butter, confectioners' sugar, milk and vanilla until blended. Stir in coconut and pecans. Divide dough in half; cover and refrigerate for 1 hour.
Working with half the dough at a time, shape mixture into 1-in. balls; place on waxed paper-lined baking sheets. Refrigerate 30 minutes longer.
In top of a double boiler or a metal bowl over barely simmering water, melt chocolate chips and shortening; stir until smooth. Dip balls in melted chocolate; allow excess to drip off. Return to waxed paper. Refrigerate until set.
To Make Ahead: Store in an airtight container in the refrigerator.
Freeze option: Freeze candy, layered between pieces of waxed paper, in freezer containers. To use, thaw in refrigerator 2 hours before serving.