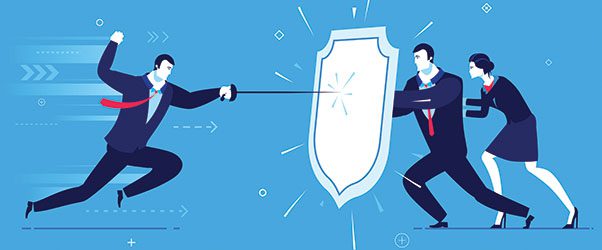 Sadly, data breaches and other cyber crimes are becoming the norm in today's society. You may think that only large corporations are under attack with this type of crime; however, 55% of small businesses have experienced a data breach and 53% have had multiple breaches.  Hackers can target personally identifiable information or personal health information you keep on your business' computers.
A data breach can damage more than just your small-business computer system – it also can damage your reputation and put your customers and/or employees at risk. This is why it is important to protect your business, large or small, with data breach or cyber liability insurance.
What is cyber insurance?
Cyber insurance generally covers your business' liability for a data breach involving sensitive customer information, such as Social Security numbers, credit card numbers, account numbers, driver's license numbers, and health records.
Won't my general liability policy cover cyber liability?
General liability insurance covers bodily injuries and property damage resulting from your products, services, or operations. Cyber insurance is often excluded from a general liability policy.
What does cyber insurance cover?
Besides legal fees and expenses, cyber insurance typically helps with:
Notifying customers about a data breach
Restoring personal identities of affected customers
Recovering compromised data
Repairing damaged computer systems
Most states require companies to notify customers of a data breach involving personally identifiable information2– a process that can be very expensive. And even though most states don't require companies to offer free credit monitoring following a breach, such a gesture goes a long way with public relations.
For more information regarding cyber insurance coverage contact our business lines department at 619-401-1800.