The Fearless LLC is a for-hire trucking company located in Chino, CA that hauls dry general freight. It was named after the owner, Shaun, and his wife, Temia's favorite verse- Psalm 27:1. The verse states, "The Lord is my light and my salvation; whom shall I fear?  The Lord is the stronghold of my life; of whom shall I be afraid?" Inspired by this verse, they decided on naming their company, "The Fearless LLC."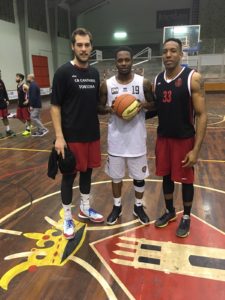 The Fearless LLC was started after Shaun returned from playing basketball in Spain. Shaun spent his first year playing for the team, Basquet Girona, and he spent his second year with UE Sant Cugat Negre in Sant Cugat, Spain. Once he returned to the United States, Shaun began searching for an industry to pursue a career in. He had a friend in the truck driving industry, and decided that it might be something that he would be interested in. After three years of driving for a company, Shaun decided to branch off and start his own truck driving business. This led to the creation of The Fearless LLC.
Shaun's favorite part about trucking is that it is not a popularity contest- you do the work, get paid, and have freedom and flexibility.  He believes that the most rewarding aspect of trucking is being able to build his own name and brand, as well as executing a vision based on his own morals and values.
Despite the copious success that Shaun has had in his life so far, he says his greatest accomplishment has been marrying the woman of his dreams and his best friend, Temia. Shaun and Temia were recently married in August of 2021, on the anniversary of their 10th year of meeting!
The Insurance Store loves working with Shaun and Temia and is grateful for their relationship with our agency.  We wish them continued success in this journey and look forward to many years of business together.