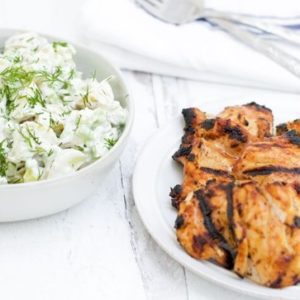 Ingredients
1 pound (454g) skinless boneless chicken thighs
¼ cup (64g) "Stubbs" bourbon BBQ sauce
1 pound (454g) baby yukon potatoes
¾ cup (170g) nonfat Greek yogurt
3 teaspoons (16g) Dijon mustard
1 tablespoon chopped fresh dill
2 teaspoons fresh lemon juice
½ teaspoon salt
1 cup (150g) celery (diced)
½ cup (43g) red onion (minced)
Instructions
Light the grill and set to medium heat (about 400 degrees). If baking chicken thighs, preheat the oven to 400 degrees and prepare an oven-safe baking dish with nonstick cooking spray.
Pour the barbecue sauce evenly over the chicken thighs, spreading it around so that all pieces are covered with a thin layer. Cover and place in the refrigerator for at least 10 minutes to marinate. This can be done up to 24 hours in advance.
Meanwhile, cut the baby potatoes into quarters and add to a large pot of water. Bring to a boil and let cook, uncovered, for about 20-25 minutes. When cooked, potatoes should be soft but still hold their shape. Drain and let cool. Run potatoes under cold water to speed up the cooling process.
While the potatoes are boiling, cook the chicken. Grill over medium heat for 5-6 minutes per side, basting remaining marinade onto the chicken as it cooks. If using the oven, place chicken thighs in the baking dish and divide any remaining marinade evenly over thighs. Bake for 25-35 minutes. Exact cooking time will vary depending on thickness of chicken thighs. The internal temperature of the chicken should reach 165 degrees.
Add yogurt, mustard, dill, lemon juice, and salt to a mixing bowl and stir until well mixed to make the dressing. When the potatoes are ready, add the potatoes, celery, and onion to a large bowl. Pour dressing over the potatoes and stir all ingredients together until the dressing evenly coats all of the potatoes. Season with fresh ground pepper to taste. Top with additional fresh dill, as desired, before serving.