CO License #: 483633
---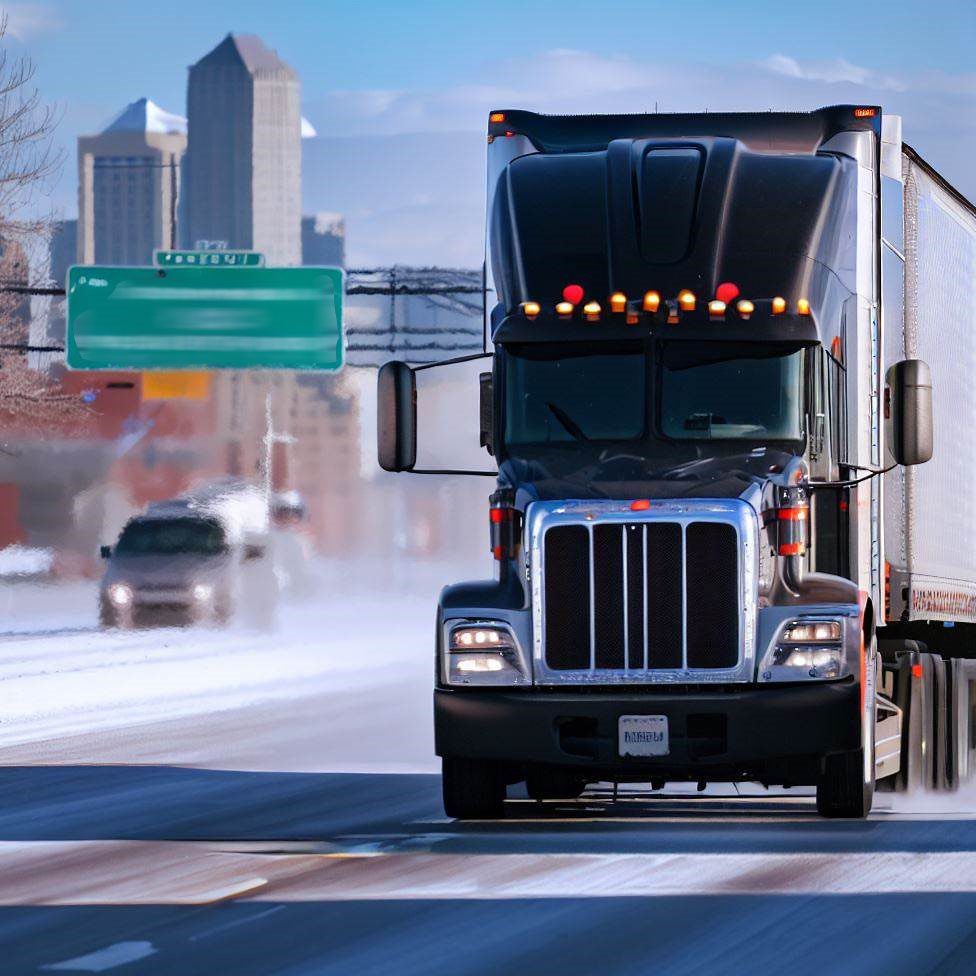 ---
---
The "Mile-High" Secret to Securing Your Trucking Future: Denver Colorado Truck Insurance
Denver, Colorado. Famous for its crisp mountain air, a Broncos fanaticism that would make a Roman gladiator feel underdressed, and beer that flows more generously than the South Platte River. But did you know it's also a pivotal epicenter in the nation's freight and logistics world? Yep, that's right! So buckle up, shift gears, and get ready for an enlightening joyride through the world of Denver Colorado truck insurance.
Hidden beneath the radar, nestled within the heart of the Rocky Mountains, Denver is an unsung hero in the trucking universe. Its strategic location, coupled with a buzzing economy, has turned this mountain city into a freight giant.
Be it fresh produce from the bountiful farms of Colorado, intricate tech components headed for Silicon Valley, or heavy-duty construction equipment for Texas, trucks in Denver are the lifeblood of the American economy. The clatter of wheels on I-70, the trucker's chat at the break of dawn at the I-25 junction - these are the soundtracks of a city on the move.
The Armor of the Trade: Truck Insurance Coverages
---
Auto Liability

In the same way you wouldn't send a Bronco player onto the field without a helmet, you shouldn't send a truck onto Denver's roads without auto liability insurance. This is the cornerstone coverage that protects you from the financial fallout of any damage or injury your truck may cause to others.

Physical Damage

The Colorado landscape, as breathtaking as it is, can pose unexpected challenges for truckers. Imagine your truck grappling with a sudden hailstorm on US Route 6, or even the inevitable, heart-sinking crunch of a fender-bender at Cherry Creek. That's where physical damage coverage swoops in like a guardian angel, taking care of the repair or replacement costs.

Motor Truck Cargo

What's a truck without its cargo? And in Denver, we're talking about everything from precious tech hardware to bulk agricultural products. Motor truck cargo insurance ensures that whatever you're hauling, from Stapleton to Sunnyside or beyond, your freight is protected against loss or damage.

Non-Trucking Liability

Even when your truck's off duty, chilling by the Rockies or idling at Aurora, it still needs protection. Non-trucking liability insurance takes care of this, offering coverage for any mishaps that occur during personal use.

Workers Compensation

Ask any Colorado trucker about a day on the job, and they'll tell you it's not all sunshine and rainbows. Injuries can happen, and when they do, workers compensation is the trusty friend that has your back, covering medical bills and wage losses.

General Liability

Last, but by no means least, is truckers general liability. This nifty coverage is your shield against legal claims arising from accidents related to your trucking operations, other than driving. Think of it as the special sauce that completes your Denver trucking insurance burger!
Why Choose The Insurance Store for Insurance Needs?
We're The Insurance Store, or TIS for short, a family-owned independent insurance agency. With a legacy of 50 years, we've charted the rough terrain of truck insurance, so you don't have to.
Why partner with TIS, you might ask? Picture this: you, at the helm of your trucking venture, with an arsenal of A+ rated insurance carriers at your beck and call. And the cherry on top? A seamless, intuitive mobile app, TIS24, that brings your insurance policies right to your fingertips. Issue certificates of insurance, access ID cards, manage your policy, and pull up important documents, all while enjoying a steaming cup of Denver's finest brew.
TIS Trucking Services: Your Denver Guide to Truck Permits and Filings
If the world of truck permits and filings makes you feel like you're navigating Lookout Mountain in foggy weather, fear not. TIS Trucking Services, our permits division, is here to blaze the trail for you. We help truckers navigate the labyrinth of commercial trucking permits required in Colorado, clearing the road for you to steer your business forward without a hitch.
Ready to Roll with TIS?
So there you have it, folks - your comprehensive guide to Denver Colorado truck insurance. Whether you're a trucking tycoon, a start-up hauler, or somewhere in between, the TIS team is your unwavering ally.
Why not give our friendly team a buzz at 888-570-3130 or request a quote today? Remember, in this mile-high city of ours, the only thing more comforting than a Denver omelette at breakfast is knowing you've got top-notch coverage from TIS securing your future. Don't leave your trucking dreams at the base of the mountain. Let's reach for the summit together!