Colorado Springs Truck Insurance
CO License #: 483633
---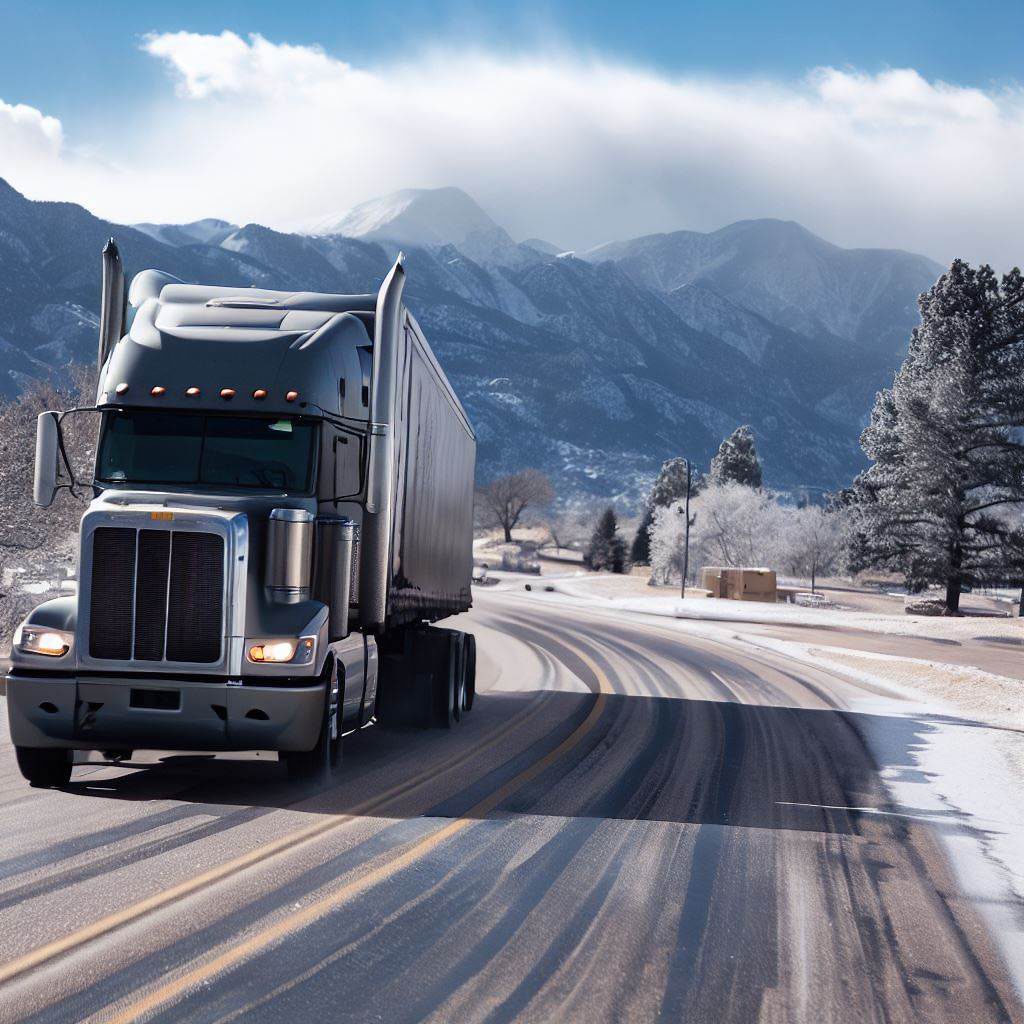 ---
---
Traversing the Rocky Roads: The Lowdown on Colorado Springs Truck Insurance
As the sun peeks over the towering Pikes Peak and the morning air fills with the promise of another bustling day in Colorado Springs, the city's vital trucking industry is already in full swing. Situated at the foot of the Southern Rocky Mountains, Colorado Springs serves as the heartland of Colorado's freight and logistics operations. With its rich history rooted in gold and the railroad, today, the city's veins are highways bristling with hard-working truckers. They haul everything from raw materials to packaged goods, the lifeblood of the city's economy, over roads that dance with the mountain's contours and sometimes flirt perilously with the edge of cliffs. But before we immerse ourselves in the nitty-gritty of trucking in this scenic city, let's take a moment to appreciate some of the unique quirks that make Colorado Springs an utterly charming place to call home.
As the second-largest city in the Centennial State, Colorado Springs hosts a vibrant blend of cultures and communities. It proudly wears the crown of "Olympic City USA," training future Olympians with a blend of altitude and attitude. The city is a natural playground boasting Garden of the Gods, a jaw-dropping park where you can gawk at nature's artistry, and Manitou Springs, a quirky little town nestled between towering mountains and bustling Colorado Springs. While our city is ripe with recreational activities, it's also a bustling hub for trucking, freight, and logistics.
The city's strategic location at the junction of I-25 and U.S. Route 24 makes it a vital conduit for cargo moving north to Denver, south to Albuquerque, or west to the Pacific Coast. From agricultural products from the fertile Eastern Plains to precious minerals mined from the Rockies and high-tech gadgets from our thriving tech industry, truckers carry the lifeblood of Colorado Springs in their big rigs.
Protecting Your Rig: Understanding Truck Insurance Coverage
With the beauty and diversity of the cargo comes the risk. And here's where truck insurance leaps into the spotlight. Colorado Springs truck insurance isn't just a legal necessity—it's the safety net that keeps businesses running even when the unexpected happens. Whether you're navigating the heart of the city or maneuvering the steep grades of U.S. Route 24, it's essential to understand what coverages you need for your specific operations.
---
Auto Liability

Think of Auto Liability as your financial bodyguard if your truck is involved in an accident that leads to injuries or damages to others. For instance, picture this—you're hauling a load of craft beers from a Colorado Springs brewery to Denver. You're cruising up I-25, and suddenly, a deer jumps out. You swerve, collide with a car, and voila! You've got an insurance claim. That's where Auto Liability steps in, covering the costs for the other party's injuries or damages.

Physical Damage

When it comes to your truck—your bread and butter—Physical Damage coverage is your best friend. It helps you recover from the financial hit when your truck gets damaged. Whether a hail storm decides to have a go at your rig parked at the Cheyenne Mountain State Park or vandals strike when you're enjoying a meal in Old Colorado City, Physical Damage coverage will have your back.

Motor Truck Cargo

The cargo you haul is as diverse as the wildlife in the Rocky Mountain Zoo. But, regardless if you're hauling smartphones or sunflower seeds, they're important to someone, and you're liable for them while they're in your truck. That's where Motor Truck Cargo insurance comes in. It covers the cost of lost or damaged cargo while it's under your care.

Non-Trucking Liability, Workers Compensation, and General Liability

For independent owner-operators, Non-Trucking Liability coverage is an essential add-on. It provides protection when you're using your truck for personal use, like when you're heading out to grab a famous Colorado Springs' green chili after delivering your load. On the other hand, Workers Compensation is designed to cover medical expenses, rehabilitation costs, and lost wages if a driver is injured while working. Finally, Truckers General Liability covers legal fees and damages if your business is sued for causing damage or injury.
Working with TIS: Navigating the Insurance Landscape with Confidence
When it comes to securing your Colorado Springs truck insurance, teaming up with an independent insurance agency like The Insurance Store can put you in the driver's seat. We are a proud family-owned business that's been providing peace of mind to truckers for half a century. Not only do we have access to numerous A+ rated insurance carriers that specialize in commercial trucking, but our experience and connections give us the ability to tailor coverage to your specific needs.
At TIS, we believe in the power of technology to simplify your life. That's why we've developed our app, TIS24. It lets truckers issue their certificates of insurance, get ID cards, and access policy and insurance documents anytime, anywhere, right from your computer or phone. Imagine the convenience of filing a claim while you're waiting for your truck to be repaired at a shop off Highway 83!
Permits and Filings: The Extra Mile with TIS
But at TIS, we don't just stop at insurance. We know that navigating the maze of truck permits and filings can be as challenging as steering a big rig through downtown Colorado Springs during rush hour. That's why we have a dedicated permits division, TIS Trucking Services, to help with your Colorado commercial trucking permits. Whether you need assistance with your IRP, IFTA, or USDOT filings, we've got you covered.
The Final Mile: Ensuring Your Journey with TIS
Colorado Springs truck insurance isn't a mere piece of paper; it's a promise, a safety net, a lifeline when the going gets tough. The TIS team understands the unique challenges of the trucking industry in our scenic city, and we're here to help you navigate the rocky roads with confidence.
So, what are you waiting for? Secure your peace of mind today. Give our friendly team a call at 888-570-3130 or request a quote online. Let's ensure your journey together, from the heart of Colorado Springs to wherever the road may take you.
---
Get a Quote for Truck Insurance
---
Here is what Our Happy Customers have to say
---
Kim St Clair helped me with a new home & auto insurance policies. She was awesome to work with and helped make sure I had what I needed for both. Thankful for all her help!

Andrea P.