Imagine horseback riding along the beach in Dana Point, CA or bodysurfing the raw nature of Salt Creek Beach. This may sound like a dream of a time that has far passed, yet this was the idyllic reality for Olga O'Brien. Olga was one of the lucky ones to have been born and raised in Dana Point, CA. She confesses that, "It was the best growing up here!"
Her love of the beach came from watching her dad hunt abalone along the shores and learning to bodysurf before she could swim. However, her favorite memory was wildly riding their horses from their property just miles from the ocean down to the sand.
Olga was the third child of four – three girls and one boy; however, she comes from a very large extended family. Her father came from a family of nine siblings who all lived close by. She remembers having a lot of family gatherings growing up. Her grandparents lived really close to them, which meant there was always a party or event going on.
One of her favorite days was Sunday because on this day, her dad would take them on a Sunday drive. They would go to Idyllwild, Big Bear, or out to the desert. They would get a loaf of bread and some sandwich meat for a picnic lunch and head off to explore.
One family tradition that stands out to her was that every year they would gather on her grandparent's anniversary at their house for a big party. One of her aunts would bring out all the family photo albums that she compiled from the year before, as well as every year preceding that, and they would share them with the family.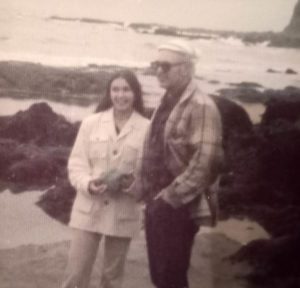 When Olga hit the age of a high school student, she fell in love with running. She was on the track team at Dana Hills High School all four years where she ran the 2-mile race. She also enjoyed playing tennis and participated in that in high school.
High school also ended up being life-changing for her as that is where she met Dennis, her husband. After she graduated, he moved to Los Angeles, and because she wanted to be closer to him, she moved in with his sister in Los Angeles. While in LA, she started her career in retail clothing. She managed three stores for an independent company. Olga and Dennis were then married in 1981. Because of her long hours and work on the weekends, her husband asked her to change her career. She decided to go into banking at that time and did it for 34 years. After a long career in banking, she transitioned into insurance and has been there ever since.
After battling cancer, Olga was miraculously blessed with her son John who was truly a miracle baby. To be closer to family, in 1993, they moved back to Dana Point when their son was born. Then a few short years later, they relocated to Temecula to raise John on a ranch with horses in Wine Country.
This is where some of their best memories were made, raising and caring for horses on their ranch. John was even able to raise his own stallion. John is definitely the light in his mother's eyes. She is very proud of his accomplishments throughout high school and into college where he attended UCSD.
Some fun facts about Olga include her love of the Yellowstone series, her passion for Sudoku puzzles, and her love of running that has now turned into walking, particularly in the early morning hours. One of her favorite vacations was recently with her son to The Narrows in Zion. Together they hiked the 16-mile awe-inspiring hike. Some bucket list items for her include visiting Montana and traveling the Unites States.
Olga was blessed to be raised in an environment of larger-than-life people and events that shaped her into the person she is today. To this day, she still believes in the same ideology of living life to the fullest.