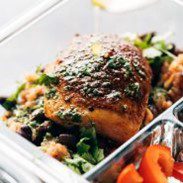 Spicy Chicken Meal Prep with rice and beans + a yummy cilantro sauce = healthy meal prep to last you all week! Meal planning that is healthy, delicious, AND beautiful!
INGREDIENTS
For the Chicken Meal Prep:
1 cup long grain white rice (quinoa also works – see notes)
1 cup water
14 ounces of fresh salsa (undrained canned tomatoes also work)
1/2 teaspoon salt
1 teaspoon oil
about 1 lb. chicken breasts, cut into 4–6 smallish pieces
lots of spices like cumin, chili powder, garlic powder, and cayenne (taco seasoning also works)
For Adding In Later:
1 14-ounce can black beans, rinsed and drained
a handful of chopped fresh cilantro
INSTRUCTIONS
Cook: Place the rice, water, tomatoes, salt, and oil in the pot. Stir to combine. Place the chicken pieces on top and sprinkle generously with your favorite spices and some salt. Turn the instant pot on high pressure for 7-8 minutes. When done, use the quick release valve for the steam.
Mix: Remove the chicken. Mix the black beans (and maybe a little sunshine sauce) in with the rice.
Meal Prep Yourself: Divide the rice and beans amongst 4-6 meal prep containers. Top each with a piece of chicken. Sprinkle with cilantro and drizzle with a spoonful of sauce.
NOTES
What if I don't have an Instant Pot? On a stovetop, just cook the rice according to package directions, then add the tomatoes and beans. Sprinkle the chicken with spices and sauté in a separate frying pan until cooked through. I tried this in a crockpot but it didn't work super well. The rice got really mushy and about half of it was still uncooked. So I wouldn't advise using the crockpot!
What to serve it with: My two sides were sliced bell pepper and a yummy dessert-like trail mix.
How to reheat it: When we make these, we take out the peppers and the trail mix to munch on while it heats in the microwave.
How long does it last? This chicken, rice, and beans meal prep will last for about 4 days in the fridge. I have not tried freezing this.