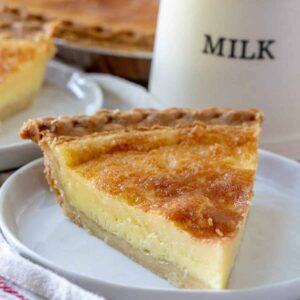 With the holidays and family gatherings approaching, there's nothing like indulging in a creamy slice of buttermilk pie. This month, we are excited to feature Rachel Simpson's family recipe for buttermilk pie. This Southern dessert classic comes directly to us from Rachel's Mama Ree, and it is just the sweet treat you need for your next gathering; it's even picky eater approved.
Mama Ree's Buttermilk Pie has been a household favorite for over 50 years, and it is always their families go-to dessert for birthdays, Thanksgiving, and Christmas. Rachel and her family are excited to share this special recipe with you and hope that you can treat yourself and your loved ones this holiday season to a rich and creamy slice of buttermilk pie.
Ingredients:
1 unbaked homemade pie crust
3 eggs
1 1/2 cup sugar
1 Tbsp. flour
pinch of salt
6 Tablespoons melted butter
1/2 cup buttermilk
1 teaspoon vanilla
Cooking Directions:
Beat eggs. Add the remaining ingredients in a bowl. Pour everything into a homemade pie crust. Bake at 350 degrees for 45 minutes. Allow to cool before serving. Enjoy!