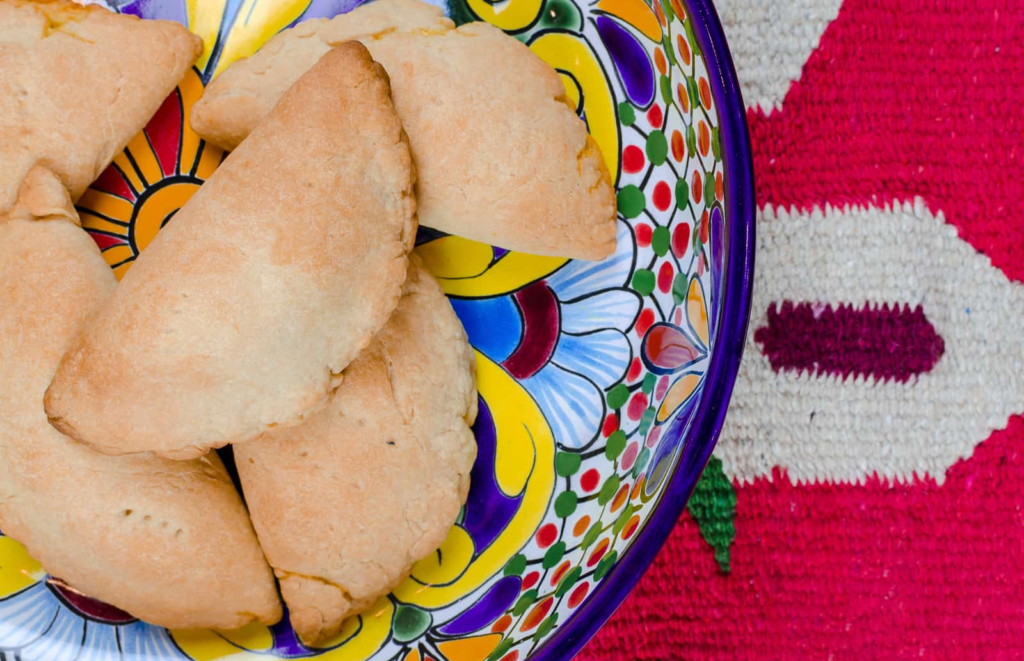 This is a recipe from Gloria Rodriguez's grandmother. She has fond memories of learning to cook with her in her kitchen as a child.
Ingredients:
2 ½ lb pumpkin puree
6 oz. piloncillo or brown sugar
1 tsp. ground cinnamon
¼ tsp. ground clove spice
¼ tsp. ginger
For the dough:
2 ½ cups all-purpose flour
2 eggs lightly beaten
1/3 cup warm milk
1 teaspoon dry yeast
¼ cup sugar
½ stick of melted butter
¼ tsp. salt
1 egg lightly beaten to brush the empanadas
Preparation:
Place the pumpkin puree in a saucepan with the piloncillo or brown sugar, add the ground cinnamon, ground clove, and add ginger.  Keep cooking uncovered for about 20 or more minutes, stirring frequently until the mixture takes the texture of a jam.  This can be done ahead of time, and has to be at room temperature before forming the empanadas.
To form the dough; place the yeast in a small bowl, add the warm milk, and let it proof for about 5 minutes.
Meanwhile, in a large bowl, place the flour, eggs, melted and cool butter, sugar and salt.  Add the yeast mixture and mix to form a soft dough.  Knead on a floured surface for about 5 minutes adding more flour if needed.
Place the dough in an oiled bowl, turning to coat with the oil.  Cover with plastic and let it rest for about 1-1/2 hours in a warm place.
After that period of time, knead the dough again for 2-3 minutes and divide in 12 small soft balls to start forming the empanadas.  Cover with plastic.
Now to form the empanadas:  With the help of your rolling pin, roll out each of the dough balls on a slightly floured surface into circles of about 7 inches diameter, stretching if necessary.
Place about ¼ cup of filling in center of each; fold dough to enclose filling and form a half moon.  Seal edges by crimping with a fork.
If you want your empanadas to look symmetric once you fold the circle, place a cereal bowl upside down and press to cut any excess of dough like it shows in the picture.
Preheat oven to 375 degrees.  Arrange empanadas on two greased baking sheets; brush with egg wash and dust with some sugar if you desire to do so.  Let them rest for about 30-35 minutes until dough rises.
Bake until light brown, 15 to 18 minutes; rotate pans between racks halfway through.  Baking time will vary depending on your oven.