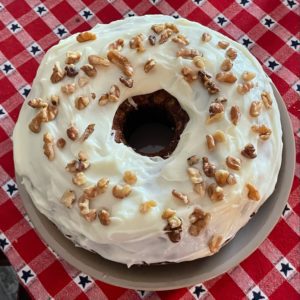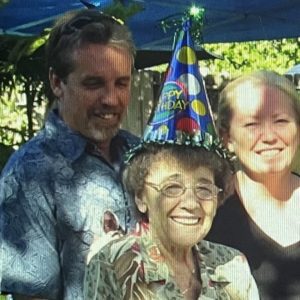 This was my mother-in-law's signature baked item.  Holtville, California is home to the Carrot Capital of the World.  She developed this recipe, and it was requested by friends and neighbors every holiday that I can remember.  As her son and I were married for 34 years, I saw a lot of these cakes go out the door. It was so popular that when she passed away, I included the recipe on the back of her memorial flyer.  I have made this many times and have never been disappointed.
By Sherry Ogier
Ingredients
2 Cups Flour
2 Cups Sugar
2 Tsp Baking Soda
1 Tsp Cinnamon
2 Tsp Vanilla
½ Tsp Salt
2 Cups Grated Carrots
1-1/2 Cup Vegetable Oil
1-1/2 Cups Chopped Walnuts or Pecans
1 Small Can Crushed Pineapple (juice and all)
3 Eggs
½ Cup Coconut (optional)
2 Tablespoons Orange Zest (Grated Rind)
Preparation
Mix all dry ingredients, add carrots, oil, pineapple, vanilla coconut, orange zest, nuts, and eggs.
Preheat oven to 350 degrees and bake in oiled and floured tube pan or Bundt pan for 1 hour or until toothpick comes out clean.
This can also be baked in a 9×12 cake pan for 35-45 minutes.
Cream Cheese Frosting can be used, but it is delicious just plain as well. Especially the tube pan version.
Glaze for Cake
4 oz cream cheese at room temp
2 Tablespoons butter at room temp
1 cup powdered sugar
2 Tablespoons milk
Combine all – add more sugar as need to thicken or more milk if needed to thin.