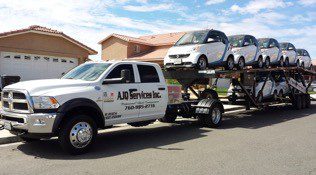 Jesse Quiroz, the owner of AJQ Transportation Services, is a vehicle hauler who travels from California to Nevada.  He has been insured with our agency for over 15 years. Initially, we insured Jesse as a trucker hauling dirt, sand, and gravel, but today he is the owner of a current auto hauling business.
Jesse first started out in the industry working for Fed Ex as a contractor. He started with one route before working up to multiple.  After 11 years in the industry, he decided he wanted to see what he could do running his own business. This life-changing decision was made after the death of a close friend. It was during the conversation with that friend's mother that changed his outlook and course. She had pulled Jesse aside and told him to go make something of himself and to be a leader.
So, in 2005, he ventured into the dirt, sand and gravel hauling business.  He named the company after his daughter Avianna (now 13).  After years in the dirt business, he saw work starting to decline due to the economy.  He did some research on other trucking opportunities and realized there were more cars than transporters.  He took a blind jump and made the switch to vehicle transportation in 2013.  He started off with a dually and a 3-car hauler.  As business got better, he slowly transitioned to a truck-tractor with a 7-car hauler.  This has proved to be a good decision for his business.
When Jesse is not spending time with his daughter and family, he loves to spend as much time as he can out in Johnson Valle rock crawling.  This has been a passion of his for 25 years.  Rock crawling is where there are trails that are made of boulders and dried up waterfalls.  Using rock crawlers, he climbs up these boulders.  Throughout the years, Jesse has built many of his own rock crawlers.
Jesse loves the freedom and independence of being his own boss.  If he fails, he knows he has to own it, but when he succeeds, it's all due to his hard work and that is very rewarding.
We love having Jesse as a client.  Every time he calls, you can tell he has a smile on his face, and he is always a pleasure to speak with. He is knowledgeable in the industry, and the questions he brings to us helps us to stretch to find the answers and learn in the process.
Thank you Jesse for partnering with TIS; it is our pleasure to be a part of your journey.