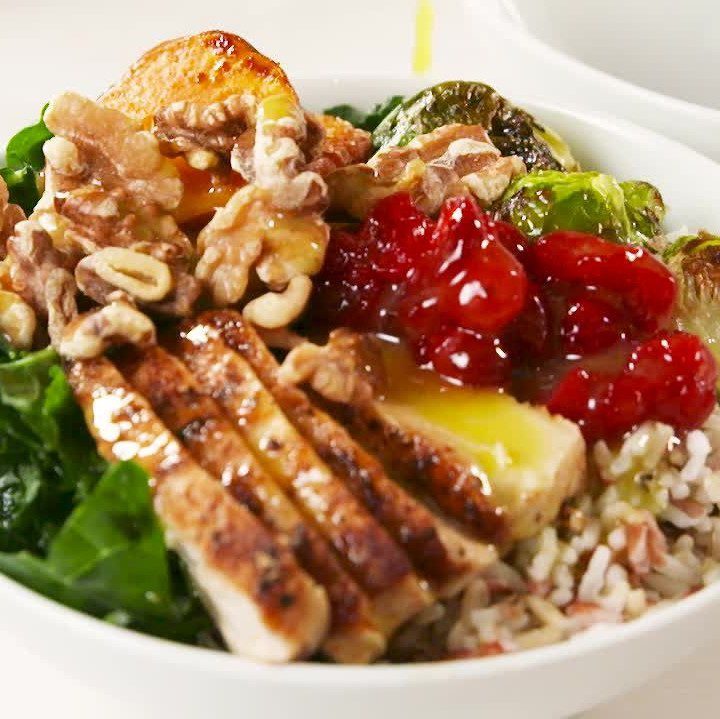 Ingredients:
1/2 lb. Sweet potatoes, scrubbed and cut into rounds
1/2 lb. Brussels sprouts, halved or quartered if large
3 tbsp. Extra-virgin olive oil
Kosher salt
Freshly ground black pepper
2 Boneless skinless chicken breasts
1/2 tsp. Paprika
4 c. Cooked wild rice
4 oz. Tuscan kale leaves, chopped
1 c. Whole cranberry sauce
1 c. California walnuts
1/2 tsp. Dijon mustard
2 tbsp. Fresh lemon juice
1/4 c. Extra-virgin olive oil
1/2 tsp. Maple syrup
Directions:
Preheat oven to 425º. Place sweet potatoes on one half of a large baking sheet. Place Brussels sprouts on other half. Toss each vegetable with 1 tablespoon oil and season with salt and pepper, keeping them separate and in even layers. Roast until tender and golden, about 25 minutes.
Meanwhile, in a large cast-iron skillet over medium-high heat, heat remaining tablespoon oil. Season chicken with paprika, salt, and pepper and add to skillet. Cook until golden and no longer pink, 4 minutes per side. Transfer skillet to oven and roast until cooked through, about 5 minutes more. Let rest 10 minutes, then slice into thin strips.
In a medium skillet over medium heat, toast walnuts until they smell nutty and are slightly golden, about 5 minutes. Remove from heat.
Meanwhile, in a medium bowl, whisk together Dijon with lemon juice and zest, then slowly whisk in oil and maple syrup.
Arrange wild rice and kale side-by-side in a shallow bowl. Add chicken, roasted vegetables, and cranberry sauce before drizzling with dressing.