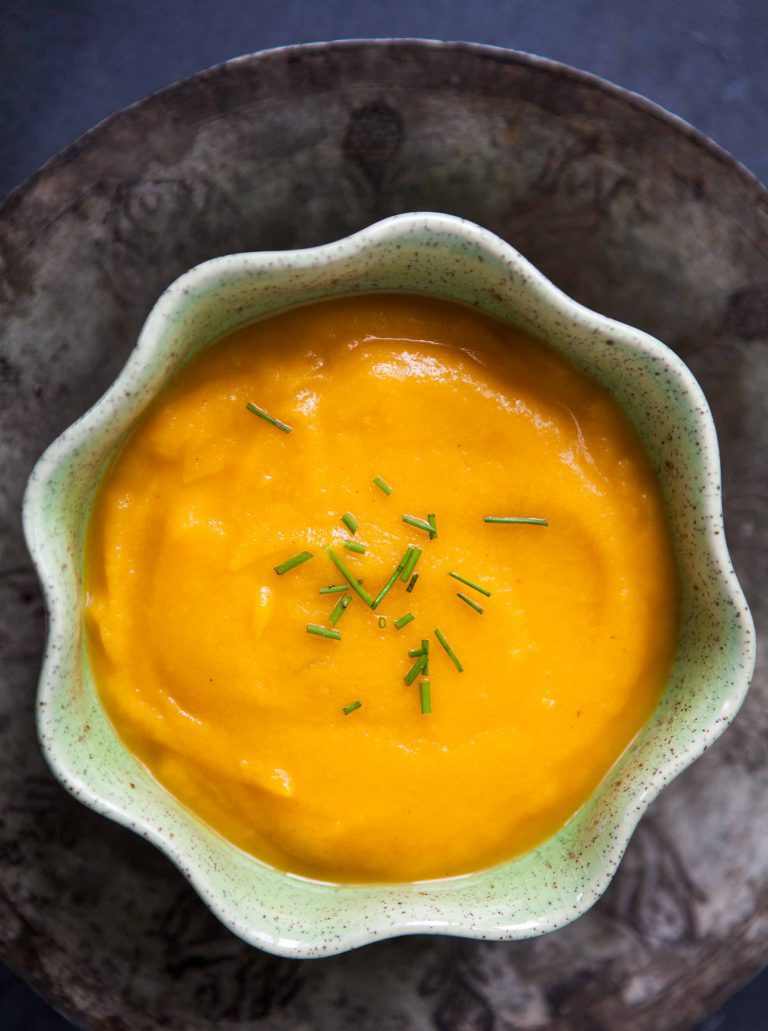 If you finely chop (1/2-inch) the butternut squash, apple, carrot, celery, and onion, they'll cook more quickly.
Add a smoky flavor to the soup by sprinkling in some smoked paprika. Make the soup a little more creamy by swirling in some sour cream (after you remove the soup from heat).
Butternut squashes come in various sizes. Your ratio of chopped butternut squash to chopped apple should be 3 to 1.
Prep time: 15 minutes
Cook time: 45 minutes
Yield: Serves 4 to 6
Ingredients
For the soup:
1 medium yellow onion, chopped (about 1 cup)
1 celery rib, chopped (about 3/4 cup)
1 carrot, chopped (about 3/4 cup)
2 tablespoons unsalted butter
1 butternut squash, peeled and chopped (6 to 8 cups), seeds discarded (see How to Peel and Cut a Butternut Squash)
1 large tart green apple, peeled, cored, chopped (squash to apple ratio should be 3:1)
3 cups chicken stock or broth (or vegetable broth)
1 cup water
Pinches of nutmeg, cinnamon, cayenne, salt and pepper
For the garnish (optional):
Fresh parsley, chopped
Chives, chopped
Dash of smoked paprika
Sour cream
Method
Sauté onion, carrot, celery in butter: Heat a large thick-bottomed pot on medium-high heat. Melt the butter in the pot and let it foam up and recede. Add the onion, carrot, and celery and sauté for 5 minutes. Lower the heat if the vegetables begin to brown.
Cook the soup: Add the butternut squash, apple, broth, and water. Bring to boil. Reduce to a simmer, cover, and simmer for 30 minutes or so, until the squash and carrots have softened.
Purée the soup: Use an immersion blender to purée the soup, or work in batches and purée the soup in a stand blender.
Add seasonings: Add pinches of nutmeg, cinnamon, and cayenne. Add salt and pepper to taste.
Garnish with chopped fresh parsley or chives and, if you want, a dollop of sour cream.