Ingredients
1 small Watermelon , cut into 1/2 inch cubes
3-4 ounces Fresh blueberries , whole
2 ounces Feta cheese , crumbled
A few mint leaves , torn into small pieces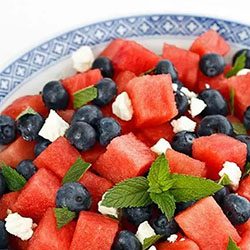 Instructions
Watermelon tends to bruise when tossed in a bowl, so it is best to layer it with the blueberries in a shallow bowl or on a platter then garnish with the feta and mint to gauge a visual for each component.
Take a bite of the watermelon and feta together to determine how small the crumbles should be and how much to add—remember, this is all about what YOU prefer.
I leave the mint in small torn pieces rather than chopping too fine so it's easier for someone (kids) to pick out.