Colorado is a beautiful place to grow up, especially Grand Junction. It encompasses red rock canyons and wide-open skies that are the dream of the West. It even has the largest flat top mountain in the world at Grand Mesa. Rennae Packer was blessed to grow up here; because of its beauty, her family thoroughly enjoyed everything outdoors, but especially camping and fishing.
Rennae grew up in a family of seven children – two boys and five girls. She was the baby of the group, and would, on occasion, be teased by her siblings that she was spoiled. Growing up, she loved being outside riding her bike. At the age of eight, she even took over one of her older sibling's paper route delivering papers. One thing she did not love about being outside were her mom's two huge gardens. It wasn't the garden as much as it was the weeds in that garden that she would have to pick every Saturday morning before she was allowed to do anything fun.
While in high school, Rennae enjoyed singing in her school choir. She was very dedicated and was selected to be in the all-state choir. In order to receive this honor, students would have to audition, and only the finest were chosen to then attend the best of the best in the state at Colorado State University. She also tried her hand at musical theater. Her favorite production was that of Roger and Hammerstein's Cinderella.
Working hard was always a part of Rennae's upbringing. After her paper route ended, she started working at McDonalds at the age of 15 and did this all the way through high school. She learned early that if she wanted something, she needed to go out and work for it.
After high school, she attended Adam's State University in Alamosa, Colorado. She started with the intent of majoring in math, but then decided to go into music education. With the intent of teaching music, she had to learn how to play all instruments. She professes that not all instruments came naturally to her, specifically the clarinet, but the flute was her particular favorite. Although teaching music was not her passion, she continued her education in music and finished with a degree in music and a minor in business.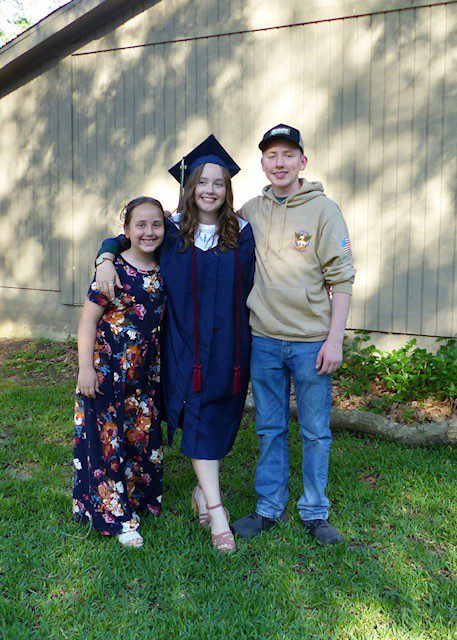 During her sophomore year of college, unbeknownst to her, her future husband became assigned to minister to her from her church. They were then better connected once a mutual friend introduced them and were later married during her junior year. Being that they went to school in a very small town, excitement could be seen by heading to Pueblo, an hour and a half away, to hit Denny's in the wee morning hours. Shortly after finishing up her degree in 2005, her and her husband Travis were blessed with their beautiful baby Mikenzie.
After graduation, her husband was offered a job in Grand Junction as an accountant. While living here, Travis continuously worked on getting his CPA. In October of 2005, they bought their first townhouse together, and then Travis got his CPA license. He immediately got a job offer in Houston, and they were asked to relocate. They quickly sold their new home and moved to Houston in December 2006. The next year their family continued to grow with their son Preston. They began to settle into their community and loved where they lived. Their neighbors soon became their "Texas grandparents."  Then in 2012 their family became complete with their daughter Charlotte.
Although they have been in Texas for 17 years, they religiously make a trip back to Colorado every summer to see their families who all still live there. On one of these trips, they drove all the way from Houston to Colorado and then Rennae proceeded to take the kids on a camping trip from Colorado to Mt Rushmore, Wisconsin, Milwaukee, Nauvoo, Hannibal, St. Louis, and then back to Houston. They are true adventurers at heart.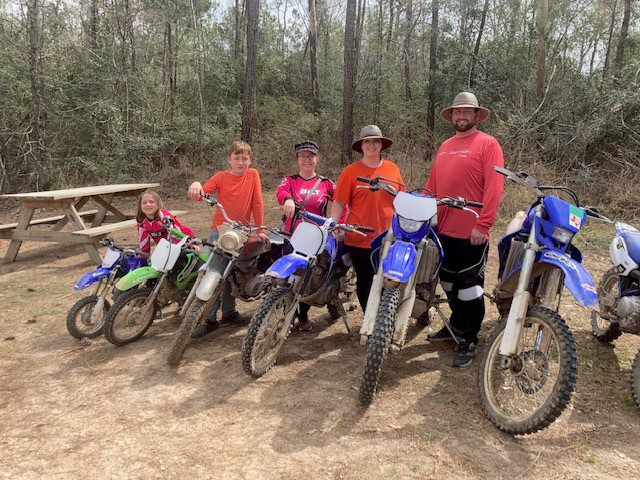 As a family today, they enjoy riding dirt bikes and camping. Their favorite place to ride depends on which child they are asking, but it ranges from tracks to mountains. Rennae said she loves to ride because her family loves doing it. One of their favorite places to go is to Kisatchie National Park in Louisianna. Here they tent camp with no running water and no electricity. Under these circumstances, she has learned to cook with a Dutch oven, and the family favorite is when she cooks cinnamon rolls in it.
Her oldest daughter is now a freshman in college at Stephen F. Austin State University in Nacogdoches, Texas where she is planning on studying advertising and minoring in music. She plays the clarinet in the marching band there and professes that that is her "happy place." Her youngest daughter has also followed in her musical footsteps and plays the trumpet and would like to one day be in the marching band. Being that high school band is very intense in Texas, this would be a family commitment.
Her son has forged his own path and competes in JROTC on the drill team. His team is 4-time national champions, and he has earned the title as a 2-time national champion in Marine Corp drill and All-Services drill. He has had wonderful experiences of travel, and Rennae was even able to see him perform in Washington D.C.
They are a close-knit family who enjoys spending time with one another. Together, they like to watch Marvel movies, specifically Ant Man and Guardians of the Galaxy. They also love Texas BBQ. Rennae makes them everything from brisket to ribs to pulled pork. The kids also try to stump her with her birthday cake design. Up to date, she has made cakes for her children as creative as pirate ships, castles, a rubric's cube, and unicorns. She is a do-it-all kind of mama. As her husband used to travel for work quite often, she had to figure out how to keep her house running. She has self-sufficiently used YouTube to figure out things such as how to repair items in her home all the way to helping her kids change the radiator in their car.
One of her bucket list items would be to travel. She loves the idea of learning about the history of Europe; places like Switzerland, England, and Ireland interest her, as that is where her family heritage is.
Rennae brings with her a lifetime of rich experience to share with her coworkers. We are blessed to have her!