Picnics on the beach, year-round outdoor sports, skiing in the Big Bear Mountains, being a SoCal native is not for the faint of heart! Coming to TIS in late 2020, Kelli Clerisse has proven to be one of SoCal's best. She grew up in Corona, CA with some of her favorite times spent at Newport Beach before it became so crowded. It truly is one of her happy places. As a child, she fondly remembers boogie boarding, building sandcastles, and catching sand crabs from Newport to Laguna Nigel where her uncle had a beach house. Long days were spent on the beach eating Kentucky Friend Chicken and trying to avoid the end of day cold beach showers.
Kelli was blessed to play both rec and club soccer all growing up. Her parents were able to coach her as a young child until she transitioned into the club level. When she was a teenager, she hurt her knee and was seeking advice from her dad on what to do. Jokingly or maybe to get her outside, he suggested she go roller blading to make it feel better. Confused at his suggestion, she tried it anyway only to fall and end up breaking her wrist.
Growing up, Kelli was always the rule-abiding, good child, so disobedience was something her parents rarely had to worry about with her. That is, until she put a baseball bat through their front room wall. To her defense, they had just been to the Angels game where they handed out the small bats, and she wanted to try it when they got home.
Stretching from her childhood to adulthood, she has been blessed with an amazing family and extended family. They love spending time together in her parents' cabin in Big Bear, visiting her parents' childhood home of WA, and going on cruises together. It is in WA that she was able to spend time with one of her favorite cousins – Chelsey (who you may also know here at TIS).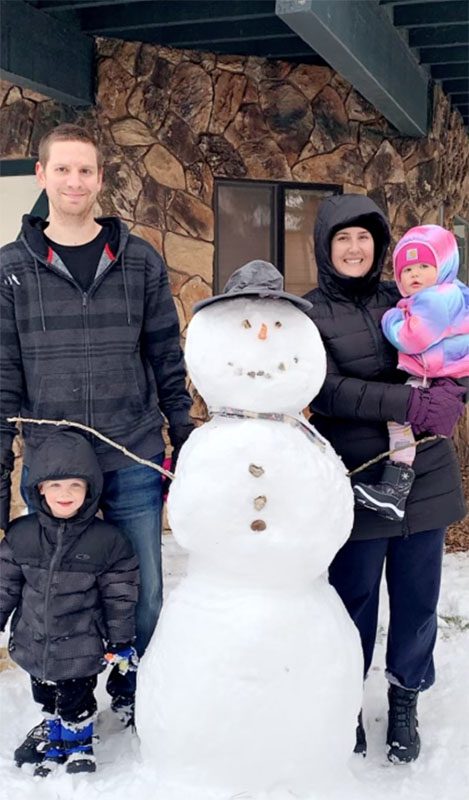 After high school, Kelli ventured to Gonzaga University in Spokane, WA, which she was immensely unprepared for in climate. She did not realize how much she despised the cold until spending her first winter there.
After graduating and moving home, she met her husband Patrick. It was after a year of secretly dating because they were coworkers at Target at that time that she decided to move jobs and publicly date him. After dating for 4 years, he proposed at Paradise Point in San Diego, and they were married in Diamond Bar, CA. Fast forward a few more years, and they have been blessed with two beautiful children – Parker and Kennedy who keep them on their toes at all times.
Some fun facts about Kelli are that her favorite movie is Grease, her dream vacation is going to Bali, and she loves reality TV, especially any of The Real Housewives shows.
We feel blessed to have Kelli here at TIS and know you will love getting to know her.