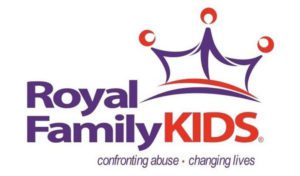 Our charity spotlight for June is Royal Family Kids Temecula. Royal Family Kids (now formally known as "For the Children"), exists to confront abuse and change the lives of children in the foster care system.  For the Children is promoting physical, emotional, and spiritual healing for child victims of neglect, abuse, and abandonment through intervention programs, education, and advocacy.  Their mission is to build a world free of family-induced childhood trauma.
We sent a team to the camp of Royal Family Kids Temecula to specifically help with "Everyone's Birthday Party."  Many of the children who are in the foster care system are unaware of their birthdate, so Royal Family Kids hosts a birthday party where every child is the star of the party!  This year's theme for the camp is the Olympics, and the birthday party highlighted water sports and the summer edition. Our team assisted with setup, decorating, and the different stations of fun and food on the field.  The children were treated to a fire truck display, a dunk tank, water balloon toss, slip and slide kickball, and a water duck race in rain gutters just to name a few.  Fun was had by all!
Once the SURPRISE birthday fun on the field was done, we headed over for dinner with cake and ice cream of course!  Later that evening, each child received an age-appropriate gift and was treated like the royalty they are.
TIS staff was honored and blessed to have participated in the fun, and we hope it was a day these beautiful souls will cherish in their memories forever.