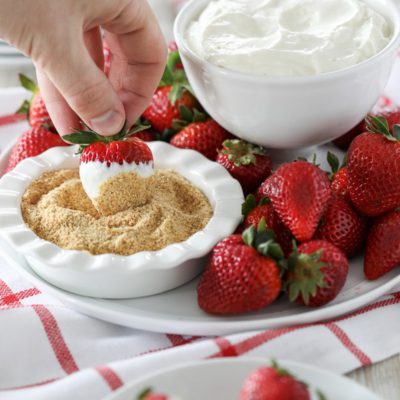 Served with strawberries and graham cracker crumbs, this Cheesecake Dip makes a quick and easy impromptu treat or dessert.
Ingredients:
1 (8 ounces) package cream cheese – softened
1/2 cup sour cream
1/2 cup confectioners' sugar
2 tablespoons milk
1/2 teaspoon almond extract
1/2 teaspoon vanilla extract
2 pints fresh strawberries
1/2 cup graham cracker crumbs
Instructions:
In a bowl, beat the cream cheese until smooth. Add the sour cream, confectioners' sugar, milk, almond extract, and vanilla extract; mix until smooth.
To serve, add the cheesecake dip to one bowl and fill another bowl with the graham cracker crumbs. Serve with whole strawberries for dipping. To eat, dip the strawberries into the cheesecake mixture and then into the crumbs.