TX License #: 2023175
---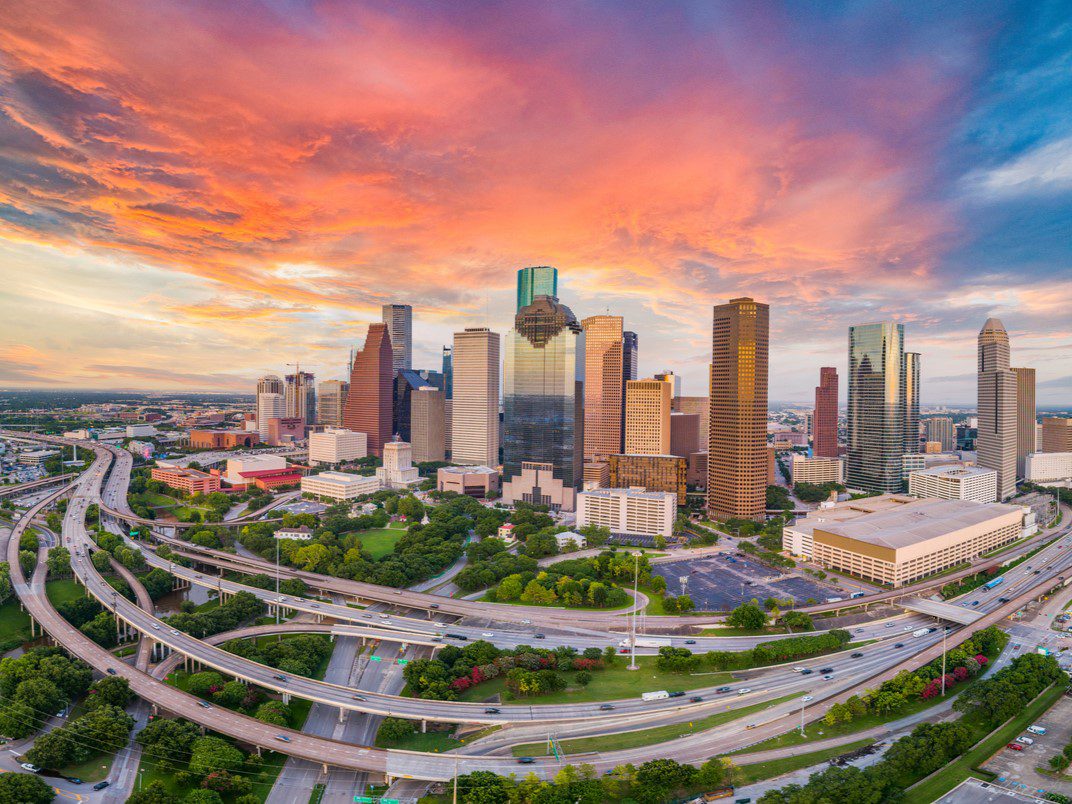 ---
---
Commercial Truck Insurance in Houston, Texas
Howdy there, Houston! Nestled in the heart of the Lone Star State, with the Space Center perched like a jewel in its crown, Houston is more than just rocket science. It's a hub of history, a monument to multiculturalism, and, let's not beat around the bush, a titan of transport. In Houston, trucks aren't just big rigs—they're part of the city's lifeblood.
Houston's highways are alive with the sounds of goods on the move. From hefty shipments of Bayport's chemicals and plastics, to mouthwatering cargo from the Port of Houston stacked with seafood straight from the Gulf Coast—H-town trucks tote it all! They navigate around iconic landmarks, such as the bustling suburb of Sugar Land, and deliver the goods at your doorstep before you can say, "Sam Houston".
Yet, this trucking titan needs its shield, and that's where the magic of Houston commercial truck insurance comes into play. Just like the city's unforgettable barbecue sauce—it's an essential component, blending safety and compliance with a peace-of-mind flavor.
All Roads Lead to The Insurance Store
Now, before we dive into the murky waters of insurance coverages, let's take a slight detour to visit a unique pit stop on the Houston commercial truck insurance scene—The Insurance Store, or TIS for short. Don't let the modest title fool ya! This family-owned business, with half a century of experience, has more punch than a Houston Texans defensive tackle.
They're the cream of the crop when it comes to truck insurance, with a network of A+ rated insurance carriers specializing in commercial transportation risks. Plus, we've got this nifty mobile app, TIS24. With just a tap, truckers can issue their certificates of insurance anytime, anywhere, faster than a jackrabbit on a hot griddle. How's that for convenience?
---
Houston, We've Got the Coverage
Now, let's get down to the nitty-gritty: Houston Texas commercial truck insurance. Houston's got highways busier than a one-legged man at a butt-kicking contest, and the potential for accidents is higher than a polecat in a pepper patch.
---
Auto Liability

An auto liability policy is as vital as a good ol' Texas brisket at a barbecue. It covers any damage you cause to other folks, their property, or that white picket fence you knocked over. It's the law, and it's also just good manners, y'all.

Physical Damage

Houston, we don't have a problem – well, not if you have Physical Damage coverage. When your rig takes a hit or suffers other unforeseen damages, this coverage gets you back on the road faster than a jackrabbit on a hot griddle.

Motor Truck Cargo

Houston's heat ain't the only thing that can cause your cargo to perspire. This insurance helps you breathe easy knowing your goods are covered.

Trailer Interchange

Switching trailers at the bustling Port of Houston? Trailer interchange insurance covers damage to the swapped trailer while it's in your possession, ensuring peace of mind amidst the hustle and bustle.

Non-Trucking Liability

Sometimes, truckers need to take personal trips when off duty—maybe to catch an Astros game or just cruise past the Buffalo Bayou. For such instances, non-trucking liability insurance is your safety net, covering any damages you might cause while you're not under dispatch.

Workers Comp & General Liability

In the unfortunate event of an accident at the job site, workers compensation and general liability insurances ensure that both the worker's medical expenses and business's legal responsibilities are taken care of.
Independent, Reliable, and Family-owned: The Insurance Store
Ain't it a breath of fresh air to know there's someone who understands your insurance needs like the back of their hand? That's us—the TIS team, and we've been holding the fort in the commercial transportation insurance industry for a whopping 50 years!
As a family-owned business, we're all about building relationships. Our goal is to make trucking insurance as smooth as a perfectly smoked Texas brisket. With access to numerous A+ rated insurance carriers specializing in commercial transportation risks, the TIS team can help find the perfect insurance solution tailored to your needs.
Now, how's this for convenience? Our mobile app, TIS24, lets you issue your certificates of insurance whenever you need them, right from your computer or phone. It's like having an insurance expert right in your back pocket.
Smooth Sailing with TIS Trucking Services
Driving in the Lone Star State also means abiding by its rules. If you're in Houston or anywhere else in Texas, you'll need truck permits and filings. And if that sounds like gobbledegook to you, fret not! Our permits division, TIS Trucking Services, is here to guide you through all those bureaucratic hoops. We'll handle the nitty-gritty so you can focus on what matters: keeping America moving.
Put the Pedal to the Metal and Partner with TIS
So, there you have it! Houston is more than a space city—it's a commercial trucking hub that keeps our nation's wheels turning. And when it comes to safeguarding your livelihood on these bustling roads, The Insurance Store is your trusted co-pilot.
Ready to gear up for a smooth ride? Don't delay. Call our friendly team at 800-354-8535 or visit our website to request a quote. Let's ensure that no matter where the road takes you, you can always count on us. Now, let's roll!
---
Get a Quote for Truck Insurance
---
Here is what Our Happy Customers have to say
---
Kelli is very knowledgeable! I learned a lot from my insurance quoting from her and had the most honest and best experience by far! If you need anything and I mean anything contact Kelli and she'll help you out as best as she could no questions left unanswered!!!!!

Mario Gabriel