TX License #: 2023175
---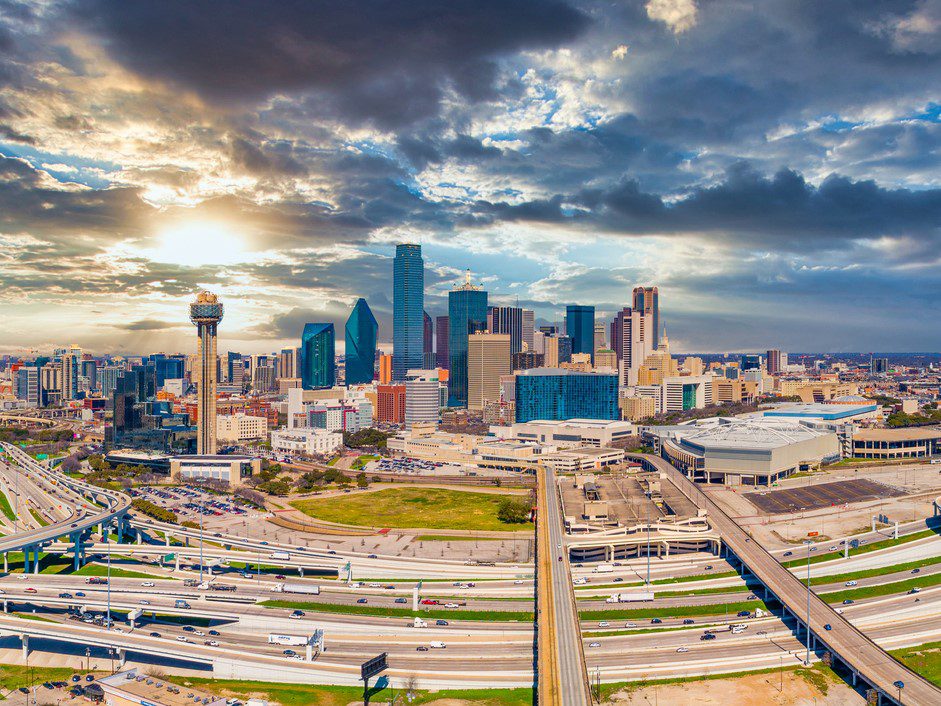 ---
---
Navigate the Big D with Peace of Mind: Dallas Texas Commercial Truck Insurance
Ah, Dallas! The twinkling crown jewel of Texas, sprawling over 385 square miles, and boasting a robust population of well over a million. Not only is it a hub of cowboy boots, mouth-watering barbecue, and football fever, but it's also a pivotal nexus for trucking and transportation. It's as if the city was born with a silver semi-truck in its mouth. Now, we all know that when you're trucking in Dallas, the stakes are as high as the Reunion Tower and as hot as a Texas summer. You're transporting valuable cargo, often times more precious than a winning ticket to a Cowboys game, and the risks? Well, they can be as unpredictable as Texas weather.
Dallas, dubbed as the Big D, is a vital transportation nerve-center, linking the East and West coasts. Here, you're not just transporting a load, but contributing to a pulsating economy. The city is alive with trucks hauling everything from machinery, food products, electronics, to even oil and gas; all the gears that keep Dallas churning like a well-oiled machine.
But it's not all smooth highways and friendly traffic in the city of the Cowboys, especially when you're crossing the intersections of the High Five or cruising along the LBJ Freeway. If you've driven your rig across these roads, you know that Dallas is not just the land of cotton candy sunsets, but also of white-knuckle drives. So, how do you keep your wheels rolling and your heart calm? That's where we come in.
---
The Real McCoy: Commercial Trucking Insurance Coverages
In the sprawling metropolis of Dallas, with its famous suburbs like Highland Park and University Park, or landmarks like the iconic AT&T Stadium, commercial truck insurance is as essential as a trusty GPS. And it's not just one-size-fits-all insurance. The kind of coverage you need is as diverse as the city's cuisine.
---
Auto Liability

First things first, you gotta have Auto Liability. As the saying goes, "don't mess with Texas," and that includes not messing with Texas law. It's mandatory to carry auto liability insurance for those unforeseen times when you could end up having a bit of a ding-dong with another vehicle.

Physical Damage

Now, we know your truck isn't just a truck. It's your rolling office, your beast of burden, your highway companion. Physical Damage insurance ensures that whether you face a mishap as unexpected as a sighting of Big Tex in your rearview mirror, your trusted road warrior is covered.

Motor Truck Cargo

In Dallas, your cargo is as diverse as the crowd at the State Fair. Be it a load of frozen steaks or a shipment of new tech from Silicon Prairie, Motor Truck Cargo insurance ensures your freight is safeguarded, even when lady luck decides to take a break.

Trailer Interchange

You know how sometimes you're hauling a trailer that's not yours, kind of like babysitting someone else's kid? Well, Trailer Interchange insurance makes sure you're covered if there's a mishap while the "kid" is in your care.

Non-Trucking Liability

Accidents happen, even when you're not trucking. Non-Trucking Liability insurance has your back during those off-duty times.

Workers Comp

No one wants an injury, but sometimes they're as unavoidable as a Dallas traffic jam. Workers Compensation helps protect you and your team, ensuring that a mishap doesn't throw a wrench into your livelihood.

General Liability

And then, there's the jack-of-all-trades, the umbrella for those rainy days – General Liability. This coverage acts like a good ol' Texas shield against a multitude of risks that could spring up faster than bluebonnets in April.
Welcome to The Insurance Store: Your Trusted Insurance Companion
Yup, we're the folks who've been around the block. A family-owned business, we're as steadfast as the red bricks of Dealey Plaza. Over the past 50 years, The Insurance Store, affectionately known as TIS, has grown up with Dallas, learning the highways and byways of commercial truck insurance. We're proud of our golden anniversary, but what really makes us pop our cowboy hats is our ability to provide you with A+ rated insurance carriers specializing in commercial transportation risks.
What's more, with TIS, you're not just getting an insurance policy, but a whole package of trucking services. Ever had a kerfuffle with a permit? Let TIS Trucking Services, our dedicated permits division, ride to your rescue. We're here to help you navigate the somewhat bumpy terrain of truck permits and filings in the Lone Star State.
And wait, there's more! Imagine being able to issue your certificates of insurance at any time, right from your phone, while you're on the move. Well, stop imagining, partner. Our mobile app, TIS24, makes it a reality.
The Last Mile: Choosing TIS
Choosing commercial truck insurance can feel as overwhelming as trying to find a parking spot at the NorthPark Center on a Saturday. But with The Insurance Store, it doesn't have to be. Our team, a friendly bunch of folks, is here to help you find the coverage that fits your needs as perfectly as a well-made cowboy boot.
We believe insurance is not a luxury, but a necessity, as essential as a full tank of gas before you hit the I-35. And with TIS, you're choosing peace of mind, knowing that we've got your back, come hell or high water.
So, why wait? You've got the information, you've got the number, now make the call. Dial 888-570-3130 and let's get your truck insured, pronto. Remember, in this city, we don't just drive, we truck. And with the right insurance, you can truck with confidence, all the way to the horizon and back.
---
Get a Quote for Truck Insurance
---
Here is what Our Happy Customers have to say
---
Great insurance agency!! Especially Kelsea and Albretch. Make our life so much easier. Who knew dealing with insurance agency can be fun!!

Transport One