Summerville Truck Insurance
SC License #: 3001067403
---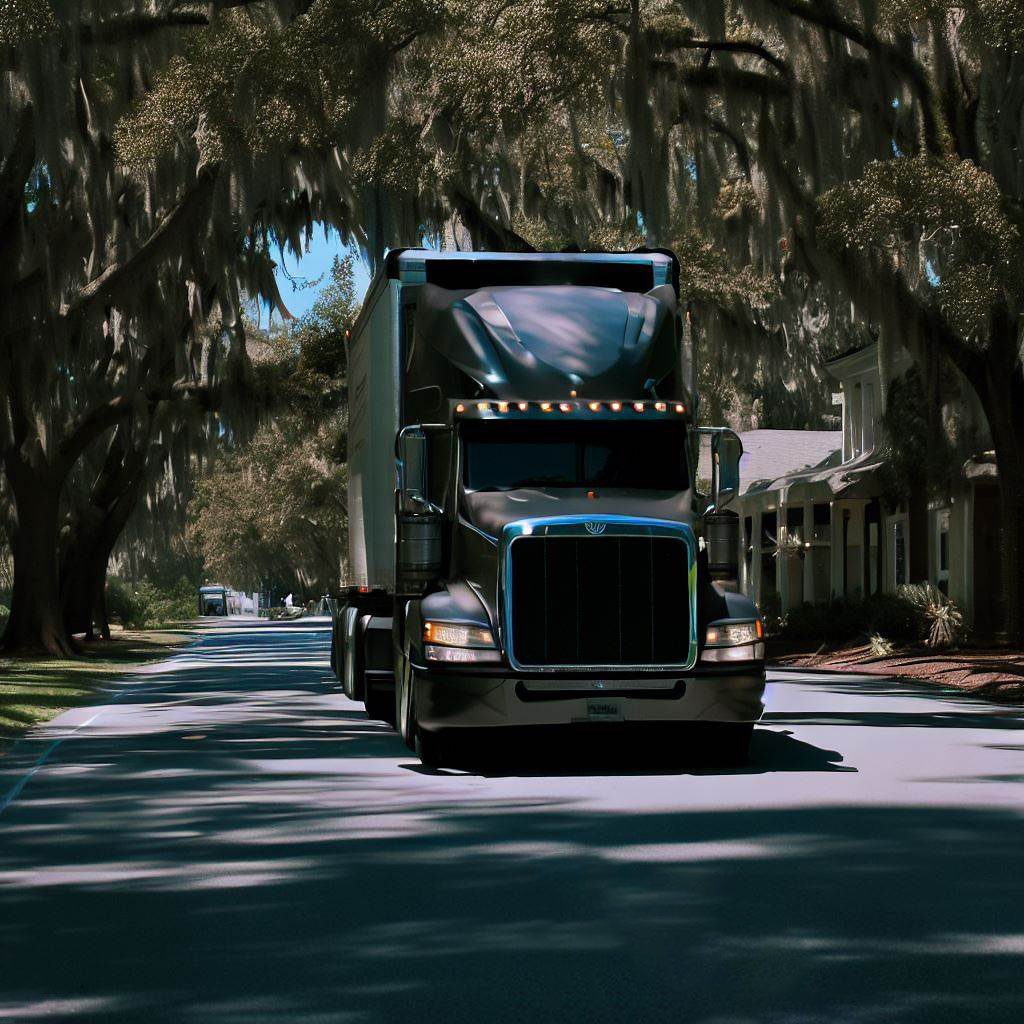 ---
---
Getting Down and Dirty with Summerville SC Truck Insurance
Welcome to the quaint town of Summerville, SC, where the tea is sweet, the magnolias bloom in bunches, and the trucks roll down the highways like clockwork. Famous for its hospitality and renowned for its historic charm, Summerville is not just another Southern belle. It's also a bustling hub for the trucking industry, a veritable Eldorado for truckers and trucking companies alike, and the cargo - well, let's just say it's as varied as the flora in Azalea Park.
From locally-sourced produce to the finest pecan pies, from textiles to tech gizmos, every type of freight imaginable whizzes through our roads. The humming veins of Summerville, such as Interstate 26 and State Highway 165, bristle with a constant stream of 18-wheelers and box trucks, each carrying a precious load to its destined spot.
And boy, isn't that a sight to see!
But, as any road-wise trucker knows, driving ain't just about the rubber meeting the road. It's also about being prepared for the unexpected. And that's where the friendly, down-to-earth folks at The Insurance Store come in.
Let's Talk Trucking Insurance
Ever found yourself pondering, "What's in a truck insurance policy?" Well, wonder no more. TIS offers an array of commercial trucking insurance coverages tailored to keep you and your livelihood safe. Here's the lowdown:
---
Auto Liability

A must-have. It's as essential as a good ol' cup of joe at sunrise. It's the law! Auto Liability covers you when you're at fault in an accident. It's there to ensure damages to the other party are taken care of. Just like Summerville's Azalea blossoms, no two accidents are alike - and this insurance is a lifesaver when you're in a pickle.

Physical Damage

This coverage takes care of your rig. Whether your truck kisses a guardrail on I-26 or gets a shiner from a rogue deer outside the Francis Beidler Forest, Physical Damage insurance has got your back, or rather, your truck's back.

Motor Truck Cargo

Picture this: you're hauling a truckload of Summerville's finest pecan pies, and suddenly you have to slam the brakes. Pies everywhere! Motor Truck Cargo insurance is designed for these messes, covering the cargo you're hauling if it gets damaged or lost.

Excess Liability

Consider this your umbrella on a rainy day. It steps up when your other coverages are exhausted. In our unpredictable world, this is your ticket to peace of mind.

Workers Compensation

Trucking is not all smooth sailing. Accidents can happen. Workers Comp is there to cover medical expenses and lost wages if an employee gets injured on the job.

General Liability

This one's like a reliable friend, always there when you need it. It covers you for damage or injury caused during loading or unloading, and other non-driving-related snafus.
The Insurance Store: Your Local Partner
Now that we've navigated the twists and turns of trucking insurance, let's talk about why choosing an independent insurance agency like TIS is a no-brainer.
Why us? Well, for starters, we've been safeguarding truckers longer than the Charleston Tea Plantation has been growing tea. A proud, family-owned business for 50 years, we've built a solid reputation in Summerville and beyond, backed by countless happy clients and countless stories of the road.
We're not just another insurance company. We're your neighbors, your friends, part of the very fabric of this community. We know Summerville and its trucking needs like the back of our hand. And the cherry on top? We've got access to a whole shebang of A+ rated insurance carriers specializing in commercial trucking.
No Time? No Problem with TIS24
As a trucker, time's your most precious commodity. That's why we created TIS24. This handy app is like a Swiss Army knife of insurance tools. Issue certificates of insurance, get ID cards, access your policy and insurance documents - all from the comfort of your cab or your living room. All you need is your computer or phone and you're set!
Permit Me to Help: TIS Trucking Services
Getting commercial trucking permits in South Carolina can be as tricky as a possum playing dead. But don't sweat it! Our permits division, TIS Trucking Services, is here to navigate the maze of paperwork for you. We'll ensure you're up-to-date and legally compliant, letting you focus on what you do best - driving.
Ready to Roll?
So, are you ready to hit the road with the peace of mind that comes from having the right coverage? The TIS team is waiting with open arms (and steaming cups of coffee). Give us a call at 888-570-3130 or request a quote online today. Let's make sure your journey on the open road is as smooth as Summerville sweet tea.
---
Get a Quote for Truck Insurance
---
Here is what Our Happy Customers have to say
---
We have been in partner with Insurance Store with our commercial needs, our agent Linsay Santos has always helps us when needed. I definitely recommend their services.

Lisa Sosa