OH License #: 1319470
---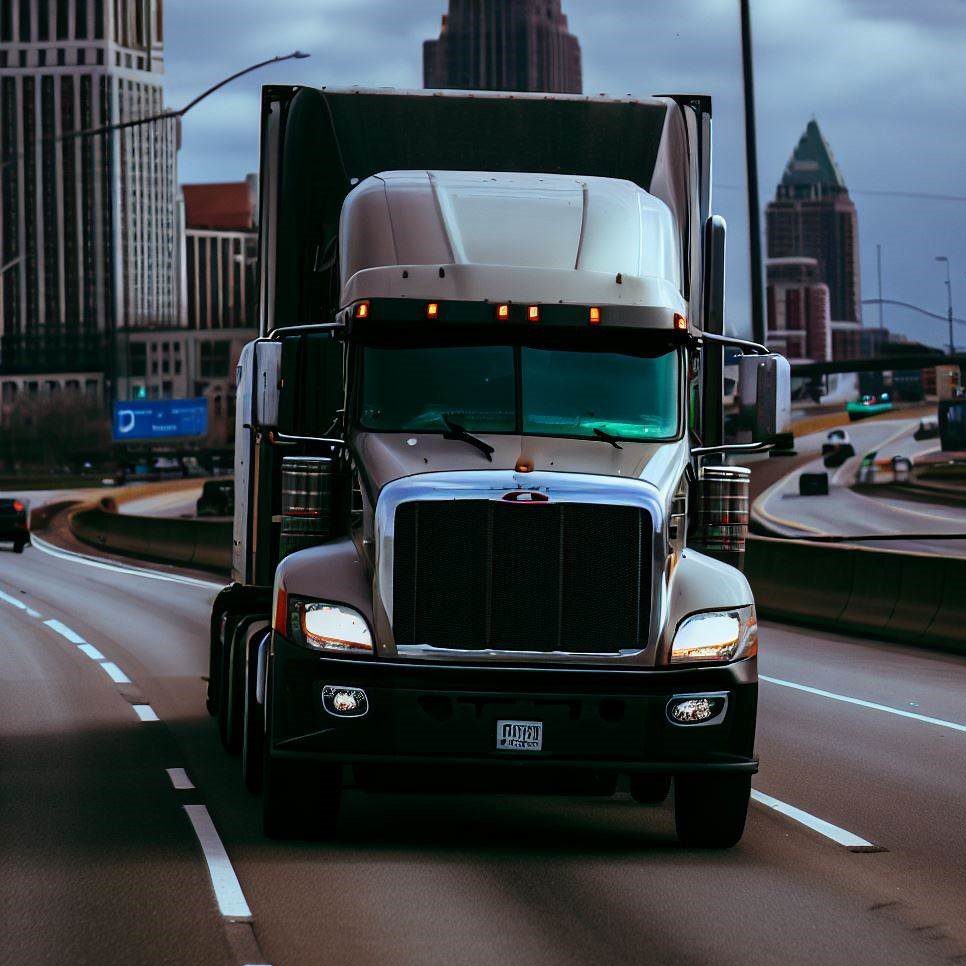 ---
---
Navigating the Highway of Cleveland Truck Insurance
Ah, Cleveland, Ohio! The bustling heart of Cuyahoga County, where the Cuyahoga River quietly kisses the southern coast of Lake Erie, and renowned home to the Rock and Roll Hall of Fame. But it's not all just high notes and guitar riffs in this lively locale. With an industrious history deeply rooted in manufacturing, Cleveland's economic prowess has seen it morph into a vibrant hub for freight and logistics.
Steel? It's transported by the ton. Agricultural products? More than you can shake a stalk at. We're talkin' everything from gravel to appliances, bobbling down the interstate. And don't even get us started on all the auto parts clattering around in the back of those big rigs! With key arteries like Interstate 90, the Ohio Turnpike, and Route 2, the city is indeed a vital cog in the trucking wheel.
Indeed, the trucking industry is more alive than a cat on a hot tin roof here. It's almost like Cleveland is an enormous pit stop, with burly big rigs, their diesel hearts thumping, pulling up at all hours for a quick breather before hitting the road once more. So where does our humble, family-owned business, The Insurance Store (or TIS, as we affectionately call ourselves) fit into this booming scene? Grab yourself a cup o' joe, lean back and let us spill the beans.
Trucking Insurance Coverages and Their Importance
As a trucker, you might be carrying any sort of load under the sun (and even the moon!). But with such a gamut of commodities comes an equal variety of risks. That's where our Cleveland Ohio truck insurance comes in, covering you from grille to tail light, and everything in between.
---
Auto Liability

Consider Auto Liability as your trusty sidekick, stepping up when the rubber hits the road—literally. By Ohio law, you're required to have it. And it's not there just for show like a bobblehead on your dashboard. This coverage will cover damages if you're responsible for an accident. Think of it as your financial airbag, deploying when you most need it.

Physical Damage

Physical Damage insurance is like having a personal bodyguard for your rig. Whether you've tangled with a stray deer on a dimly lit highway or your truck's shiny skin has been defaced by low-life hoodlum, this coverage helps ensure your beautiful beast gets back on the road, pronto.

Motor Truck Cargo

When it comes to cargo, we're not talking some two-bit operation. It's not just about getting from Point A to Point B. If your load of steel rods destined for a high-profile construction site downtown ends up scattered on the I-90, you'll be thanking your lucky stars for Motor Truck Cargo coverage. It covers the loss or damage of the cargo you're hauling.

Non-Trucking Liability

What about those trips to the diner after you've dropped off your load? Or when you're heading home after a long haul? Non-Trucking Liability has got you covered during your personal errands when you're not under dispatch.

Workers Compensation

Then there's the golden rule of business: take care of your employees, and they'll take care of you. Workers Compensation is a must-have to cover medical expenses and lost wages if an employee gets injured on the job.

General Liability

Finally, there's General Liability for truckers, covering the damages or injuries that might happen while handling cargo or due to business operations. Remember the old saying, "An ounce of prevention is worth a pound of cure"? That's what this coverage is all about.
The TIS Advantage: Your Trusted Independent Insurance Agency
TIS isn't just your run-of-the-mill insurance company. Heck no! We're a band of insurance aficionados, devoted to providing truckers with top-notch coverage for over 50 years. As an independent agency, we work with multiple A+ rated insurance carriers specializing in commercial trucking. In layman's terms, we've got more options than a diner's breakfast menu, and we're eager to serve them up just the way you like it!
And because we know that life on the road can get hectic, we've got a nifty little app, TIS24, that puts the power of insurance right in the palm of your hand. Need to issue your certificates of insurance at a roadside diner at 3 AM? Fancy getting ID cards while watching the sun set over Lake Erie? Want to access your policy documents on the fly? TIS24's got you covered quicker than a squirrel up a tree.
TIS Trucking Services: Helping You Stay in the Clear with Permits and Filings
Whether you're a greenhorn or a seasoned road roamer, the realm of permits and filings can be as confusing as a three-dollar bill. Fear not, fellow road warrior. Our specialized division, TIS Trucking Services, can assist you with your commercial trucking permits to keep you cruising along, nice and legal-like.
Operating a truck in The Buckeye State involves some serious paperwork. You've got your Unified Carrier Registration (UCR), Heavy Use Tax Form (2290), and let's not forget the Operating Authority (MC Number). It's a jumble of acronyms enough to make your head spin faster than tires on black ice! But don't fret, we'll help untangle this bureaucratic spaghetti.
Let's Get This Show on the Road
So, if you're a Cleveland trucker who wants the open road to feel a bit less open, why not give our friendly team at TIS a holler? We've been navigating the winding roads of Cleveland Ohio truck insurance longer than the Ohio Turnpike's been around.
Life on the highway is no cakewalk, but with The Insurance Store in your corner, it can feel like a drive in the park. So, ready to roll with us? Request a quote or call our friendly team at 888-570-3130. We're revved up and ready to give you a smooth insurance ride. Safe travels, partner!
---
Get a Quote for Truck Insurance
---
Here is what Our Happy Customers have to say
---
Its always a pleasure talking with Codi. She answers all of my questions thoroughly and stays in communication with me throughout every renewal. I could not ask for better or friendlier help. Codi and Erin have been consistently excellent and help me out so much. Thank you Codi and Erin.

David Morair