New York City Truck Insurance
NY License #: BR-1648849
---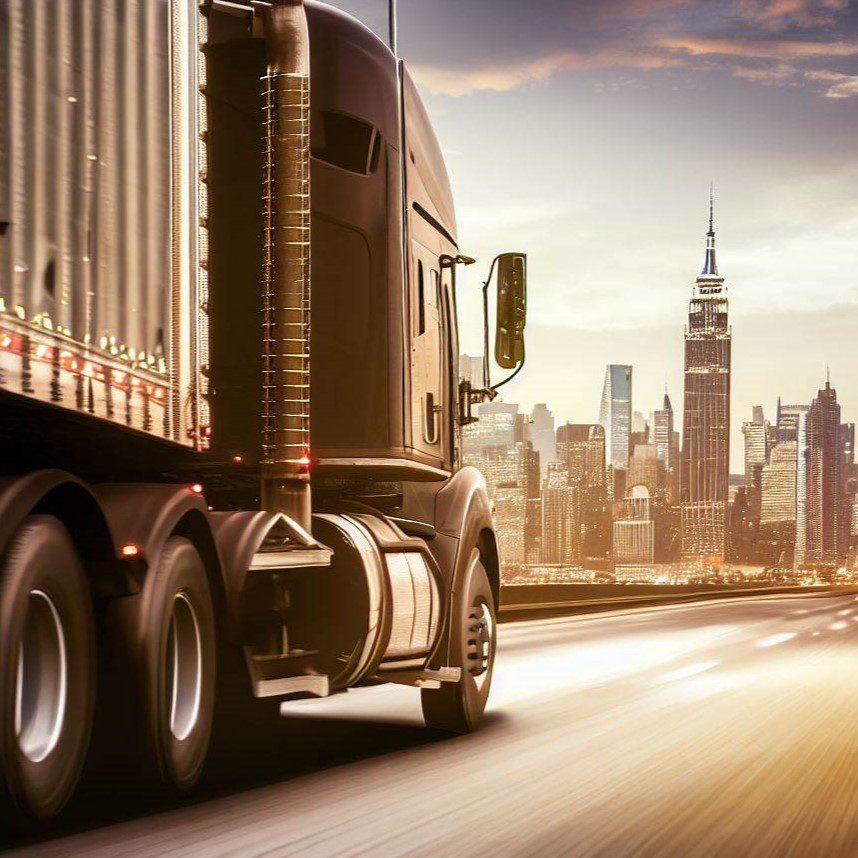 ---
---
Steering the Course: Navigating New York City Truck Insurance
The heartbeat of the "Big Apple" doesn't come from the towering skyscrapers or bustling subway stations, it's the roar of engines and the squeal of brakes. It's the over 10,000 trucks that journey through New York City each day, carrying everything from food to furniture, steel to sand, delivering the lifeblood of goods that keep the city that never sleeps, well, awake!
New York City, with its blend of iconic landmarks and multicultural neighborhoods, is a city that never ceases to surprise. Did you know that the city has over 800 languages spoken? That's as many languages as the number of trucks driving through the Lincoln Tunnel in peak hour! And just as diverse as the languages are, so too are the types of cargo these trucks ferry around, crisscrossing the five boroughs like a well-orchestrated symphony. From the gourmet food trucks of Queens to the industrial behemoths delivering building supplies to Manhattan's ongoing skyscraper construction, trucking in NYC is the backbone of commerce.
The often overlooked heroes in all this, besides the truckers themselves, are the folks who ensure these iron horses are protected against mishaps, both predictable and otherwise. We're talking about New York City truck insurance. Who better to chat about this than the team at The Insurance Store, a family-owned business with 50 years of experience under their belt, and not a single gray hair in sight!
The ABCs of NYC Truck Insurance
Trucking in New York City, you're not just moving cargo, you're steering a significant investment down roads riddled with potential risks. From the scenic FDR Drive to the bustling I-495, the margin for error is thinner than a New York-style pizza. This is why a solid truck insurance policy is as essential as your morning cup of joe. Here's a lowdown on the types of insurance coverages you need for your rig.
---
Auto Liability

Think of Auto Liability as your financial seatbelt when things go south on the roads. It covers damages to other parties if you're involved in an accident. And in a city that's more packed than a Yankees game, this is a no-brainer!

Physical Damage

Now here's the real deal, the peanut butter to your jelly, or in NYC terms, the pastrami to your rye. Physical Damage insurance takes care of your truck if it gets damaged in an accident, or from vandalism, theft, or natural disasters. From the bustling streets of Brooklyn to the serene highways of upstate New York, your rig's got coverage!

Motor Truck Cargo

Ever thought of what happens if the priceless Picasso you're hauling gets damaged? Or if those designer outfits get stolen? That's where Motor Truck Cargo insurance steps in. It covers the freight you're transporting, keeping your peace of mind intact, just like a hot bagel on a chilly NYC morning.

Non-Trucking Liability

Even when you're off-duty, your truck isn't completely off the hook. Non-Trucking Liability offers coverage when you're not hauling any cargo. So, whether you're catching a Broadway show or savoring some delicious street food, you can relax knowing your rig's got backup.

Workers Compensation

Here's the scoop, folks. If your employee gets injured on the job, Workers Compensation helps cover their medical expenses and lost wages. It's like an emergency fund, ready to kick in when the going gets tough.

General Liability

Last but not least, we've got the Truckers General Liability. This little gem covers any damages caused by activities directly related to trucking. Think of it as your comprehensive safety net, ready to catch you when you need it the most.
Why Choose The Insurance Store for Your NYC Insurance Needs
Choosing TIS is like opting for a slice of authentic New York-style pizza over a fast-food copycat. They're a family-owned business, and you'll feel part of that family from your first interaction. They've been in the insurance game for over 50 years, or as they love to say, since the Mets won their first World Series!
With TIS, you get access to a plethora of A+ rated insurance carriers specializing in commercial trucking. Think of them as your personal insurance sommelier, hand-picking the perfect policy to pair with your trucking needs.
What's more, TIS takes a leap into the future with their app TIS24. It's the Swiss Army Knife of insurance apps, letting truckers issue their certificates of insurance, get ID cards, and access their policy documents whenever and wherever. It's like having the TIS team in your pocket. Just don't sit on them!
Truck Permits and Filings – A Walk in Central Park
Every trucker in NYC knows that navigating the web of permits and filings can be as tricky as finding a parking spot in Times Square. Enter TIS Trucking Services, the permits division of TIS. These are the people who eat red tape for breakfast and know the ins and outs of New York's commercial trucking permits like a cab driver knows the quickest route through Midtown. They make the complicated, well, uncomplicated.
Ready for the Ride?
So, next time you're cruising down the I-95, hauling cargo from JFK Airport, or maneuvering the tight streets of Little Italy, remember - you're not just a trucker, you're a vital artery in the heart of the city that never sleeps. And to keep that heartbeat strong, give the friendly folks at TIS a call at 888-570-3130 or request a quote.
After all, the road can be unpredictable, but with the right NYC truck insurance, you're always ready for the journey. It's like having a good cup of Joe from your favorite NYC diner – comforting, reliable, and always there when you need it. Here's to safer roads and endless possibilities. Happy trucking, New York!
---
Get a Quote for Truck Insurance
---
Here is what Our Happy Customers have to say
---
Great service!!! They work hard on getting you the best quote!!! Just got my commercial policy and they saved me lots!!! I really recommend the insurance store.

Geovanni Jimenez