NV License #: 968347
---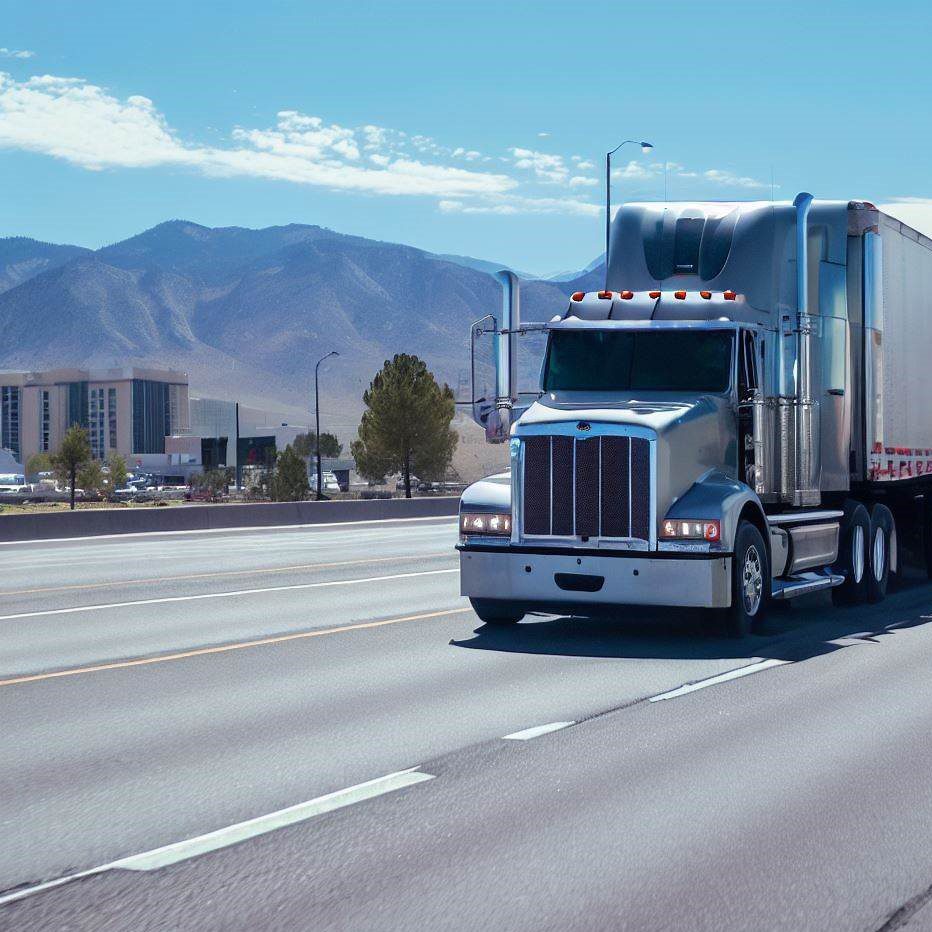 ---
---
Truck Insurance in Sparks, Nevada: A One-Stop Shop at The Insurance Store
You know, they say that Sparks, Nevada isn't just a city, it's a whole dang lifestyle. Yessiree, wedged right between the glamour of Reno and the expansive landscapes of the Truckee Meadows, this place doesn't just spark, it downright ignites! It's got everything - a smorgasbord of eateries, the scenic beauty of Sparks Marina Park, and a trucking industry that's as bustling as a beehive. Here in Sparks, big rigs and flatbeds are as commonplace as tumbleweeds in the desert.
Trucking, transport, and all things big and burly - Sparks is a veritable El Dorado for truckers. We're talking fresh farm produce, mechanical parts, precious metals, and everything in between! You'll find freight streaming along I-80 or truckers humming down the I-580 like bees to honey. The roadways like Pyramid Way and Vista Boulevard act as lifeblood for trucking businesses, crisscrossing through neighboring towns like Spanish Springs and Sun Valley.
Speaking of trucking in Sparks, let's talk insurance - yep, that dreaded word that has the magical ability to make strong men weep and seasoned truckers grumble. But hey, it doesn't have to be that way, not with The Insurance Store on your side.
The Insurance Store: Paving the Road for Your Insurance Needs
Truck insurance can be a maze of jargon that would leave even the most seasoned trucker spinning like a roulette wheel at the Nugget Casino. But fear not! Here's a quick and easy guide on the key coverages your Sparks Nevada truck insurance should include.
---
Auto Liability

Picture this. You're cruising down I-80, singing along to your favorite Johnny Cash tune, when out of nowhere—bam!—a deer runs out in front of your truck causing you to side swipe the guy next to you. Auto Liability has your back here, covering any damages you may have caused in the subsequent swerve.

Physical Damage

Now, let's say that deer was as big as a bull, and it left your rig looking like it tussled with a bear. Physical Damage coverage comes to the rescue, taking care of repair or replacement costs to your own truck.

Motor Truck Cargo

Imagine your cargo is a batch of Hershey's chocolate for a supermarket (Oh, sweet!). What if it melted due to a refrigeration unit breakdown? That's where Motor Truck Cargo insurance steps in, covering losses due to damaged or lost cargo.

Bobtail and Non-Trucking

Suppose you've just dropped off your cargo and are taking a detour to enjoy the stunning views at Sparks Marina Park—empty trailer in tow. In case of any incident during this non-business drive, Bobtail and Non-Trucking coverage would kick in.

Workers Comp and General Liability

You're a responsible employer. You want to make sure that if one of your drivers gets injured on the job or if your operations accidentally harm a third party, they're taken care of. Workers Compensation and Truckers General Liability provide precisely this peace of mind.
Why Choose The Insurance Store for Your Truck Insurance Needs?
Founded 50 years ago, The Insurance Store is a family-owned business that stands tall like a reliable oak tree in the insurance landscape. We've forged relationships with a multitude of A+ rated insurance carriers that specialize in commercial trucking.
We know that every trucker's needs are as unique as the Nevada sunset. So, whether you're hauling machinery to the nearby mines or transporting livestock across the state, our experienced TIS team crafts custom insurance solutions just for you.
Plus, with our nifty mobile app TIS24, we've taken 'convenience' to a whole new level. Now you can issue your certificates of insurance, get ID cards, and access your policy documents at any time, from anywhere. We believe in keeping our services as handy as your favorite multi-tool!
Truck Permits and Filings: Making it Easier with TIS Trucking Services
Navigating the world of truck permits and filings in Nevada can be as slippery as a greased pig at a county fair. But don't sweat it! Our permits division, TIS Trucking Services, is here to guide you through the process like a trusty co-driver.
Hit the Open Road with The Insurance Store
If you've ever tried to wrangle a wild horse, you know it takes expertise, patience, and understanding. That's how we approach your insurance needs at The Insurance Store. With five decades under our belt, we've got the experience to provide you with top-notch service and guidance. So why wait?
Give our friendly team a holler at 888-570-3130, or swing and request a quote. Let's get you covered faster than a jackrabbit in a high wind, and keep your trucking business running smoothly on the highways of Sparks, Nevada. Remember, we're not just in the insurance business; we're in the peace of mind business. So, buckle up and enjoy the ride with The Insurance Store. We can't wait to be part of your journey!
---
Get a Quote for Truck Insurance
---
Here is what Our Happy Customers have to say
---
Excellent service with my insurance store and fast service my experience they really help me a lot and I had some questions and they explained to me good thank you Lindsay and Jenna 🙂

Veronica Chavez