Las Vegas Truck Insurance
NV License #: 968347
---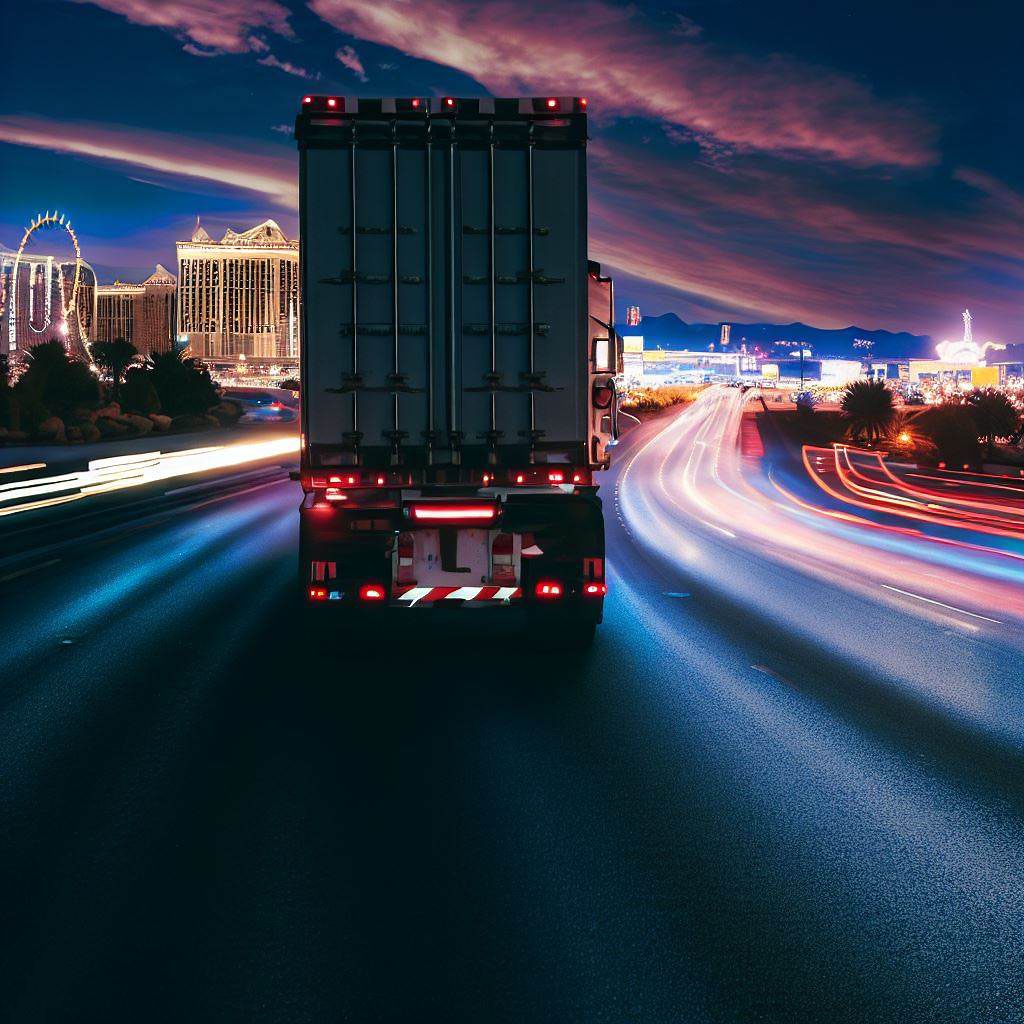 ---
---
The Trucking and Insurance Showdown in Sin City
Welcome to the glimmering oasis in the Nevada desert, the land of limitless possibilities, the city that truly never sleeps - Las Vegas. This shimmering city, known the world over for its bright lights and dynamic spirit, offers more than just a gambling haven and stunning entertainment. Las Vegas is a thriving hub for various industries, and prominent among them is the vigorous and booming trucking industry. What's trucking in Vegas, you ask? Let's hit the road and find out.
Las Vegas, affectionately known as Sin City, is not just a paradise for gamblers and tourists. It's also a hotspot for trucking, with its strategic location at the crossroads of major highways such as Interstate 15 and U.S. Route 95. Not to mention, its bustling suburbs like Henderson and Paradise contribute significantly to the hive of commercial activities.
Trucks rule the roads of Vegas, hauling everything from the casino paraphernalia that lights up the Strip, to the fresh food supplies for its ever-hungry culinary establishments, to the construction materials that feed its unending appetite for growth. Vegas, it turns out, not only knows how to play hard but also how to work hard. And the unsung heroes of this bustling activity are the trucks and their drivers.
Rolling the Dice: The Need for Commercial Trucking Insurance
In the business of trucking, just like a high-stakes poker game, the risks can be monumental. Truckers need to guard their investments against accidents, theft, and liability issues. That's where commercial trucking insurance steps in. The Insurance Store (or TIS, as we love to call it) has been your trusty co-pilot in the trucking world for over 50 years, providing top-notch, tailored insurance policies. As a family-owned business, we treat your concerns like our own. So, what are the ace cards of trucking insurance in your hand?
---
Auto Liability

In the event your big rig ends up causing a little too much excitement on the Strip, auto liability has your back. This coverage is crucial as it covers legal liability for bodily injuries and property damage caused by your truck.

Physical Damage

A harsh desert sandstorm or a rogue tour bus could inflict damage on your truck in Vegas, but physical damage coverage is here to save the day. Whether it's collision, fire, theft, or vandalism, it ensures your rig doesn't miss a beat.

Motor Truck Cargo

Just imagine, your truck full of poker chips for a casino gets hijacked! Fret not, motor truck cargo insurance provides cover for the freight you're hauling against the perils of the open road.

Bobtail and Non-Trucking

You finished your delivery and are now cruising down the Strip, with Elvis Presley's tunes playing on the radio. Should an accident occur during this off-duty period, bobtail and non-trucking coverage come to your rescue.

Workers Compensation

Sometimes a trucker might be doing the "Vegas Shuffle" a little too hard and sustain injuries. Worker's compensation ensures that your medical bills and lost wages are covered.

General Liability

Even in the hustle and bustle of Sin City, accidents can happen while loading or unloading cargo. Truckers general liability insurance shields you against the financial implications of such mishaps.
Your Jackpot: The Benefits of Partnering with The Insurance Store
With TIS, you're not just buying an insurance policy; you're joining a family. A family that's been in the business of looking after truckers for half a century. We have access to countless A+ rated insurance carriers that specialize in commercial trucking, meaning we can offer tailor-made solutions just for you. And for those tech-savvy truckers out there, we have our handy mobile app, TIS24, which puts the power of issuing certificates of insurance, accessing ID cards, and viewing your policy documents right in your pocket.
Permit Pitstop: We've Got You Covered!
Just as you wouldn't enter a high-stakes poker game without knowing the rules, you wouldn't want to hit the road without the right permits and filings. Navigating the bureaucratic labyrinth can be as challenging as finding a water source in the Mojave Desert. But don't sweat it; our permits division, TIS Trucking Services, can help you with all your commercial trucking permit needs. From Single State Registration to Highway Use Tax, our experienced team makes it as easy as a slot machine jackpot!
Ride with Us: Your Trusted Insurance Store
In Las Vegas, the stakes are high, and so are the risks. So whether you're hauling a truckload of video poker machines or transporting construction material to a new mega-casino, be sure to protect your investment with the right insurance.
Call our friendly team at The Insurance Store (TIS) today at 888-570-3130 or request a quote online. Let's face it, in the high-stakes game of trucking, it's always better to be safe than sorry. At TIS, we're here to make sure that what happens to your truck in Vegas, doesn't stay in Vegas!
---
Get a Quote for Truck Insurance
---
Here is what Our Happy Customers have to say
---
Kelli has been an awesome agent- answers our calls on her days off, answers ALL our questions with state of the art expertise, and is extremely efficient!

Shene Saeed