Jefferson City Truck Insurance
MO License #: 3001110148
---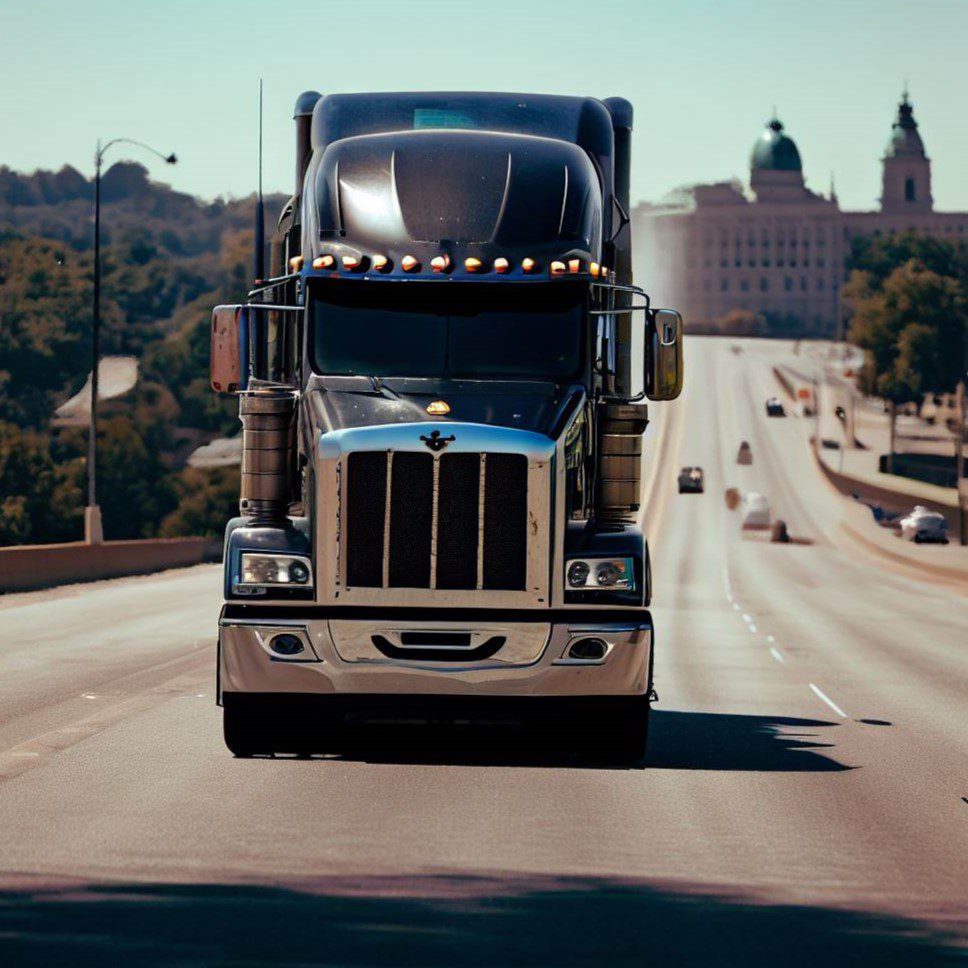 ---
---
Jefferson City Missouri Truck Insurance: Paving the Road for Protection
Sitting prettily on the banks of the mighty Missouri River, Jefferson City is not just the state capital, but a bustling hub for freight and logistics. And boy, does this city love its trucks! In 2020, over 70% of all freight transported in the U.S. was hauled by trucks, and Jefferson City was smack-dab in the middle of it. Major highways like the U.S. Route 50, 54, and 63 intersect here, making it a crossroads for all things transport and a hot spot for Jefferson City Missouri truck insurance.
Around these parts, you'll see big rigs hauling everything from agricultural products – think corn, soybeans, and a cow or two (moo-ve over, other cargo!) – to manufactured goods and machinery. Jefferson City's surrounding suburbs, like Apache Flats and St. Martins, are also part of this bustling trucking network.
Here's the scoop. Transporting cargo in your shiny 18-wheeler is not just about getting from point A to B. It's about ensuring that, no matter what curveballs the highway throws at you, you're covered. That's where commercial trucking insurance comes in.
Cover Your Caboose: Essential Commercial Trucking Insurance Coverages
It's as clear as a bell: trucking in Jefferson City isn't a walk in the park, or a leisurely drive down Tanner Bridge Road, for that matter. So, before you put the pedal to the metal, let's talk turkey about your insurance coverages. Here are the "Big 6" that you should give a gander:
---
Auto Liability

This is your no-nonsense, bare-bones, state-required coverage. If your big rig causes an accident, this'll cover the other party's medical bills and property damage. It's as important as biscuits at a barbeque!

Physical Damage

If your truck decides to tango with a tree, physical damage insurance steps in. It covers the cost of repairs or replacement for your truck – handy, isn't it?

Motor Truck Cargo

Let's say you're transporting a trailer full of expensive electronics down U.S. Route 54, and it suffers damage. Gosh, who's going to foot that bill? Enter motor truck cargo insurance, saving the day by covering damages to the freight you're hauling.

Non-Trucking Liability

Non-trucking liability insurance steps up to cover damages when your truck isn't being used for business. Good to know, right?

Workers Compensation

Don't be caught flat-footed if a driver gets hurt on the job. Workers comp is a must-have, and it'll help cover medical bills and lost wages in case of an accident.

General Liability

If you accidentally knock over a display while delivering at a store, or a customer trips over your cargo ramp, truckers general liability helps you square things away. It's like having an extra layer of Teflon on your trucking business.
Ride with the Best: The TIS Advantage
Well, you've made it this far; it's clear you're serious about truck insurance. So, why not ride shotgun with the TIS team? We're a family-owned business, cruising the insurance highway for 50 years, backed by a fleet of A+ rated insurance carriers specializing in commercial trucking. Plus, our dedicated app, TIS24, is like having a helpful hitchhiker in your pocket. Issue certificates of insurance, get ID cards, and access your policy and insurance documents anytime, from anywhere. We've been around the block enough times to know that in Jefferson City convenience is king.
Help With Your Truck Permits and Filings
Like a puzzle with pieces from different boxes, the world of truck permits and filings can be quite the brain teaser. But don't you worry, your tailpipe. Missouri, just like its capital, Jefferson City, requires specific permits and filings for commercial trucking operations. Navigating these can feel like trying to find the Capitol Building in a thick Missouri fog. But don't fret! Our permits division, TIS Trucking Services, is your guiding star.
Permit requirements change quicker than Missouri weather, but our team is always up to date. We'll help you understand intrastate and interstate permits, and ensure your filings for operating authority, MCS-150 updates, and UCR registrations are as smooth as a newly paved road. No more chasing your tail when it comes to trucking permits!
Calling All Jefferson City Truckers
Alright, you trucking champions of Jefferson City. You've cruised down the information highway with us, exploring the nitty-gritty of truck insurance, navigating through tricky permits, and discovering the benefits of partnering with a seasoned companion like the TIS team. Now, isn't it time to park your worries and hit the road with the peace of mind only top-tier insurance can provide?
At TIS, we know the ins and outs of Jefferson City Missouri truck insurance like the back of our hand. We understand that life on the road can be unpredictable, just like a squirrel darting across West Main Street. That's why we're here, ready to help you protect your livelihood, every step of the way.
So, are you ready to join the TIS family? To learn more or request a quote, don't be a stranger! Give our friendly team a jingle at 888-570-3130. After all, as they say, there's no time like the present!
In the land of Jefferson City trucking, the Insurance Store is your go-to co-pilot. So, go ahead, truckers, let us steer your insurance worries away while you keep on trucking.
---
Get a Quote for Truck Insurance
---
Here is what Our Happy Customers have to say
---
Shalyn was great from start to finish. She took the time to explain the process to me. I knew what to expect every step of the way.This turned out to be a one stop shop for all of my business needs. Great company to do business with!!!!

Charlyndia Davis