Annapolis Truck Insurance
MD License #: 3001146279
---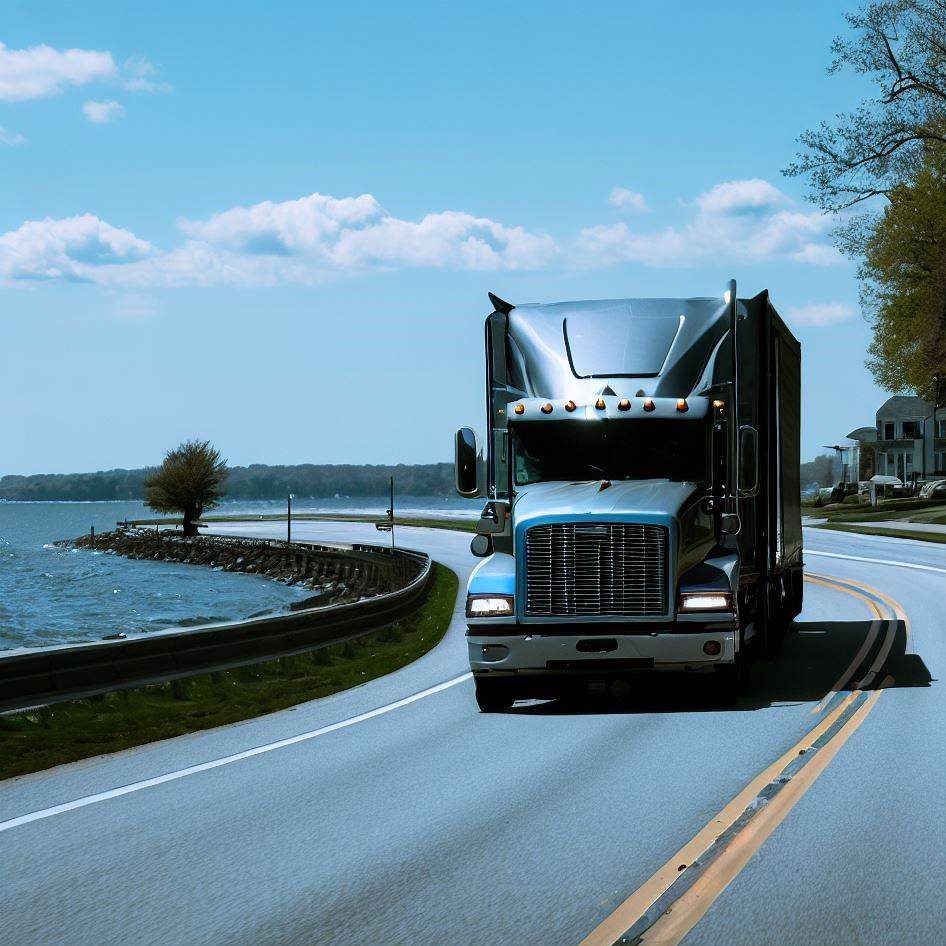 ---
---
A Guide to Annapolis Maryland Truck Insurance
Ahoy, matey! You've set your GPS to Annapolis, Maryland, the charming, seaside city that's as rich in history as it is in crab cakes. Annapolis, the sailing capital of the U.S., is nestled within the Chesapeake Bay, a stone's throw from the nation's capital. This picturesque town isn't just for boat lovers, though. Truckers get their wheels spinning here, playing a pivotal role in keeping Annapolis thriving.
Annapolis is a major hub of goods transportation in Maryland, with the city's vast network of highways such as I-97 and U.S Route 50 acting as the arteries pumping the lifeblood of cargo across the country. You're not just hauling ordinary freight here; you're likely carrying loads of fresh Maryland seafood, or 'liquid gold' a.k.a Maryland craft beer, or maybe even the goods from the myriad of Annapolis' thriving local businesses.
But, hey, let's pump the brakes a bit. Before you load up that tractor-trailer and start playing "Convoy" on repeat, it's essential to ensure your rig's covered with top-tier truck insurance. And that's where our story takes a turn towards Annapolis Maryland truck insurance.
The ABC's of Commercial Trucking Insurance
Roll up your sleeves, folks, it's time to dive into the nitty-gritty details of truck insurance coverages. It may seem like Greek to you now, but soon you'll be gabbing about it like a seasoned Annapolis insurance whiz.
---
Auto Liability

If you're trucking in Annapolis, or anywhere else for that matter, auto liability coverage isn't just nice to have—it's a legal must-have. It covers injuries or damage you might cause to others in an accident. Think of it as your financial lifesaver when you're up the creek without a paddle.

Physical Damage

A little bird told us that you've got your eye on that shiny new Peterbilt. You know, the one you'd probably tuck into bed if you could. So, how do you protect that heavy-duty sweetheart from unexpected hiccups like accidents, theft, or a freak Chesapeake Bay hailstorm? That's where physical damage coverage sails in to save your day and your rig!

Motor Truck Cargo

Annapolis is no small potatoes when it comes to freight, handling everything from those tasty Maryland crab cakes to high-value tech equipment. Motor truck cargo insurance keeps you covered when those goods get damaged or lost on the journey. So, whether you're hauling artisanal cheese or a load of local crafts, this coverage keeps your cargo safe as houses.

Non-Trucking Liability

You're not always going to be on the clock. For those 'off-the-clock' times when you might run into a little trouble, non-trucking liability steps up to the plate.

Workers Compensation

Worker's comp? Now that's as important as Old Bay seasoning is to a Maryland crab boil! It covers medical expenses and lost wages if you or your employees get injured on the job.

General Liability

Truckers General Liability – It's like the mom jeans of truck insurance, always there for you, and always in style. It provides coverages beyond the truck, like when a customer visits your business and suffers an injury. With this, you're as snug as a bug in a rug!
The Insurance Store: Your North Star to Top-Tier Coverage
At The Insurance Store, we've been navigating the rough seas of insurance for 50 years, and boy, do we have some stories to tell! As a family-owned business, we're as tight-knit as a crabber's net, treating each of our clients like a part of the TIS clan.
Unlike those colossal, impersonal insurance companies, we're a hardworking independent agency that gets to fish around in a sea of A+ rated insurance carriers specializing in commercial trucking. We'll sniff out the best coverage for you faster than a Chesapeake Bay Retriever fetches a stick!
And get this, with our nifty app TIS24, you can issue your certificates of insurance, get ID cards, and access your policy and insurance documents faster than you can say "Annapolis Maryland truck insurance". Now that's some hot tech!
TIS Trucking Services: Your One-Stop-Shop for Truck Permits and Filings
Who enjoys the bureaucracy and red tape of truck permits and filings? Well, actually, we do! At TIS Trucking Services, we'll glide you through the murky waters of commercial trucking permits, keeping you road legal and stress-free in the state of Maryland.
Are You Ready to Roll with Us?
Now that you're savvy about Annapolis Maryland truck insurance, isn't it time you took the plunge with the TIS team? With half a century under our belts, we're as experienced and trustworthy as they come. Ready to make a splash with the best insurance for your rig? Hitch your wagon to our star and give our friendly team a ring at 888-570-3130 or request a quote. It's time to get trucking with the peace of mind that only the best insurance can provide. Let's get this show on the road, shall we?
---
Get a Quote for Truck Insurance
---
Here is what Our Happy Customers have to say
---
The best Company I have worked with, they will get you a quote fast.

Larry Lucas