Owensboro Truck Insurance
KY License #: 1109126
---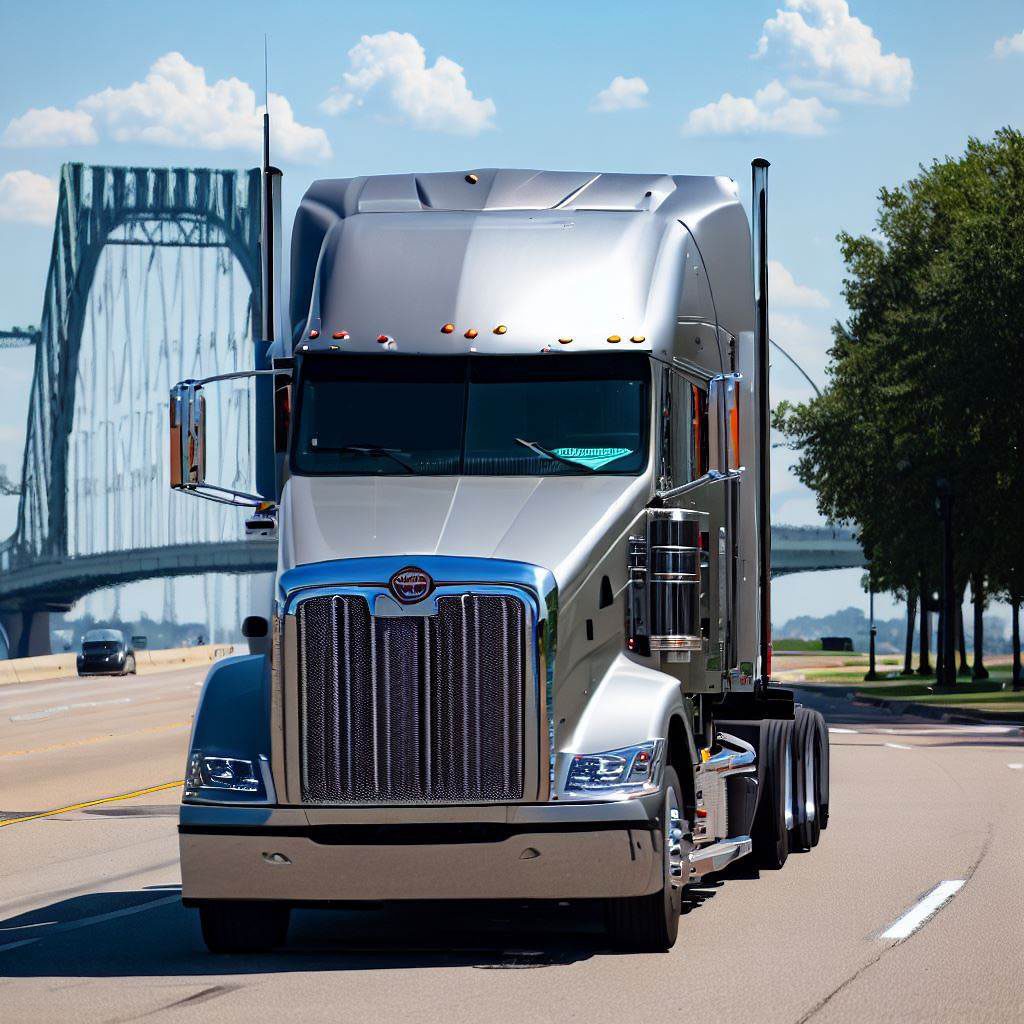 ---
---
Welcome to The Heartland of Trucking: Owensboro, Kentucky!
Nestled on the banks of the mighty Ohio River, Owensboro boasts a rich cultural heritage, scrumptious barbecue (with a secret mutton twist!), and an energetic bluegrass music scene. But, have you ever wondered how all that barbecue and bluegrass equipment get around?
Well, let us tell you, it ain't by riverboat. Owensboro is the heartland of trucking in the Bluegrass State, where Peterbilt meets Kenworth, and the rumble of diesel engines echoes amidst the rolling green fields. Trucks here don't just haul freight - they transport everything from coal to distillery grains, making Owensboro the lifeblood of Kentucky's economy.
Popular routes like U.S. Route 60 and the Audubon Parkway, along with nearby Interstate 65, make Owensboro a crucial link in the chain of American logistics. From the suburb of Stanley to the commercial hub around Frederica Street, trucks are the indispensable workhorses of Owensboro.
But wait! Where there are trucks, there's a need for insurance, right? And that's where The Insurance Store comes to the rescue!
Navigating the Trucking Insurance Maze with TIS
Insurance isn't just about ticking boxes on a checklist. It's about safeguarding your livelihood against the unexpected. Just as a seasoned trucker knows every pothole on the route, TIS knows the ins and outs of truck insurance.
---
Auto Liability

In the blink of an eye, things can go south. Auto liability insurance is there to protect you from the financial repercussions of accidents. It covers legal liability in case of damage or injury caused by your truck to others. It's not just a good idea; it's mandatory across the country, including our good ol' Owensboro!

Physical Damage

Physical Damage insurance has your back. It covers your vehicle against theft, vandalism, and accidents, helping you keep that chrome shining and wheels turning!

Motor Truck Cargo

You're hauling a load of Owensboro's famous barbecue sauce, and a bumpy road causes a spill in the trailer - who's gonna foot the bill? With Motor Truck Cargo insurance, you're covered for the damage or loss of the goods you're transporting.

Non-Trucking Liability

Non-Trucking Liability helps to cover liabilities when you're using the truck for personal use.

Workers Compensation

TIS understands that trucking isn't just about trucks. It's about the people behind the wheel. Workers Compensation covers medical expenses and lost wages for truckers injured on the job.

General Liability

Suppose you accidentally damage a customer's property during a delivery at the RiverPark Center. Truckers General Liability insurance would help cover these costs. It's all about helping you steer clear of financial pitfalls!
Why Partner With The Insurance Store
As an independent, family-owned business with over 50 years of experience, TIS is more than just an insurance provider. We're your partner on the open road. We're proud to work with numerous A+ rated insurance carriers that specialize in commercial trucking, ensuring you get the best coverage at the best price.
Beyond insurance, we also provide truckers with unparalleled support through our exclusive app, TIS24. Need to issue certificates of insurance at 2 a.m. from the comfort of your cab? TIS24's got you covered. Need ID cards or access to policy documents while grabbing a bite at Moonlite Bar-B-Q? No problem! TIS24 is your personal insurance assistant, available 24/7 at the tip of your fingers.
Keeping You on the Right Side of the Law with TIS Trucking Services
Trucking isn't just about the open road - it's also about navigating the maze of permits and filings. And guess what? Our dedicated permits division, TIS Trucking Services, can guide you through the labyrinth. Whether it's a trip permit for that urgent delivery to Louisville or an IRP filing, our experts will get it sorted faster than you can say "Bluegrass State!"
Call Us Today and Experience the TIS Difference!
Alright, folks, we're nearing the end of our journey. You've seen the sights and sounds of trucking in Owensboro, learned about the complexities of truck insurance, and discovered how TIS can make your life easier. Now it's your turn to take the wheel.
So, what are you waiting for? Give our friendly team a call at 888-570-3130 or request a quote today. Let us show you how the TIS team goes the extra mile for our truckers. After all, in the world of truck insurance, it's not just about getting from point A to point B. It's about the journey, and we'd be honored to ride shotgun with you.
---
Get a Quote for Truck Insurance
---
Here is what Our Happy Customers have to say
---
Cindy was very quick to respond to my needs. I really enjoyed working with her!

Todd and Nicole Martin