Covington Truck Insurance
KY License #: 1109126
---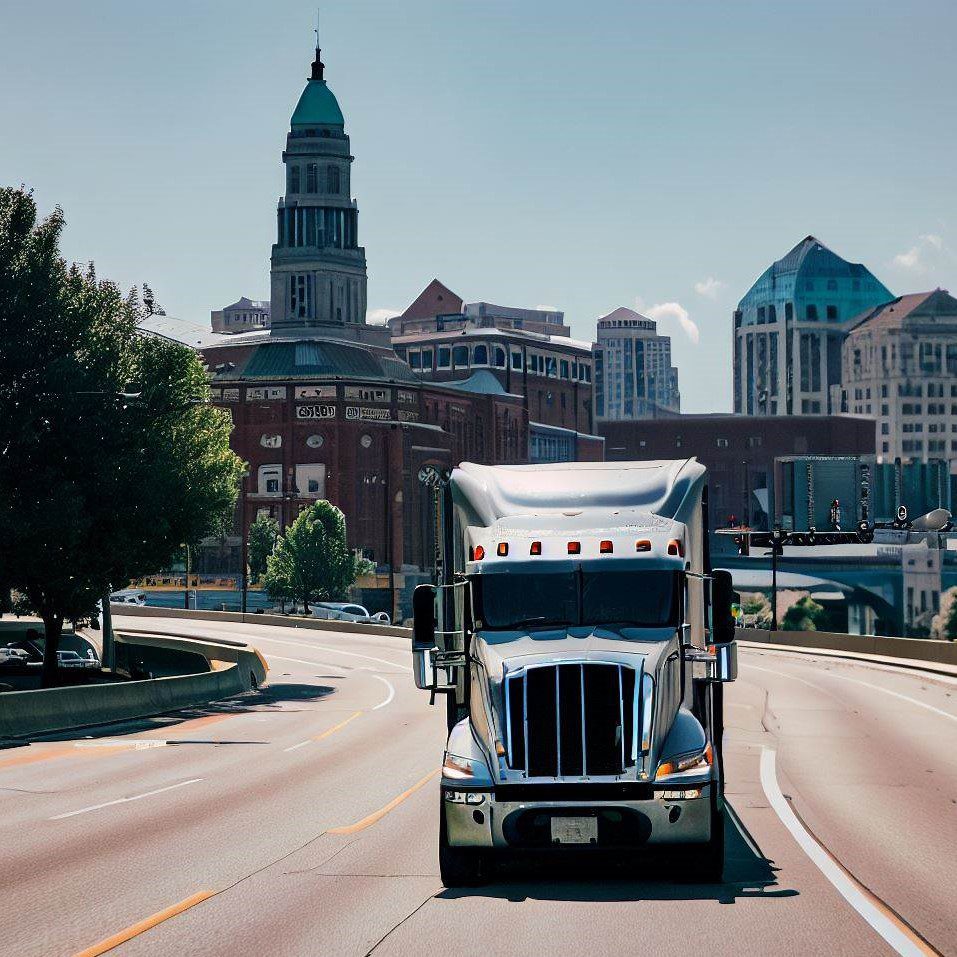 ---
---
Covington Kentucky Truck Insurance: More Than Just a Policy, It's Your Road to Success!
Welcome to Covington, Kentucky - a city that buzzes with a rich history, friendly faces, and an undeniable energy that flows along its charming streets. Situated on the confluence of the Ohio and Licking rivers, Covington's skyline is filled with the picturesque view of bridges and is often compared to the pearly gates welcoming trucks full of promise, freight and opportunity.
Covington is a hive of trucking, freight, and logistics activities, making it the proverbial hub on the wheel of commerce. You see, this town isn't just about bourbon, bluegrass and horse racing – oh no, we've got a whole lot more going on under the hood. Our city hums to the rhythm of massive 18-wheelers transporting everything from farm produce, building materials, electronics, to that delicious Kentucky bourbon, across state lines and beyond.
Covington's strategic location, with major highways like I-71 and I-75 slicing through, acts as an artery, pumping vitality into the economic lifeblood of the region. It's no wonder that Covington has a song in its heart and diesel in its veins.
Understanding Covington Kentucky Truck Insurance
Let's switch gears and talk turkey about Covington KY truck insurance. Just as you wouldn't hit the road without a good ol' cup of joe, you wouldn't want to haul cargo without the safety net of reliable insurance coverage. In our humble town of Covington, we reckon insurance isn't just a bunch of legal mumbo-jumbo; it's your financial seatbelt on the open road.
---
Auto Liability

Picture this: You're barreling down I-75, humming along to some Johnny Cash when a deer leaps onto the road. Swerving to avoid Bambi could lead to damages, or worse, injuries. That's where Auto Liability insurance steps in. It covers any legal liability for injury, loss, or damage caused to others as a result of the accident. In Covington, that deer could well be a racehorse that strayed from the Kentucky Speedway!

Physical Damage

Your truck isn't just a vehicle, it's your bread and butter. So when a hailstorm the size of baseballs descends on your rig parked near Devou Park, Physical Damage insurance comes to your rescue, covering the cost of repairs or replacement.

Motor Truck Cargo

Whether you're hauling a truckload of fresh apples from local farms or transporting manufactured goods, Motor Truck Cargo insurance keeps your cargo covered. It's like having an invisible safety net underneath your goods, protecting your livelihood.

Non-Trucking Liability

Non-Trucking Liability offers protection when your truck is off-duty. Picture rolling your truck to Covington's famous Oktoberfest for some leisure time when a mishap occurs. This insurance helps cover the costs of any damage.

Workers Compensation

For those hardworking souls in your team, Workers Compensation is essential. It acts like a safety cushion, protecting your employees against injuries or illnesses that might occur during work.

General Liability

Ever thought about what could happen if your rig's cargo accidentally damaged a customer's property while unloading at a Covington dock? That's when Truckers General Liability insurance swoops in, covering you against such third-party claims.
The Insurance Store: We're Like Your Trucking Co-Pilot
Our independent insurance agency, The Insurance Store (or TIS, as we like to call ourselves) has been driving along the insurance highway for 50 years. Just like a good ole pair of blue jeans, we're a family-owned business that's weathered, trusted, and fits our clients like a glove.
Here's the cherry on top - we work with numerous A+ rated insurance carriers specializing in commercial trucking. Imagine having an experienced co-pilot who not only knows all the best routes but also holds the map to the best insurance solutions. That's us, your friendly TIS team!
Let's not forget our app, TIS24, a real game-changer. It's like having a personal insurance agent right in your pocket, allowing truckers to issue their certificates of insurance, get ID cards, and access policy documents anytime, anywhere.
TIS Trucking Services: Your Permit Navigator
But wait, there's more! In the sometimes confusing world of truck permits and filings, our TIS Trucking Services division acts as your professional navigator. Whether it's IFTA, MC Number, or KYU, we've got you covered. The road to compliance in Covington doesn't have to be bumpy, not when you've got TIS Trucking Services in your corner.
Get Rolling with TIS
Navigating the complex world of truck insurance doesn't have to be like wrestling a bear. With The Insurance Store, you'll have an ally that understands Covington Kentucky truck insurance like the back of their hand. So why not give our friendly team a call at 888-570-3130 or request a quote today? After all, your journey to success deserves the best co-pilot!
---
Get a Quote for Truck Insurance
---
Here is what Our Happy Customers have to say
---
Quite Professional customer services received this afternoon. Thanks Albert for the courteous and highly professional services you provided me today! Keep up the great job!!

michael