Kansas City (KS) Truck Insurance
KS License #: 471121566000
---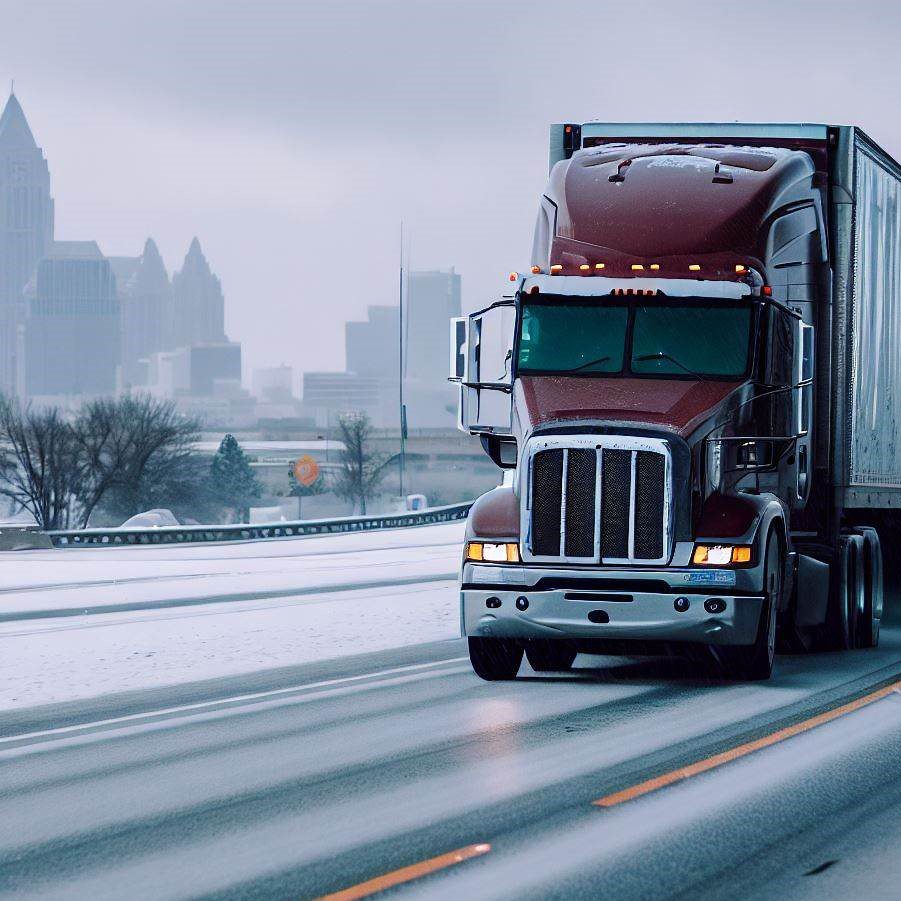 ---
---
Discovering the Landscape of KCK Truck Insurance
Ever marveled at the heartbeat of America? Felt your pulse quicken with the rhythm of a bustling, energetic city that serves as a vital crossroads for industry and commerce? Welcome to Kansas City, Kansas! Here, the midwestern charm meets the complexities of a thriving logistics sector. Before you can say 'Truckaroo', let's dive into the fascinating world of trucking, freight, and logistics that define the essence of this vibrant city.
Situated at the confluence of the Kansas and Missouri Rivers, Kansas City, or KCK as it's fondly known, is more than just barbecue and jazz, though we wouldn't blame you if that's what first sprung to mind. It's a vibrant hub of commerce, with trucks rumbling along its arteries, carrying anything from grain and live animals to automobile parts, consumer goods, and well, probably even barbeque sauce!
With an intricate network of interstates like I-70 and I-35, and suburbs like Overland Park, Olathe, and Lenexa, Kansas City forms a central hub for the trucking industry, fueling the economy, and propelling the American Dream. No kidding, but if you've got a fancy for seeing the US, try trucking!
The Twists and Turns of Truck Insurance Coverage
Trucking in Kansas City isn't just about hopping into your rig and hitting the highway. It's as much about ensuring you're well-protected, especially when it comes to navigating the sometimes complex world of truck insurance. Let's put the pedal to the metal and dive into the critical coverages you need to be aware of.
---
Auto Liability

Yup, you guessed it! This one is as essential as a trucker's love for roadside diners. Auto Liability covers damages that you might cause to other people or property while trucking your way through Kansas City. So, if you're admiring the breathtaking view of the Kansas City skyline and happen to scrape a car, you're covered!

Physical Damage

Ever had one of those days where you can't seem to steer clear of troubles? A hailstorm at the Overland Park, or a wayward deer on I-70, physical damage coverage safeguards your truck from, well, physical damage. It's like a safety net for your rig.

Motor Truck Cargo

Kansas City's vibrant trucking scene is all about hauling various cargo types. But what happens if that cargo is damaged or lost in transit? Motor Truck Cargo steps in, taking care of the value of the goods you're hauling. Whether it's a shipment of famous Kansas City steaks or parts for the automotive industry, you'll need this coverage!

Non-Trucking Liability

Non-Trucking Liability coverage protects you when you're using your commercial truck for personal errands. It's the coverage for the "off-the-clock" trucker.

Workers Compensation

This one is a no-brainer for any trucking company. Workers Compensation coverage ensures that if your employee suffers an injury while working, the medical costs and lost wages are covered. In a nutshell, it's peace of mind in a policy.

General Liability

Think of this as your all-in-one, catch-all coverage. Whether it's damage to a customer's property during a delivery or an accident in your business premises, Truckers General Liability ensures you're covered.
Why Choose The Insurance Store for Your "KCK" Truck Insurance?
Navigating the world of truck insurance can be as tricky as a Kansas City rush hour. That's where we, The Insurance Store, come in. We're not just any old insurance agency; we're a family-owned business with 50 years of experience under our belt.
With us, you'll get access to A+ rated insurance carriers who specialize in commercial trucking. But that's not all, folks! With our app, TIS24, you can issue certificates of insurance, get ID cards, and access your policy and insurance documents anytime, anywhere, even when you're halfway through your Kansas City barbecue!
Helping You Stay on the Right Side of Truck Permits and Filings
Trucking is a regulated industry, and that means permits and filings. But, no need to break into a cold sweat! We've got you covered. At TIS, we have a dedicated division called TIS Trucking Services to handle all the bureaucratic blues so you can focus on what you do best - trucking!
Ready to Start Your Kansas City Kansas Truck Insurance Journey?
So, if you're in the trucking business in Kansas City or even thinking about joining this booming industry, you'll need a reliable, experienced insurance partner. Someone who knows the ropes, someone who's got your back. That's us, The Insurance Store.
We don't just sell insurance, we offer peace of mind. So why not give our friendly team a call at 888-570-3130 or request a quote online? Remember, in Kansas City, we truck as good as we barbecue, and we're here to make sure you're fully covered every mile of the way. Here's to safe trucking and smoother rides, folks!
---
Get a Quote for Truck Insurance
---
Here is what Our Happy Customers have to say
---
I will recommend The Insurance Store to any company or owner operator. Joe is a very great man to work with. He saved me so much money on my new policy. He even added road service and other discount. I wish I heard about this company long time ago. I am completely satisfied with the service. Many thanks.

ALOYSIUS REEVES