Evansville Truck Insurance
IN License #: 3607899
---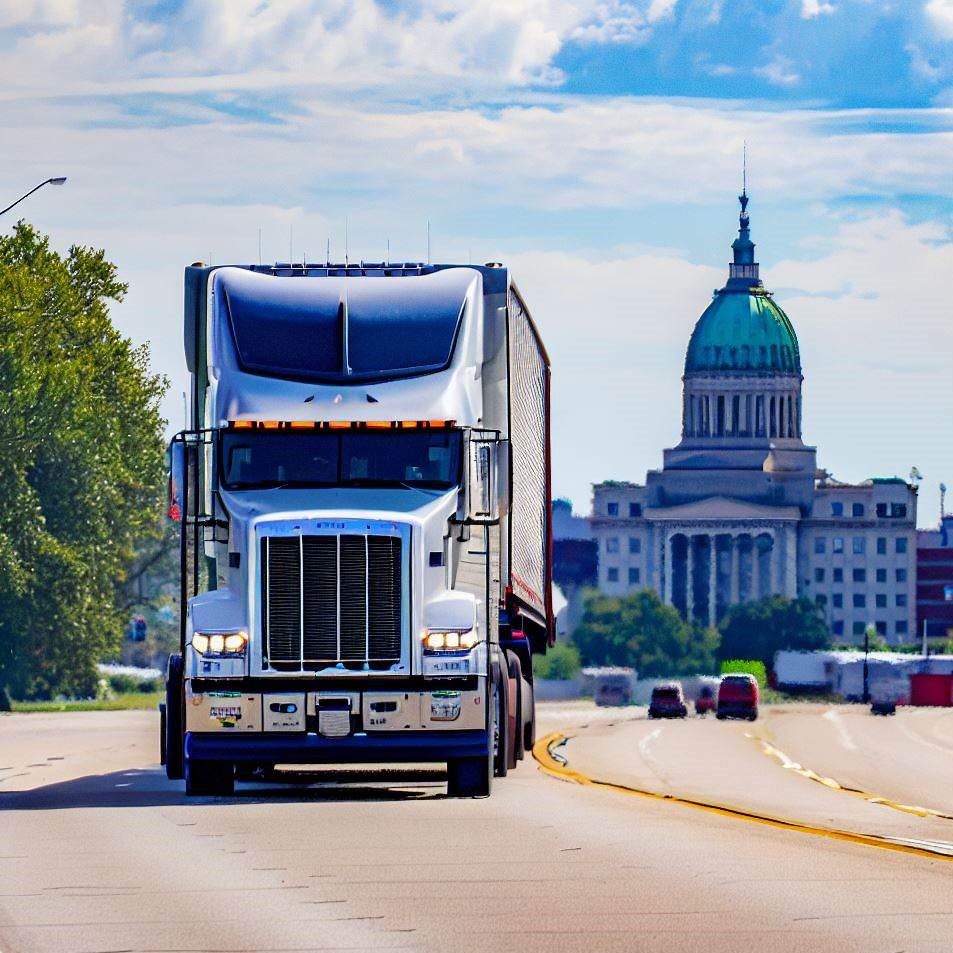 ---
---
A Deep Dive into Evansville Indiana Truck Insurance
Evansville, Indiana, nestled along a horseshoe bend of the Ohio River, is more than just a midwestern city, it's a trucker's playground. Nicknamed "River City," it serves as a commercial trucking nexus. With its strategic location near major highways like I-64 and I-69, this city's veins pump with the lifeblood of American commerce.
From Evansville's bustling ports to the vibrant strip of Morgan Avenue, the city thrums with the growl of diesel engines hauling everything from automotive parts to packaged foods. The city has got more variety in cargo than a potluck dinner at Grandma's! Even Newburgh and Melody Hill suburbs are in on the action, experiencing the daily dance of big rigs, 18-wheelers, and freight trucks.
And now for the million-dollar question: How do you ensure your truck or fleet is protected in this freight frenzy? The answer lies in comprehensive truck insurance.
Understanding Commercial Trucking Insurance Coverages
Navigating the highways of truck insurance doesn't have to feel like trying to find a parking spot downtown during lunch rush. So, let's breakdown some jargon.
---
Auto Liability

This is the "big cheese" of coverages, required by federal and state regulations. Picture this: you're cruising down US-41 near the Ohio River you swerve to avoid a ladder in the road only to collide with another vehicle, and suddenly you're in a pickle. That's where auto liability steps in, covering damages to other parties when you're at fault.

Physical Damage

Think of it as a protective shell for your rig, providing coverage if your truck gets damaged in an accident, vandalized or hit by weather events.

Motor Truck Cargo

Ever heard the saying, "Don't put all your eggs in one basket"? Well, in trucking, sometimes you have to. Motor Truck Cargo insurance covers the freight or commodity you're hauling in case of damage or theft. It's crucial, especially in Evansville, where the cargo varies from steel to electronics.

Non-Trucking Liability

This one's like that quirky cousin at family reunions. It's not what you'd typically think about, but it's important nonetheless. Non-Trucking Liability covers your rig when you're off-duty and not under dispatch.

Workers Compensation

It's no secret that trucking can be a risky business, just like juggling knives or doing a tightrope walk. Workers Compensation protects your employees by covering medical costs and lost wages in case of an on-the-job injury.

General Liability

It covers damages or injuries caused by business activities not directly related to operating your truck. Essentially, it's the safety net for everything else that could go awry in your trucking business.
Your Co-Pilot: The Insurance Store
Working with an independent insurance agency like The Insurance Store is like having your favorite playlist on a long, lonely drive. We're family-owned, with over 50 years of experience navigating the truck insurance landscape. And if you're thinking, "Well, that's older than the gators in Mesker Park Zoo!"—you're right! But with age comes wisdom, and we've got it in spades.
With access to numerous A+ rated insurance carriers specializing in commercial trucking, we provide the expertise to tailor policies to your specific needs. TIS is to insurance what BBQ is to Evansville – we've got the good stuff!
Oh, and we're not just stuck in the past. We've embraced the digital age with our TIS24 app. Need to issue a certificate of insurance or access your policy documents at 3 am? No problem. Fancy getting your ID cards while enjoying a meal at the Gerst Haus? Sorted. With TIS24, you're always in the driver's seat.
Cutting Red Tape: TIS Trucking Services
Driving a truck is tough enough without having to navigate the complex world of truck permits and filings. Luckily, our permits division, TIS Trucking Services, is ready to take that load off your shoulders. Need to sort out your IFTA reports or acquire an oversize permit in Indiana? Give us a call.
Let Us Get You Insured Today!
Ready to get the ball rolling? Or better yet, get your wheels turning? Don't get caught between a rock and a hard place; ensure your trucking business is protected. Reach out to our friendly team at 888-570-3130 or request a quote online. Whether you're a one-man operation or managing a full fleet, The Insurance Store is your partner for the long haul.
---
Get a Quote for Truck Insurance
---
Here is what Our Happy Customers have to say
---
Great people to work with. They're very detailed in their dealings with clients.

Chidi Anyaegbu