GA License #: 214843
---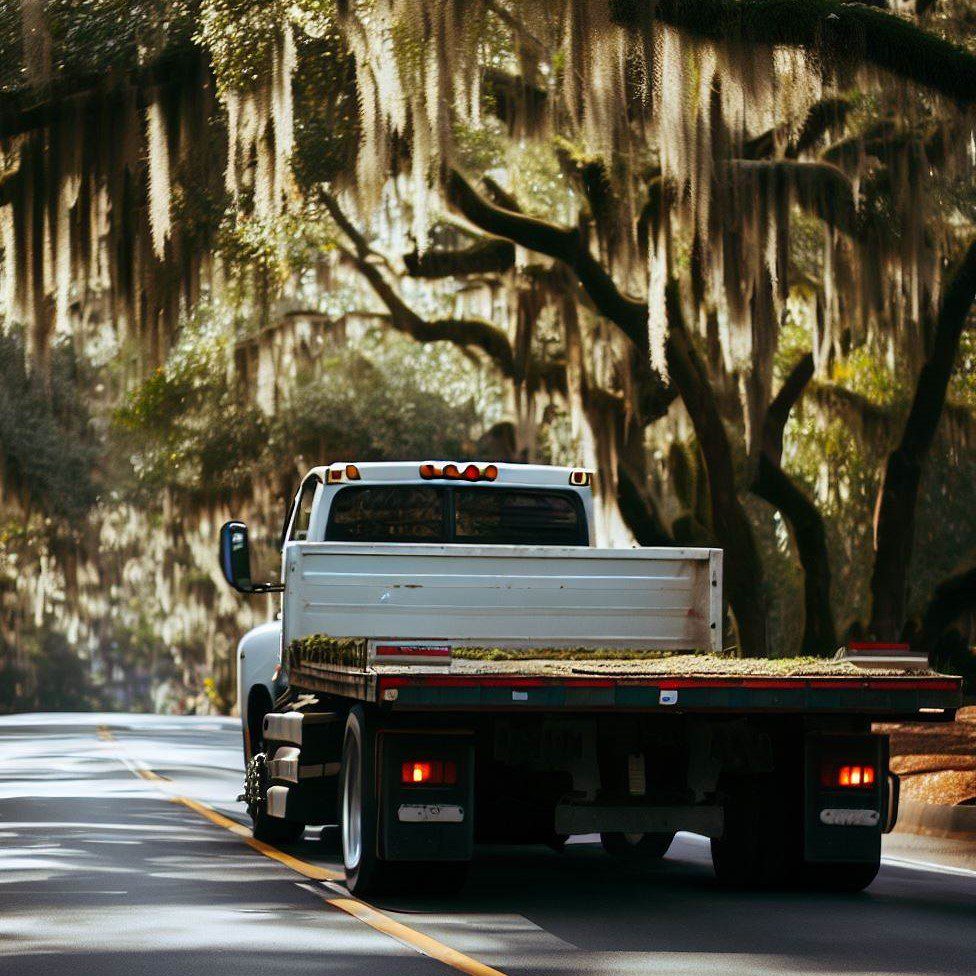 ---
---
Commercial Truck Insurance in Savannah, Georgia
Ah, Savannah! Nestled by the Savannah River, this jewel of the Peach State holds the charm of Southern hospitality and the practicality of a bustling commercial hub. Fun fact - did you know that Savannah is Georgia's oldest city, founded back in 1733? That's a whole lotta history right there! Now, besides being a magnet for history buffs and tourists, Savannah is also a heavyweight when it comes to the trucking and transportation niche.
Highways weave like the intricate pattern of a Southern grandma's quilt, carrying trucks that bustle about, cradling precious cargo ranging from good ol' Georgia peaches, imports from the bustling Savannah Port to fine antiques and artworks. The city's layout, with it's easy access to major highways like I-95 and I-16, makes it a bustling bee hive for trucking activities. It's clear as a bell that in Savannah, trucks mean business!
However, just as you wouldn't venture into an alligator-infested swamp without a trusty guide, you shouldn't take your truck on Savannah's roads without proper insurance. This is where the charm of Savannah Truck Insurance comes into play.
Navigating the Southern Charm of Coverage
But, hold your horses! Let's cut to the chase and dig a little deeper into these insurance coverages. When it comes to safeguarding your hardworking vehicle and the goods it transports, not just any coverage will do. Here are the essentials you need to consider.
---
Auto Liability

This is the big cheese, the top dog of all coverages, and it's legally required for all commercial trucks. It covers bodily injury or property damage caused by the insured vehicle. If your truck grazes a lamppost near the iconic Savannah Historic District or nudges another car on the Talmadge Memorial Bridge, this is the coverage that steps in.

Physical Damage

Oh boy, you bet! Savannah may be known for its historic buildings and cobblestone streets, but these can be tricky for big rigs. Physical Damage coverage is your knight in shining armor, covering your truck and trailer from damage or loss due to accidents, theft, or even those pesky Georgia storms.

Motor Truck Cargo

Ever thought about what might happen if your truckload of world-famous Savannah Bee Company honey toppled over? Well, the sticky situation would be less sweet without Motor Truck Cargo insurance. This coverage helps you bear the financial burden if the freight you're hauling gets damaged or lost.

Bobtail and Non-Trucking

Bobtail insurance is for times when you're truckin' without a trailer or not under dispatch. Think of it like this: you drop off a load at the port and decide to swing by the charming River Street for some grub. If you bump into something, bobtail coverage steps in.

Workers Comp

We all know accidents can happen faster than a cricket on a hot griddle. Worker's Compensation provides coverage for medical expenses and a portion of lost wages for your driver if they get hurt on the job.

General Liability

Last but not least, this coverage protects you from liabilities related to your trucking business, like damage to a customer's property during a delivery.
The Insurance Store: Your Guide Through the Savannah Insurance Jungle
So, who can help navigate these winding roads of coverage? We're mighty glad you asked. The Insurance Store, or TIS as we often call ourselves, is an independent insurance agency and family-owned business. We've been holding the reins of the insurance industry for 50 years, partnering with numerous A+ rated insurance carriers specializing in commercial trucking.
But, what makes us really stand out is our innovative approach to serving our clients. We don't believe in doing things the old-fashioned way. You know, like waiting for snail mail when you need your ID card or policy document? No siree! We're all about harnessing the power of technology for the benefit of our customers.
That's where our mobile app TIS24 comes into play. It's like having a mini-insurance office right in your pocket. Issue certificates of insurance, get ID cards, access policy and insurance documents anytime, anywhere - all from your computer or phone. No fuss, no muss!
Navigating Truck Permits and Filings in the Peach State
Alright, folks. So, we've got insurance covered, but there's another elephant in the room - truck permits and filings. Georgia, like any other state, has its fair share of requirements and red tape that truckers must navigate. But fret not! Our dedicated permits division, TIS Trucking Services, is ready to help you with your commercial trucking permits.
Whether it's the Unified Carrier Registration (UCR), International Registration Plan (IRP), or the International Fuel Tax Agreement (IFTA), we've got your back.
Wrapping Up
So, there you have it, folks - a whistle-stop tour of Savannah truck insurance, its importance, the necessity of diverse coverages, and the benefits of partnering with an insurance agency like TIS that knows the lay of the land. With us, you can rest easy, knowing that you've got a family in the business ready to stand by your side, come hell or high water.
So, what are you waiting for? Get in touch with our friendly team at 888-570-3130, or request a quote. We'll make sure you're as well protected as a peach in its pit!
Remember folks, when it comes to truck insurance in Savannah, The Insurance Store is your golden ticket. Whether you're transporting cargo across the city or heading out on a long haul, we're here to make sure your ride is as smooth as sweet Southern tea. Don't get caught out in the rain without us. After all, a truck without insurance is like a peach without the pit - it just doesn't make sense!
---
Get a Quote for Truck Insurance
---
Here is what Our Happy Customers have to say
---
I'm extremely happy and satisfied with Cynthia and her ability to communicate and resolve my issues she was outstanding more than any insurance company I've dealt with!!!!!!

Lubana Saab