GA License #: 214843
---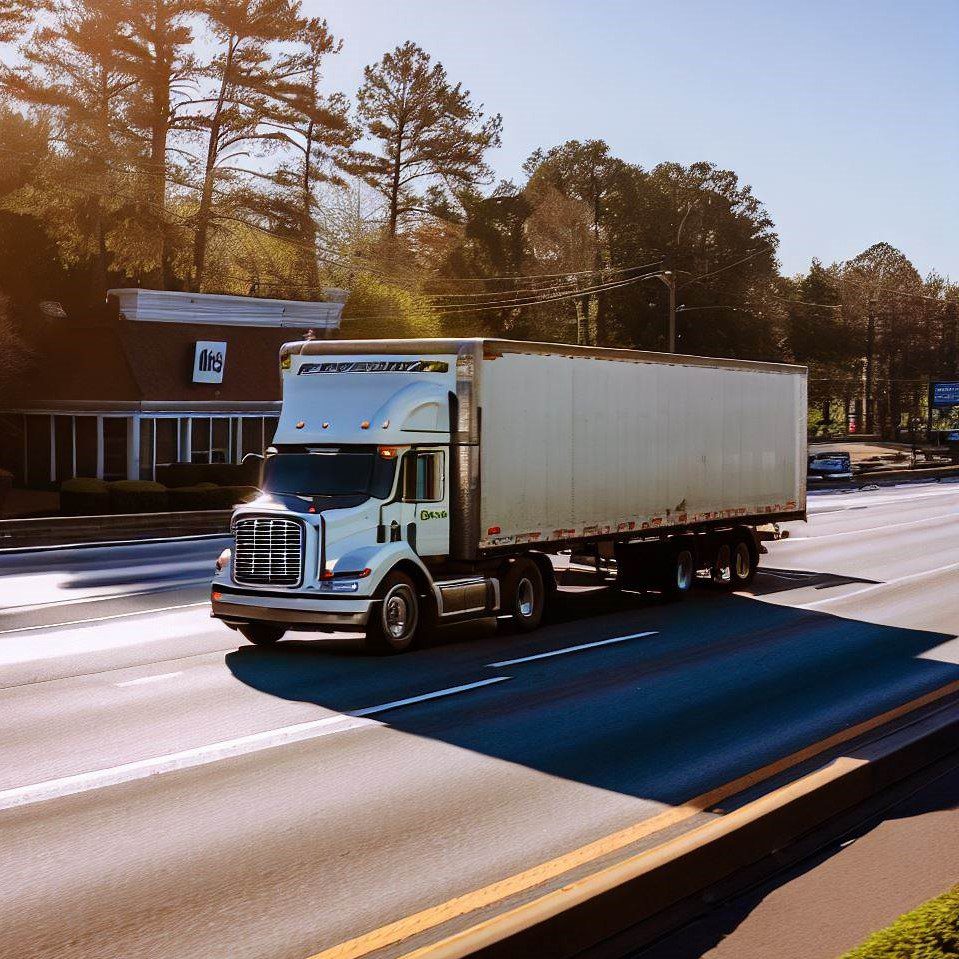 ---
---
Commercial Truck Insurance in Marietta, Georgia
From the fragrant wafts of Georgia's signature peach pies to the unmistakable sound of country music echoing in the background, Marietta, Georgia, wears its Southern charm on its sleeve. But have you ever wondered what keeps this vibrant city chugging along day after day?
You guessed it, trucking!
Home to more than 60,000 peachy-keen residents and an array of businesses, Marietta is at the heart of the Peach State's commercial trucking industry. Nestled within the Interstate 75 corridor and a hop, skip, and a jump from Atlanta, Marietta's roads are abuzz with trucks carrying everything from construction materials to poultry to (you guessed it) peaches.
Trucking in Marietta isn't just a means to an end—it's a way of life. And just like good ol' Southern cooking, it's not something you rush into without a good recipe. That's where Marietta Georgia truck insurance comes into play.
The Low-Down of Truck Insurance Coverages
---
Auto Liability

Every trucker in Marietta knows the Big Chicken landmark. Just like it's an icon in the city, Auto Liability is the Big Chicken of truck insurance. It's legally required and protects you from the financial fallout if your truck is involved in an accident. Whether you're hauling peaches from Peachtree Industrial Boulevard or navigating the hustle and bustle of Cobb Parkway, Auto Liability has got your back.

Physical Damage

Imagine you're driving down Interstate 75 when suddenly, an uncooperative deer jumps in front of your truck. Ouch! That's where Physical Damage insurance comes in, covering the repair or replacement costs of your truck in case of an accident, weather damage, theft, or, you know, an unscheduled meeting with Bambi.

Motor Truck Cargo

Remember when we said trucks in Marietta carry everything, including peaches? Well, that wasn't just a fruity metaphor. Motor Truck Cargo insurance safeguards the goods you're transporting—yes, even those juicy Georgia peaches. So if your cargo gets damaged or lost during transit, you'll be covered faster than you can say, "Well, butter my biscuit!"

Bobtail and Non-Trucking

If you're heading down Roswell Road without a trailer, you're bobtailing. Now, just because you're not on the clock doesn't mean you're off the hook. Bobtail and Non-Trucking Coverage protect your rig when you're not under dispatch—because even the Lone Ranger had Tonto, right?

Workers Compensation

Whether you're loading up at the Marietta Square Farmers Market or securing a delivery in East Cobb, accidents can happen. Workers Compensation coverage ensures you're protected if you're injured on the job. It's like having your very own safety net—only less circus-y and more practical.

General Liability

While other coverages are protecting your truck, your cargo, and you, who's watching out for everything else? That's where Truckers General Liability steps in. This coverage handles any damage or injuries caused as a result of your business operations. If your truck is parked and someone trips over your equipment? Covered. It's like having an umbrella on a rainy Southern afternoon—except this one's for your trucking business.
The TIS Advantage: Putting You in the Driver's Seat
Welcome to The Insurance Store, a family-owned business that's been keeping truckers on the road for over 50 years. We're as dedicated to our work as a rooster is to the dawn. Through the winding roads and the long hauls, our commitment to providing top-notch truck insurance hasn't faltered—and it won't anytime soon. But enough chit-chat, let's jump right into the nitty-gritty.
The Cherry On Top: The TIS24 Mobile App
Here at The Insurance Store (or TIS, as we're known amongst our trucking pals), we're all about making things easier. How, you ask? With our handy-dandy TIS24 Mobile App!
Issue certificates of insurance, get ID cards, and access your policy documents anytime, anywhere. Whether you're parked up at Kennesaw Mountain or taking a pit stop in Powder Springs, all your insurance needs are just a tap away. Our tech isn't as old as Grandma's rotary phone—we're trucking in the 21st century!
Dealing with Truck Permits and Filings: We've Got You Covered
Just when you thought it couldn't get any better, we're throwing in the kitchen sink. Our permits division, TIS Trucking Services, is here to assist with your commercial trucking permits. Navigating the red tape can feel like trying to herd cats, but we're here to simplify the process. With us, it's easier than shooting fish in a barrel!
Time to Hitch a Ride With TIS
After 50 years on the open road, the TIS team has learned a thing or two about Marietta Georgia truck insurance. We're more than an insurance agency—we're a part of the trucking family.
Ready to navigate the road ahead with The Insurance Store? Give our friendly team a call at 888-570-3130, or request a quote online. With us, you're not just getting an insurance policy, you're getting a partner for the journey.
And remember, as we like to say here in Marietta, "Keep on truckin'!"
---
Get a Quote for Truck Insurance
---
Here is what Our Happy Customers have to say
---
Makayla was extremely knowledgeable while assisting me with my health benefits. I especially appreciated her fast response to my questions. Thank you Makayla!

Bahaa El Dien