Grand Junction Truck Insurance
CO License #: 483633
---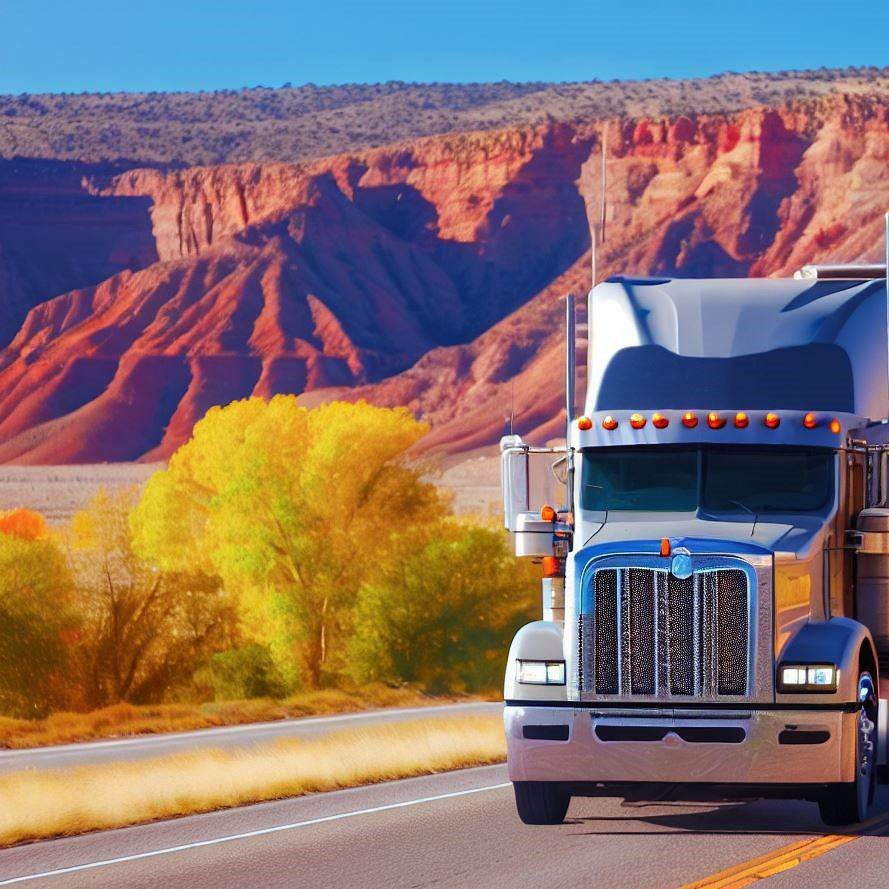 ---
---
A Journey into and the World of Truck Insurance
There's a place where the red rocks meet the Colorado River and the Grand Mesa kisses the sky; where the sound of an 18-wheeler's engine rumble mingles with the rustle of cottonwoods in the breeze. We're talking about Grand Junction, folks. Nestled in the heart of Colorado, this city is a crucial waypoint for truckers crisscrossing America, lugging everything from farm-fresh peaches to delicate crystal from local mines.
Grand Junction: A Truckin' Hub with Flair
Let's spill the beans on Grand Junction's unique location. Located at the crossroads of I-70 and Highway 50, it's a booming hub for logistics, freight, and of course, trucking. With its close proximity to Fruita and Palisade suburbs, Grand Junction is truly the heart and soul of Colorado's transport sector.
Did you know that Grand Junction is a key player in the state's agriculture, producing sweet peaches, crisp apples, and plump pears that are trucked all over the country? Not only that, but it's also a hotspot for mining equipment, electronics, and other bulky commodities, all hustled out of town on 18 wheels. Heck, even your favorite craft beer might have taken a ride through Grand Junction!
Navigating the Insurance Highway with The Insurance Store
Now, just as a big rig has lots of parts, so too does truck insurance. We're gonna walk you through some of the key coverages and why they're crucial to your operation, especially for all you truckers working the Grand Junction routes.
---
Auto Liability

Auto Liability is the big enchilada, the main squeeze of truck insurance. If your truck causes an accident on the I-70, this coverage pays for the other person's damages.

Physical Damage

Imagine you've just loaded up a shipment of Grand Junction's finest peaches, but, oops! An errant deer jumps out on Highway 50, and suddenly those peaches are purée. Physical Damage coverage will help cover the repair costs.

Motor Truck Cargo

This one's all about the goods you're hauling. Say you're transporting a valuable load of Colorado's famous crystal, and something goes awry en route. Your Motor Truck Cargo insurance has got your back, covering the lost or damaged goods.

Non-Trucking Liability

Even when you're off the clock, driving your rig to the local diner for a juicy burger, accidents can happen. That's when Non-Trucking Liability steps in, providing coverage when your truck isn't being used for business purposes.

Workers Compensation

Got a co-driver? Then Workers Compensation is your new best friend. If your mate gets injured on the job, this insurance helps cover medical costs and lost wages.

General Liability

Finally, there's Truckers General Liability. This takes care of the damage that might occur during loading and unloading, or any other trucking-related activity.
Enjoy the TIS Advantage
What sets us apart at TIS? Well, we're like the combo platter of insurance agencies. We offer the advantages of a big company—access to A+ rated insurance carriers specializing in commercial trucking—while maintaining that small business, personal touch.
What's more, we're not just confined to regular business hours. With our revolutionary app, TIS24, you can get your ID cards, access policy documents, and issue certificates of insurance 24/7 from the comfort of your rig or home.
Cutting Through Red Tape with TIS Trucking Services
Feeling bogged down by all the permits and filings needed for commercial trucking in Colorado? Our permits division, TIS Trucking Services, is here to help. We're pros at making the bureaucracy of trucking a breeze.
Get On Board with The Insurance Store
So, truckers of Grand Junction and beyond, are you ready to hit the road with confidence? Why not give the TIS team a ring at 888-570-3130 or hop onto our website for a quote? We promise it'll be easier than driving through downtown Denver during rush hour.
Remember, when you're on the winding roads around the Grand Mesa or trucking along the Colorado River, you're not alone. The Insurance Store has got your back. It's just the way we roll.
---
Get a Quote for Truck Insurance
---
Here is what Our Happy Customers have to say
---
I spoke with Kaitlyn for my insurance. She was very professional and personable. Her knowledge of insurance was impeccable. I recommend Kaitlyn for your insurance needs!

Chris H.